Community Service and Educational Broadcasting
Alternative, non-commercial community & college radio located on the UC Santa Barbara campus. The University of California's first station. Since 1962.
Aug 24, 2022 9:00 AM – 11:00 AM
Public Affairs
With Collective
From the dystopian to the utopian, from local to international, news analysis & in-depth interviews.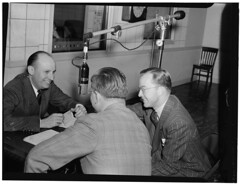 9:38 AM

Stevie Wonder

You Haven't Done Nothin'

The Complete Stevie Wonder

UMG - UNI/MOTOWN

2018

USMO17482863

10:16 AM

Sweet Honey In The Rock

More Than A Paycheck

Breaths

UMG - New Rounder

2018

USFF28810508

10:21 AM

Sweet Honey In The Rock

Sometime

Breaths

Universal Music

1988

USFF28810511

10:58 AM

Rez Abbasi;Isabelle Olivier

Cherry Blossom

Oasis

Yellowbird Records

2019

DEAM81900202