Community Service and Educational Broadcasting
Alternative, non-commercial community & college radio station located on the UC Santa Barbara campus. Since 1962.
Jun 26, 2019 9:00 AM – 11:00 AM
Public Affairs
With Collective
A critical look at news, both domestic and international, and interviews. From the dystopian to the utopian.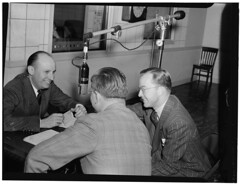 9:01 AM

Lagbaja

me and you no be enemies

Lagbaja! ans Bisade Ologunde

9:30 AM

ABUC

Universal Music Division Decca Records France

2016

FRUM71601360

10:25 AM

Etienne Charles

Freedom

N

Carnival: The Sound of a People, Vol. 1

Culture Shock Music Inc

2019

US3DZ1700012

11:07 AM

Joe Zawinul

Bimoya

Joe Zawinul

My People

Cream Records

1996

CD

11:12 AM

Kamasi Washington

Change of the Guard

Kamasi Washington

The Epic

Brainfeeder

2015

MP3

US25X1086563

11:27 AM

Pete Cosey, Michael Henderson, Adam Holzman, Wallace Roney, A. Sivamani, Vikku Vinayakram & Lenny White

Miles Runs the Voodoo Down

Miles from India

Four Quarters Records

2008

CD

USHCF0700043

11:29 AM

Cassandra Wilson

Run the VooDoo Down

Traveling Miles

Blue Note (BLU)

2014

USBN29801070

11:36 AM

Brown Street

Cream Records

USA

2006

CD

DEF300600211

11:51 AM

Tito Puente

Juventude del Presente

11:55 AM

John Williams/English Chamber Orchestra/Daniel Barenboim

Allegro Con spiritu