Community Service and Educational Broadcasting
Alternative, non-commercial community & college radio station located on the UC Santa Barbara campus. Since 1962.
Aug 21, 2019 9:00 AM – 11:00 AM
Public Affairs
With Collective
A critical look at news, both domestic and international, and interviews. From the dystopian to the utopian.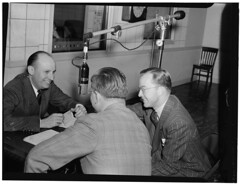 9:00 AM

Lagbaja

Me And You No Be Enemy

Lagbaja! ans Bisade Ologunde

We

pulse

2000

CD

USCGJ1070494

9:30 AM

Ellen Rowe Octet

Ain't I a Woman

Momentum: Portraits of Women in Motion

Smokin' Sleddog Records

2019

QMASR1800053

10:19 AM

Ellen Rowe Octet

The First Lady (No, Not You, Melania)

Momentum: Portraits of Women in Motion

Smokin' Sleddog Records

2019

QMASR1800057