KDHX is member supported community media, broadcasting at 88.1 FM in St. Louis, and offering a full spectrum of music and cultural programming.
Oct 7, 2022 3:00 AM – 5:00 AM
Music
With Ryan Cain
From classic to modern, Rolling Thunder brings you a diverse mix of rock styles, including psychedelic, progressive, and even a bit of metal. Ryan Cain spins all of that and more, adding in some blues and jazz for good measure. That's Rolling Thunder, every Tuesday from 3 a.m. to 5 a.m.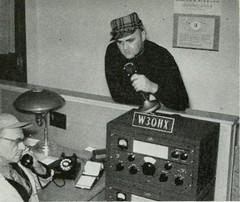 3:01 AM

Personal Computer

Metal Blade Records

2022

We get things kicked off with some cyber metal out of Italy.

3:10 AM

Becoming the Archetype

The Phantom Field

N

Children of the Great Extinction

Solid State Records

2022

Just received my vinyl copy, this song is a little instrumental interlude that leads into...

3:13 AM

Becoming the Archetype

The Awakening

N

Children of the Great Extinction

Solid State Records

2022

... this outstanding tune.

3:21 AM

Destroyed Formula

Death (Mountain)

L

N

Omegaminus

self-released

2022

Some local synth-wave to get you going this fine morning.

3:26 AM

Ultraviolet - Single

Artoffact Records

2022

The new single from Shannon Hemmett's synthwave project. Really looking forward to a full album.

3:29 AM

Ploho

Не будем прощаться

N

К​о​г​д​а д​у​ш​а с​п​и​т

Artoffact Records

2022

Some post-punk out of Russia.

3:33 AM

Ringfinger

Familiar Placement

Familiar Placement - Single

1392593 Records DK2

2022

Another outstanding slice of gothic post-punk.

3:37 AM

Gary Robert and Community

Deep Dark Blue

L

N

Black Palette

Red Claw Records

2022

Hailing from Cape Girardeau, some local post-punk.

3:42 AM

Brian Eno

The Paw Paw Negro Blowtorch

Here Come The Warm Jets

Island

1973

His solo debut after leaving Roxy Music.

3:45 AM

Here Come The Warm Jets

Island

1973

This has become one of my all time favorite albums.

3:50 AM

David Bowie

The Width of a Circle (Live)

Live Santa Monica '72

Parlophone UK

2008

The definitive version of this killer tune!

4:03 AM

Q: Are We Not Men? A: We Are Devo!

Warner Records

1978

I haven't played anything off this wonderful album in awhile.

4:07 AM

The Boomtown Rats

Wind Chill Factor (Minus Zero)

The Fine Art of Surfacing

Mercury

2005

Originally released in 1979. The newest addition to my collection, new wave with some glam influence.

4:11 AM

Billy Idol

Dancing with Myself (Uptown Mix)

Vital Idol (Remixes) [1987 US Version]

Chrysalis\EMI Records (USA)

2002

A guilty pleasure of mine.

4:19 AM

Van Der Graaf Generator

A Plague of Lighthouse Keepers: A. Eyewitness / B. Pictures / C. Eyewitness / D. S.H.M. / E. Presence of the Night / F. Kosmos Tours / G. (Custard's) Last Stand / H. The Clot Thickens / I. Land's End (Sideline) / J. We Go Now

Pawn Hearts

Charisma Catalogue

1971

Epic!

4:43 AM

Bob Dylan

Changing of the Guards

Street-Legal (Remastered)

Columbia/Legacy

1978

Your Dylan of the Day!

4:50 AM

Rock And Roll Outlaws

Bearsville Records

1974

We close the show with this classic tune. I hope you enjoyed the music and I'll be catching up with you next week.