KDHX is member supported community media, broadcasting at 88.1 FM in St. Louis, and offering a full spectrum of music and cultural programming.
Jul 12, 2019 3:00 AM – 5:00 AM
Music
With Ryan Cain
From classic to modern, Rolling Thunder brings you a diverse mix of rock styles, including psychedelic, progressive, and even a bit of metal. Ryan Cain spins all of that and more, adding in some blues and jazz for good measure. That's Rolling Thunder, every Tuesday from 3 a.m. to 5 a.m.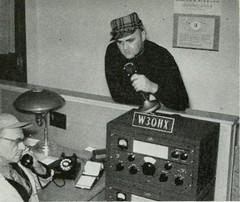 3:00 AM

Steve Miller Band

Threshold

Book of Dreams

Capitol Records

1977

3:02 AM

Grooverider

Cybernetic Jazz

Mysteries of Funk (Limited Edition)

Higher Ground

1998

Doing things a bit differently this morning. We're getting started with some jungle/drum 'n bass that I was really into back in the day. I actually picked up this limited edition 2 disc version when it came out while I was visiting France back in high school.

3:14 AM

Source Direct

Call & Response

Exorcise the Demons

Astralwerks

1999

Originally released on their 1997 EP Controlled Developments. This track is best known for being used in the movie Blade (but not included in the soundtrack) when Deacon Frost was in the library.

3:23 AM

Sula Bassana and Modulfix

Svensven der Froschfrosch

I haven't played you any Sula Bassana in awhile so enjoy this tasty electronic krautrock.

3:31 AM

Kendra Amalie

Breathe Underwater

N

Intuition

Beyond Beyond Is Beyond Records

2019

Her new album is due out Sept. 6th and is well worth checking out.

3:34 AM

Tarotplane

Consciousness

N

The Misunderstood Abandoned Aquarium of the Afterlife

Beyond Beyond Is Beyond Records

2019

More on the ambient side but definitely good stuff. This album keeps growing on me with repeated listens.

3:42 AM

Houses of the Holy (Remastered)

Rhino Atlantic

1973

One of my favorite LZ tunes.

3:49 AM

Great album, great song.

4:01 AM

Red Queen To Gryphon Three

Bell

1974

What a wonderful piece of progressive music. This whole album is amazing.

4:11 AM

Van Der Graaf Generator

Scorched Earth

Godbluff

EMI Catalogue

2005

Originally released in 1975. Classic VdGG.

4:22 AM

As Your Mind Flies By

Charisma

1970

What an epic tune. I played this on the very first episode of Rolling Thunder.

4:43 AM

Your Dylan of the Day. This was my very first Dylan album.

4:54 AM

Dr. John

Same Old Same Old

In the Right Place

ATCO

1973

We close the show with a little Dr. John. I hope you enjoyed the tunes and I'll be catching up with you next week.