KDHX is member supported community media, broadcasting at 88.1 FM in St. Louis, and offering a full spectrum of music and cultural programming.
Aug 9, 2019 3:00 AM – 5:00 AM
Music
With Ryan Cain
From classic to modern, Rolling Thunder brings you a diverse mix of rock styles, including psychedelic, progressive, and even a bit of metal. Ryan Cain spins all of that and more, adding in some blues and jazz for good measure. That's Rolling Thunder, every Tuesday from 3 a.m. to 5 a.m.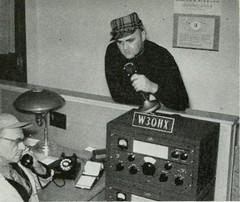 3:00 AM

Steve Miller Band

Threshold

Book of Dreams

Capitol Records

1977

3:01 AM

Whales and Leeches

Relapse Records

2013

We get things kicked off this morning with some good ol' stoner metal. Fans of Mastodon should really dig this.

3:08 AM

Whales and Leeches

Relapse Records

2013

These guys hail from Portland, Oregon.

3:13 AM

Paralyzed

Tee Pee Records

2008

A little more on the doomier side of stoner metal.

3:20 AM

Face Stabber

Castle Face

2019

Quite an amazing tune. Nice jam to get lost in.

3:42 AM

Black Sabbath

Johnny Blade

Never Say Die!

Warner Bros.

1978

Their final album with Ozzy.

3:48 AM

Uriah Heep

Shadows of Grief

Look At Yourself

Sanctuary Records

2017

Originally released in 1971, gotta love ya some Heep.

3:59 AM

Earth (Remastered)

UMC (Universal Music Catalogue)

2017

Originally released in 1973

4:06 AM

Earth (Remastered)

UMC (Universal Music Catalogue)

2017

The remastering job on this reissue was done by Vangelis himself.

4:10 AM

Last Autumn's Dream

UMC (Universal Music Catalogue)

2008

Originally released in 1972, a pretty cool instrumental track.

4:17 AM

Manfred Mann Chapter Three

Jump Before You Think

His Chapter Three material was a bit jazzier compared to what was soon to come with the Earth Band.

4:23 AM

Pink Floyd

Interstellar Overdrive

London 1966/1967

Snapper Music

2005

Recorded live in the studio before their debut Piper at the Gates of Dawn.

4:41 AM

Bob Dylan

Stuck Inside of Mobile With the Memphis Blues Again

Blonde On Blonde

Columbia

1966

Your Dylan of the Day, a personal fav of mine.

4:48 AM

Dog & Butterfly

Portrait

1978

What a great tune.

4:55 AM

Teaser and the Firecat

Universal-Island Records Ltd.

1971

We close the show with a tune a like to end with. I hope you enjoyed the tunes and I'll be catching up with you next week.