KDHX is member supported community media, broadcasting at 88.1 FM in St. Louis, and offering a full spectrum of music and cultural programming.
Sep 6, 2019 3:00 AM – 5:00 AM
Music
With Ryan Cain
From classic to modern, Rolling Thunder brings you a diverse mix of rock styles, including psychedelic, progressive, and even a bit of metal. Ryan Cain spins all of that and more, adding in some blues and jazz for good measure. That's Rolling Thunder, every Tuesday from 3 a.m. to 5 a.m.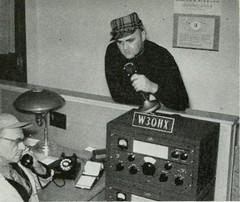 3:01 AM

Fear Inoculum

Volcano

2019

We get things kicked off with new Tool! I had some pretty high expectations for this album and I have to say it did not disappoint. Absolutely magnificent.

3:19 AM

Infinity Forms of Yellow Remember

Sub-Sonic Dreamer

N

Infinity Forms of Yellow Remember

Cardinal Fuzz

2019

Some brand new psych-space rock coming out of the UK.

3:28 AM

FireFriend

Who's Gone What's Missing

Avalanche

Cardinal Fuzz

2019

Hailing from Brazil. This album is a bit of a slow burner but quite good.

3:40 AM

Can you go wrong with a little Tommy? I think not.

3:50 AM

The Electric Flag

Fine Jung Thing

The Trip (Original Motion Picture Soundtrack)

Sidewalk

1967

Michael Bloomfield on guitar.

4:00 AM

The Idiot

Virgin Records

1977

His solo debut album which was produced by David Bowie.

4:08 AM

"Heroes"

RCA / Victor

1977

I just realized that I've played the Peter Gabriel and the Motorhead version of this mighty fine tune but not the original so let's remedy that.

4:15 AM

For Your Pleasure

EG Records

1999

Originally released in 1973 and one of my all time favorite albums.

4:21 AM

Porcupine Tree

Anesthetize

Fear of a Blank Planet

Kscope

2012

Originally released in 2007. One of the newest additions to my collection. This tune features a guitar solo from Alex Lifeson of Rush.

4:41 AM

Bob Dylan

Sitting On a Barbed Wire Fence

The Bootleg Series, Vols. 1-3 (Rare & Unreleased) 1961-1991

Columbia

1991

Your Dylan of the Day. Recorded at an early session for Highway 61 Revisited and featuring Michael Bloomfield on guitar.

4:45 AM

Hot Tuna

I Wish You Would

These guys were just in town and I missed it. Ah well, enjoy this tasty Yardbirds cover.

4:48 AM

Steely Dan

Night By Night

This is one of my Dad's favorite albums.

4:52 AM

Eddie Money

Life For the Taking

Life For the Taking

Columbia

1978

We close the show with the title track from his sophomore album. I hope you enjoyed the tunes and I'll be catching up with you next week.