KDHX is member supported community media, broadcasting at 88.1 FM in St. Louis, and offering a full spectrum of music and cultural programming.
Sep 13, 2019 3:00 AM – 5:00 AM
Music
With Ryan Cain
From classic to modern, Rolling Thunder brings you a diverse mix of rock styles, including psychedelic, progressive, and even a bit of metal. Ryan Cain spins all of that and more, adding in some blues and jazz for good measure. That's Rolling Thunder, every Tuesday from 3 a.m. to 5 a.m.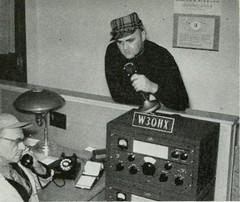 3:01 AM

Empath

InsideOutMusic

2019

We get things kicked off with one of my favorite releases of 2019 so far.

3:08 AM

Empath

InsideOutMusic

2019

What an outstanding album.

3:14 AM

Vector

InsideOutMusic

2018

A nice little progressive metal instrumental.

3:22 AM

E GONE

Everybody Must Get Throned

N

Shipwrecks and Stray Cats

E GONE

2019

A very fine collection of unreleased material.

3:29 AM

Kendra Amalie

Facets of a Holy Diamond

N

Intuition

Beyond Beyond Is Beyond Records

2019

This psychedelic folk album is worth checking out.

3:34 AM

Kendra Amalie

Patternmaker

N

Intuition

Beyond Beyond Is Beyond Records

2019

The last song goes right into this fine tune.

3:40 AM

Breathe Awhile

Repertoire

2000

Originally released in 1969, a rather pleasant progressive psychedelic album.

3:52 AM

Brian Auger & the Trinity with Julie Driscoll

Season of the Witch

Open

Ghostown Records

2004

Originally released in 1967.

4:02 AM

Jon & Vangelis

Play Within a Play

Short Stories (Remastered)

UMC (Universal Music Catalogue)

2017

Originally released in 1980. This reissue was remastered by Vangelis himself.

4:09 AM

U.K.

In the Dead of Night

Magnificent. R.I.P. John Wetton and Allan Holdsworth.

4:23 AM

Airborn

Virgin Records

1980

I'm pretty sure I've played this before but both my daughters really enjoy this tune and have been asking me to play it on my show again.

4:43 AM

Bob Dylan

Masters of War (Live)

Real Live (Remastered)

Columbia/Legacy

1984

Your Dylan of the Day, an electric version of his classic anti-war tune.

4:50 AM

Bob Dylan

Ballad of a Thin Man (Live)

Real Live (Remastered)

Columbia/Legacy

1984

How about a 2fer 'cuz I'm feelin' it this morning?

4:54 AM

Aerosmith

Walkin' the Dog

We close the show with a little Aerosmith. I hope you enjoyed the tunes and I'll be catching up with you next week.