KDHX is member supported community media, broadcasting at 88.1 FM in St. Louis, and offering a full spectrum of music and cultural programming.
Sep 20, 2019 3:00 AM – 5:00 AM
Music
With Ryan Cain
From classic to modern, Rolling Thunder brings you a diverse mix of rock styles, including psychedelic, progressive, and even a bit of metal. Ryan Cain spins all of that and more, adding in some blues and jazz for good measure. That's Rolling Thunder, every Tuesday from 3 a.m. to 5 a.m.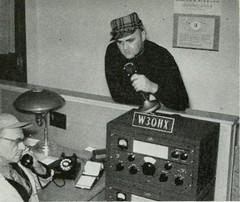 3:02 AM

Nine Inch Nails

Physical (You're So)

We get things kicked off with some NIN.

3:08 AM

One of my all time favorite albums.

3:12 AM

Things Falling Apart

Interscope

2000

A wonderful Gary Numan cover.

3:21 AM

POW!

Night Nurse / No World

N

I found a couple new releases in the KDHX library last week and have been really enjoying them.

3:24 AM

Kind of a neo-psychedelic post-punk. Good stuff.

3:28 AM

Prettiest Eyes

Marihuana

N

Volume 3

Castle Face

2019

With an "H"!

3:30 AM

Prettiest Eyes

Summer in L.A. / No More Summer

N

Volume 3

Castle Face

2019

These guys are currently touring with the Oh Sees.

3:36 AM

Exit Group

Subtle Persuasion

Adverse Habitat

Castle Face

2018

This post-punk band hails from Germany.

3:40 AM

Free

Loma Vista Recordings

2019

New Iggy Pop? I think so.

3:44 AM

The Idiot

Virgin Records

1990

Originally released in 1977, his first solo album after the Stooges. This album was co-written and produced by David Bowie.

3:52 AM

His debut solo album.

3:56 AM

Peter Gabriel

Games Without Frontiers

Peter Gabriel 3: Melt (Remastered)

Charisma

1980

What a classic '80s tune.

4:02 AM

Crackle

Beggars Banquet

1998

Originally released on their 1980 debut In the Flat Field.

4:06 AM

Siouxsie and the Banshees

Voodoo Dolly

Their fourth album and widely considered their best.

4:13 AM

Closer (Collector's Edition)

Factory Records

2007

Originally released in 1980, their sophomore album.

4:21 AM

New Order

Elegia (Full Version)

Originally appearing on their 1985 album Low-Life in a heavily edited form. Here's the full version. I absolutely love this tune.

4:40 AM

Bob Dylan

When the Night Comes Falling from the Sky

Empire Burlesque (Remastered)

Columbia/Legacy

1985

Your Dylan of the Day, and a favorite of mine.

4:47 AM

Heartbeat City

Rhino/Elektra

1984

I woke up Monday morning with this song stuck in my head then later found out that Ric Ocasek had passed away.

4:51 AM

Life for the Taking

Columbia

1978

We close the show with another artist who sadly passed away. I hope you enjoyed the tunes and I'll be catching up with you next week.