KDHX is member supported community media, broadcasting at 88.1 FM in St. Louis, and offering a full spectrum of music and cultural programming.
Sep 27, 2019 3:00 AM – 5:00 AM
Music
With Ryan Cain
From classic to modern, Rolling Thunder brings you a diverse mix of rock styles, including psychedelic, progressive, and even a bit of metal. Ryan Cain spins all of that and more, adding in some blues and jazz for good measure. That's Rolling Thunder, every Tuesday from 3 a.m. to 5 a.m.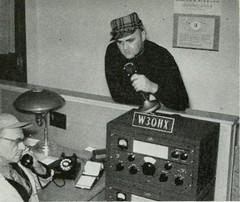 3:02 AM

Vortex

InsideOutMusic

2018

We get things kicked off with a nice progressive metal instrumental.

3:13 AM

Arch / Matheos

Wrath of the Universe

N

Winter Ethereal

Metal Blade Records

2019

Absolutely loving this new album. You will find it on my top 10 of 2019 at the end of the year.

3:23 AM

The Whole of Each Eye

Cardinal Fuzz

2019

Hailing from Portland, OR. Kind of a Psychedelic Americana. Really good stuff and well worth checking out.

3:29 AM

Andrew DR Abbott

Hill Top Mountain Retreat

N

Dead In Chellow Dean

Cardinal Fuzz

2019

Some nice psych-folk going on here.

3:37 AM

Shipwrecks and Stray Cats (The Unreleased Recordings of E Gone, Vol. 1)

790440 Records DK

2019

A favorite of the show here, make sure to check out his Bandcamp page to get this outstanding album.

3:44 AM

You know I have to get some Rush on the show every now and then.

3:49 AM

Vangelis

Nucleogenesis, Parts 1 & 2

The newest addition to my collection. Fantastic album.

4:03 AM

Utopia

Intro / Mister Triscuits

Another Live

Bearsville Records

1976

A little Todd Rundgren sounds good this morning don't ya think?

4:09 AM

Utopia

Something's Coming

Another Live

Bearsville Records

1976

Have another cut.

4:12 AM

Freudiana

The Nirvana Principle

Freudiana

The Freudiana Music Company

1990

The solo project of Eric Woolfson of the Alan Parsons Project.

4:15 AM

Freudiana

The Freudiana Music Company

1990

This project also includes members of the APP.

4:23 AM

Electric Light Orchestra

Concerto for a Rainy Day

Out of the Blue

Jet Records

1977

Side III of this album which is a 4 song suite. The four songs are Standin' in the Rain / Big Wheels / Summer and Lightning / Mr. Blue Sky.

4:44 AM

Bob Dylan

Every Grain of Sand

Shot of Love

Columbia

1981

Your Dylan of the Day!

4:50 AM

Bruce Springsteen

Spirit In the Night

Greetings from Asbury Park, N.J.

Columbia

1973

The original version of the tune that Manfred Mann would cover so admirably with the Earth Band.

4:54 AM

Jack Nitzsche

The Last Race

Death Proof Original Soundtrack

Warner Bros.

2007

We close the show with this fun instrumental from one of my favorite movies. I hope you enjoyed the tunes and I'll be catching up with you next week.