KDHX is member supported community media, broadcasting at 88.1 FM in St. Louis, and offering a full spectrum of music and cultural programming.
Oct 4, 2019 3:00 AM – 5:00 AM
Music
With Ryan Cain
From classic to modern, Rolling Thunder brings you a diverse mix of rock styles, including psychedelic, progressive, and even a bit of metal. Ryan Cain spins all of that and more, adding in some blues and jazz for good measure. That's Rolling Thunder, every Tuesday from 3 a.m. to 5 a.m.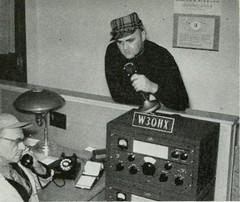 3:02 AM

Badmotorfinger

A&M Records

1991

A couple weekends ago I heard Johnny Cash's cover of this tune so I thought I'd begin and end the show with this outstanding tune.

3:07 AM

Listening to Soundgarden made me want to go back and listen to some of the other albums I grew up with.

3:13 AM

Alice In Chains

Columbia

1995

Probably my favorite tune of theirs.

3:23 AM

Immanentize the Eschaton

Cardinal Fuzz

2019

Hailing from Canada, a wonderful slow burner of an album.

3:45 AM

Ambrosia

20th Century Records

1975

Picked up this album by recommendation of Rick Comello.

3:52 AM

Styx

Half Penny Two Penny / A.D. 1958 / State Street Sadie

Paradise Theatre

A&M Records

1981

I do enjoy some Styx from time to time.

4:02 AM

Manfred Mann's Earth Band

Father of Day, Father of Night

An amazing Dylan cover.

4:12 AM

Dixie Dregs

Night Meets Light

What If

Capricorn Records

1998

Originally released in 1978. This one goes out to Lewis H. Kollenberg who likes to hear some Dregs.

4:21 AM

Chicago III

Columbia

1971

The song suite which takes up side 4. The songs are When All the Laughter Dies In Sorrow / Canon / Once Upon A Time... / Progress? / The Approaching Storm / Man vs. Man: The End.

4:38 AM

Shot of Love

Columbia

1981

Your Dylan of the Day! Had some technical difficulties with this album last week so I cleaned it up and we're gonna give it another shot.

4:43 AM

This tune was recorded live at Venice Cafe, St. Louis on Dec. 9th 2017.

4:53 AM

American II: Unchained

American Recordings

1996

We started the show with the original and end the show with this mind blowing cover. I think Monster Magnet was listening to this when they were writing Space Lord, check out the riff at the end. I hope you enjoyed the show and I'll be catching up with you next week.