KDHX is member supported community media, broadcasting at 88.1 FM in St. Louis, and offering a full spectrum of music and cultural programming.
Oct 18, 2019 3:00 AM – 5:00 AM
Music
With Ryan Cain
From classic to modern, Rolling Thunder brings you a diverse mix of rock styles, including psychedelic, progressive, and even a bit of metal. Ryan Cain spins all of that and more, adding in some blues and jazz for good measure. That's Rolling Thunder, every Tuesday from 3 a.m. to 5 a.m.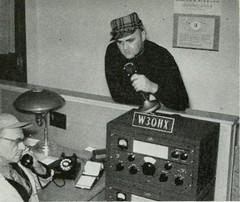 3:01 AM

Doomstress

Sleep Among the Dead

N

Sleep Among the Dead

Ripple Music

2019

Good morning. Let's doom!

3:08 AM

Obsidian Sea

A Shore Without a Sea

N

Strangers

Ripple Music

2019

Quite an amazing album here. If you're a fan of doom at all you need to check out this album.

3:17 AM

All Is Lost

Ripple Music

2019

What a wonderful voice.

3:23 AM

Iggy Pop

Do Not Go Gentle into That Good Night

N

Free

Caroline International (License External)

2019

Iggy's reading of the classic poem that was also used in the movie Interstellar.

3:25 AM

Nick Cave & The Bad Seeds

Hollywood

N

Ghosteen

Bad Seed Ltd

2019

What a hauntingly beautiful tune.

3:41 AM

The Quiet Zone / The Pleasure Dome

Charisma

1977

Dropping the generator from their name and trading in the keys for violin. An overlooked gem of theirs.

3:47 AM

One of my all time favorite albums.

3:54 AM

Have another cut from this outstanding album.

3:56 AM

Gotta love ya some Queen!

4:02 AM

Dream After Dream

Columbia

1980

My favorite Steve Perry song.

4:11 AM

Nursery Cryme

Atlantic

1971

Haven't played any Genesis in awhile so enjoy.

4:22 AM

Recycled

Passport Records

1975

Side 2 of this classic album. The song suite is made of of the tracks Sao Paulo Sunrise / Costa del Sol / Marvellous Moses / It's All Over.

4:43 AM

Bob Dylan

Girl from the North Country

Nashville Skyline

Columbia

1969

Your Dylan of the Day featuring Johnny Cash! I hope to have the new Bootleg Series ordered soon which has the other songs he recorded with Johnny.

4:47 AM

The Ozark Mountain Daredevils

Chicken Train

L

The Ozark Mountain Daredevils

A&M Records

1973

Sadly, Steve Cash passed away so we're going to pay tribute to him this morning.

4:51 AM

The Ozark Mountain Daredevils

Arroyo

L

We close the show with one of my favorite tunes of theirs. I hope you enjoyed the tunes and I'll be catching up with you next week.