KDHX is member supported community media, broadcasting at 88.1 FM in St. Louis, and offering a full spectrum of music and cultural programming.
Oct 25, 2019 3:00 AM – 5:00 AM
Music
With Ryan Cain
From classic to modern, Rolling Thunder brings you a diverse mix of rock styles, including psychedelic, progressive, and even a bit of metal. Ryan Cain spins all of that and more, adding in some blues and jazz for good measure. That's Rolling Thunder, every Tuesday from 3 a.m. to 5 a.m.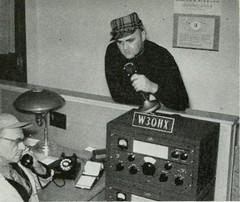 3:01 AM

Free Salamander Exhibit

The Gift

Undestroyed

Web Of Mimicry

2016

We get things kicked off with a little avant-garde metal.

3:11 AM

Mirrors For Psychic Warfare

Cnn Wtz

Mirrors for Psychic Warfare

Neurot Recordings

2016

Some sludgy drone-metal. I don't listen to this album a whole lot but when I do I remember how much I like this album.

3:21 AM

Trent Reznor & Atticus Ross

Outside

Bird Box (Abridged) [Original Score]

The Null Corporation

2019

One of my favorite releases of this year.

3:34 AM

3rd Ear Experience

White Bee

Incredible Good Fortune

3rd Ear Experience

2014

I wanted to bring you this tune a few weeks ago but didn't have time to squeeze it on so here ya go.

3:43 AM

Angel / Helluva Band

BGO

2006

Just recently purchased this collection which has their first 2 albums originally released in 1975 and 1976. This tune comes off their sophomore album.

3:52 AM

Love me some Queensrÿche!

4:02 AM

Todd Rundgren

How About a Little Fanfare? / I Think You Know / The Spark of Life

Todd

Bearsville Records

1974

His outstanding follow-up to the amazing A Wizard, A True Star.

4:12 AM

Freudiana

Let Yourself Go

Freudiana

The Freudiana Music Company

1990

The solo project of Eric Woolfson of the Alan Parsons Project.

4:18 AM

David Bowie

Ashes To Ashes

Scary Monsters (and Super Creeps)

EMI

1980

The newest addition to my Bowie collection.

4:23 AM

Vangelis

Pulstar / Freefall / Mare Tranquillitatis / Main Sequence / Sword of Orion

Side 1 of this outstanding album.

4:44 AM

Bob Dylan

It Takes a Lot to Laugh, It Takes a Train to Cry

Highway 61 Revisited

Columbia

1965

Your Dylan of the Day!

4:48 AM

Stone Blue

Bearsville Records

1978

A little Foghat for ya'll this fine fall morning.

4:55 AM

Ry Cooder

Old Kentucky Home

Ry Cooder

Warner Bros.

1970

We close the show with a little Ry Cooder off his solo debut. I hope you enjoyed the show and I'll be catching up with you next week.