KDHX is member supported community media, broadcasting at 88.1 FM in St. Louis, and offering a full spectrum of music and cultural programming.
Nov 1, 2019 3:00 AM – 5:00 AM
Music
With Ryan Cain
From classic to modern, Rolling Thunder brings you a diverse mix of rock styles, including psychedelic, progressive, and even a bit of metal. Ryan Cain spins all of that and more, adding in some blues and jazz for good measure. That's Rolling Thunder, every Tuesday from 3 a.m. to 5 a.m.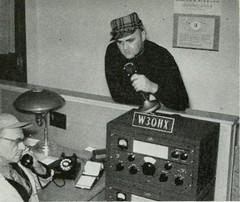 3:01 AM

Lowcaster

Prologue / Flames Bemoan the Tide / Passage

N

Flames Arise

Ripple Music

2019

We get things kicked off with this nice slice of epic doom.

3:15 AM

Blackwater Holylight

Seeping Secrets

N

Veils of Winter

RidingEasy Records

2019

Some more doom with some wonderful female vocals.

3:21 AM

Infinity Forms of Yellow Remember

Great Vibrating Seasons

Infinity Forms of Yellow Remember

Cardinal Fuzz

2019

Some really cool psych sounds coming out of the UK.

3:40 AM

Trapeze

Fairytale / Verily Verily / Fairytale

Just picked up this fine album. Their self-titled debut is a little more on the psychedelic side than their later, more popular albums.

3:48 AM

Steppenwolf

For Ladies Only

For Ladies Only

Dunhill

1971

Can you go wrong with a little Steppenwolf? I think not.

3:59 AM

Angel / Helluva Band

BGO

2006

Coming off their self-titled debut originally released in 1975.

4:06 AM

Supertramp

Hide in Your Shell

Crime of the Century

A&M

1974

Commonly mistaken as their debut but it is actually their third release. Classic album.

4:13 AM

How Dare You (Remastered Version)

Mercury

1997

Originally released in 1976, their fourth and final album with the original lineup.

4:21 AM

Miles Davis

Prelude, Pt. 1

Agharta

Legacy/Columbia

1976

I don't play near enough Miles so enjoy this killer cut.

4:49 AM

Pat Garrett & Billy the Kid (Remastered) [Soundtrack from the Motion Picture]

Columbia

1973

Your Dylan of the Day!

4:53 AM

Steve Cash

White Trash: Caleb

White Mansions: A tale from the American Civil War 1861-1865

A&M

1978

This album features many great artists including Waylon Jennings, John Dillon and Steve Cash from the Ozark Mountain Daredevils, and the guitar work of Eric Clapton and Bernie Leadon. That'll do it for this week, hope you enjoyed the tunes and I'll be catching up with you next week.