KDHX is member supported community media, broadcasting at 88.1 FM in St. Louis, and offering a full spectrum of music and cultural programming.
Nov 15, 2019 3:00 AM – 5:00 AM
Music
With Ryan Cain
From classic to modern, Rolling Thunder brings you a diverse mix of rock styles, including psychedelic, progressive, and even a bit of metal. Ryan Cain spins all of that and more, adding in some blues and jazz for good measure. That's Rolling Thunder, every Tuesday from 3 a.m. to 5 a.m.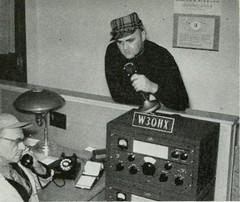 3:01 AM

Cult of Luna

Lay Your Head to Rest

N

A Dawn to Fear

Metal Blade Records

2019

We get things kicked off with some tasty sludge metal. I'm really diggin' this album.

3:07 AM

All Hail

Solid State Records

2019

I have to admit, I was pleasantly surprised when I first listened to this album.

3:13 AM

Norma Jean

Anna / The Mirror and the Second Veil

N

All Hail

Solid State Records

2019

Their best song in a long time and worth the price of admission alone.

3:22 AM

Ritualz

Satanic Warfare

N

Satanico Supremo - EP

Artoffact Records

2019

A nice slice of darkwave, a genre that I'm not too familiar with but I do like what I hear on this one.

3:28 AM

Desert Sessions

Move Together

N

Vols. 11 & 12

Matador

2019

Joshua Homme is back. This track features Billy Gibbons on lead vocals and Les Claypool on bass.

3:33 AM

Queens of the Stone Age

Villains of Circumstance

I couldn't play something from the Desert Sessions without playing any QotSA.

3:42 AM

Ronnie Montrose

Openers (Overture) / Open Fire

Open Fire

Warner Bros.

1978

I've been watching Star Wars with my daughters lately and the beginning of this track sounds like it could have been used on the soundtrack.

3:48 AM

Jean-Luc Ponty

Cosmic Messenger

Cosmic Messenger

Rhino Atlantic

1979

I absolutely love this song.

3:53 AM

The Man Machine (Remastered)

Astralwerks

2009

Originally released in 1978, classic electronic Krautrock.

4:02 AM

Night Ranger

Rumours In the Air

Midnight Madness

Bellaphon

1983

This was actually one of the first LP's in my collection when I first got my turntable. I purchased a stack of records off someone at a garage sale and this was in it.

4:06 AM

Loverboy

Lady of the 80'S

Another guilty pleasure of mine and was also in that stack of records I picked up at that garage sale.

4:12 AM

Billy Idol

Eyes Without a Face

Rebel Yell

Chrysalis Records

1983

Yet another guilty pleasure, and yes, this was also in that stack of garage sale records.

4:16 AM

Q: Are We Not Men? A: We Are Devo!

Warner Records

1978

This was not in that garage sale collection but I think it fits in quite nicely with the other tunes I just played.

4:22 AM

Billy Thorpe

1991 / Solar Dawn / We We're Watching You

21st Century Man

Elektra

1980

The continuation of the Children of the Sun story line. I've actually had this LP for a bit but it had a huge crack down the middle and was unplayable. I just recently picked me up another copy so I can play it for you.

4:44 AM

Bob Dylan

Folsom Prison Blues

N

Travelin' Thru, 1967 - 1969: The Bootleg Series, Vol. 15

Columbia/Legacy

2019

Your Dylan of the Day! This outtake was recorded during the Self Portrait sessions.

4:48 AM

Joan Baez

No Expectations

One Day At A Time

Vanguard Records

1970

A nice cover of the classic Rolling Stones tune.

4:52 AM

We close the show with a tune off Stephen Stills band outtake album. I hope you enjoyed the tunes and I'll be catching up with you next week.