90.1 FM KKFI Kansas City Community Radio
A broadcast service of Mid Coast Radio Project, dba: KKFI. A community radio station in Kansas City, Missouri.
Dec 11, 2022 6:00 AM – 9:00 AM
Music
With Patrick Lloyd
We're taking a 1-week break from the CHA-CHA-CHA themed series to spend the entire show with Adam Elk of The Mommyheads.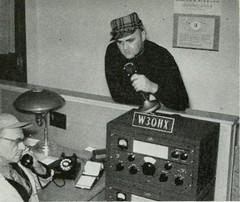 6:04 AM

King Crimson

Frame by Frame

Robert Fripp, Adrian Belew, Bill Bruford, Tony Levin

Discipline

EG Records

1980

Rock

GBCTX1600003

6:09 AM

Porcupine Tree

Rats Return

CLOSURE / CONTINUATION

SME - Music For Nations

2021

Rock

GBCKC2100037

6:16 AM

6:20 AM

Hello, Little Captain

Chris Merritt Music

2007

QZNWT2026980

6:26 AM

Adam Elk interview, segment #1

6:32 AM

The Mommyheads

Impulse Item

Genius Killer

Mommyhead Music

2022

Pop

ushm22261695

6:38 AM

Adam Elk interview, segment #2

6:49 AM

Labello

ORCHARD - Department of Ways & Means

1999

Rock

USQDR0810042

6:54 AM

Adam Elk interview, segment #3

7:02 AM

The Mommyheads

Genius Killler

Genius Killer

Mommyhead Music

2022

Pop

ushm22261696

7:07 AM

Adam Elk interview, segment #4

7:18 AM

Genius Killer

Mommyhead Music

2022

Pop

ushm22261700

7:22 AM

Adam Elk interview, segment #5

7:26 AM

Adam Elk

Maybe You Faked It

Labello

ORCHARD - Department of Ways & Means

1999

Rock

USQDR0810047

7:31 AM

Adam Elk interview, segment #6

7:36 AM

The Mommyheads

Statues (Paintings, Poems and Books)

Age of Isolation

MERLIN - Fanfar!

2021

Pop

SE5CF1601905

7:41 AM

Adam Elk interview, segment #7

7:48 AM

n/a; live acoustic track

self-issued

2020

MP3

Alternative

7:53 AM

Reach The Beach

UMG - Geffen*

1983

Pop

USMC18314110

7:58 AM

Cellarful Of Noise

Samantha

Magnificent Obsession

CBS Associated

1988

CD

Pop

8:03 AM

Elvis Costello

Hoover Factory

Taking Liberties

UMe/Elvis Costello

1980

Rock

USUG10800890

8:05 AM

Pugwash

It's Nice To Be Nice

Jollity

1969 Records

2005

CD

Pop

QMWHB1400803

8:10 AM

Johnny Warman

Walking Into Mirrors

Walking Into Mirrors

Rocket Records

1981

MP3

Rock

SMRUS0011962

8:14 AM

The Bats (Jon Brion, Bill Murphy, Don Fertman)

Chauve Souris / How Pop Can You Get?

How Pop Can You Get?

Gustav

1982

USTC40895554

8:19 AM

Imaginary Kingdom

Tim Finn

2006

Pop

AUEM00600100

8:22 AM

The Finn Brothers

Angel's Heap

Finn

BMG Rights Management (US) LLC

1995

CD

Pop

GBAYE9500132

8:27 AM

Drums And Wires

UMG - Virgin Records

1979

GBAAA0001019

8:32 AM

The Tories

Not What It Appears

Wonderful Life

N2K

1997

CD

Pop

8:37 AM

Thomas Dolby

Europa And The Pirate Twins (2009 Digital Remaster)

The Golden Age Of Wireless

Echo

1987

Pop

GBAYE0900101

8:40 AM

Human's Lib

Cherry Red Records

1984

Pop

GBAHS0800435

8:52 AM

Bruce Woolley & The Camera Club

Dancing With The Sporting Boys

Bruce Woolley & The Camera Club

Columbia

1979

MP3

Pop

8:55 AM

Nick Heyward

Whistle Down The Wind

Top Of The Pops - 1983

UMG - UMC (Universal Music Catalogue)

2017

Pop

GBARK8300002