90.1 FM KKFI Kansas City Community Radio
A broadcast service of Mid Coast Radio Project, dba: KKFI. A community radio station in Kansas City, Missouri.
Dec 18, 2022 6:00 AM – 9:00 AM
Music
With Patrick Lloyd
After a 1-week hiatus, we're back to the multi-week CHA-CHA-CHA series, this being the first of two CHANCE-inspired playlists.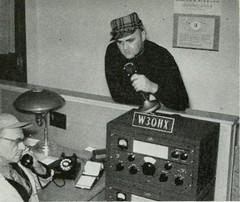 6:01 AM

Origin of Species

BELIEVE - Origin Of Species LLC

2018

FRX201827753

6:09 AM

Kayak

Chance for a Lifetime

Eyewitness

Rdeg

1981

Pop

FR6V80355822

6:14 AM

Robert Berry

Second Chance

Takin' It Back

Long Island

1995

MP3

Rock

6:18 AM

XXX

BMG Rights Management (UK) Ltd

2012

Rock

GBL2D1200047

6:22 AM

World Trade

One Last Chance

6:28 AM

Ridin' High

EMI

1992

Pop

GB01A9200008

6:32 AM

Justin Hayward

Take Your Chances

Moving Mountains

Anchor

1985

6:36 AM

Duran Duran

Last Chance On the Stairway

Rio (Remastered)

Parlophone UK

1982

CD

Pop

GBAYE0100678

6:43 AM

The Crossing (Deluxe Edition)

UMC (Universal Music Catalogue)

1983

CD

Pop

GBF088300767

6:47 AM

The Outfield

Taking My Chances

Play Deep

SME - Columbia

1985

CD

Rock

USSM10100182

6:51 AM

Eddie Money

One More Chance

Can't Hold Back

SME - Columbia

1986

Rock

USSM10100076

6:57 AM

Bob Seger & The Silver Bullet Band

Take A Chance

The Fire Inside

Capitol

1991

CD

Rock

7:01 AM

Abra Moore

Taking Chances

Everything Changed

KOCH RECORDS

2004

Alternative

USKO10202333

7:04 AM

Five for Fighting

Chances

Slice

Wind-up Records

2009

Pop

USSM10904075

7:08 AM

Wildflower

A&M

2005

Pop

USUM70502266

7:19 AM

Joan Armatrading

One More Chance

Sleight of Hand

A&M

1986

Pop

GBAAM8601001

7:24 AM

Mystery

EMI America

1982

MP3

R&B/Soul

7:28 AM

Janet Jackson

Don't Stand Another Chance

Dream Street

A&M

1984

CD

Pop

USAM18400855

7:34 AM

Earth, Wind & Fire

Takin' Chances

Heritage

SME - Columbia

1990

R&B/Soul

USSM10206868

7:36 AM

Mariah Carey

You Had Your Chance

Charmbracelet

UMG - Def Jam Recordings

2002

Pop

USDJ20201287

7:39 AM

Billy Ocean

Taking Chances

City Limit (Expanded Edition)

Sony Music UK

1980

Pop

GBBBM8100039

7:49 AM

Jackson 5

One More Chance

ABC

UNI/MOTOWN

1970

R&B/Soul

USMO17000467

7:51 AM

Phoenix

Epic/Legacy

1975

R&B/Soul

USSM17900885

7:54 AM

Wyclef Jean

One Last Chance

Masquerade

SME - Columbia

2002

R&B/Soul

USSM10202959

7:58 AM

Demi Lovato

World Of Chances

Here We Go Again

UMG - Hollywood Records

2009

Pop

USHR10924482

8:01 AM

Rickie Lee Jones

Second Chance

The Evening of My Best Day

MERLIN - V2

2003

Jazz

USVT10300098

8:05 AM

Todd Rundgren

Chance for Us

White Knight

Cleopatra Records

2017

QM6XS1703877

8:13 AM

Kevin Coyne & The Paradise Band

Chances

Romance-Romance

Zabo

1990

MP3

Pop

8:15 AM

Bryan Ferry

Chance Meeting

Let's Stick Together

Virgin Records

1976

Rock

GBAAA9900260

8:19 AM

Suzanne Vega

Fifty-Fifty Chance (Fifty Fifty)

Days Of Open Hand

UMG - A&M Records

1990

Rock

USAM10200413

8:22 AM

Pilgrim

Bushbranch / Surfdog Records

1998

CD

Rock

USRE19800005

8:27 AM

Delbert McClinton

One More Last Chance

Delbert McClinton

Curb Records

1993

World

USCRB1511429

8:31 AM

Steady As She Goes

Red House Records

2011

Pop

USRHR1124103

8:36 AM

Joni Mitchell

Last Chance Lost

Turbulent Indigo

Rhino

1994

Pop

USRE10100258

8:40 AM

Stockton's Wing

Take A Chance

Take A Chance

Tara Music Company Ltd.

1980

CD

World

IEABE8030404

8:49 AM

Mary Chapin Carpenter

I Take My Chances

Come On Come On

Columbia

1992

Country

USSM19200397

8:52 AM

Cross Canadian Ragweed

My Chances

Happiness And All The Other Things

UMG - Show Dog Universal Music

2009

Country

USUS70900029

8:57 AM

Michelle Branch

Second Chances

Broken Bracelet

Michelle Branch

2000

TCAAS1055086