90.1 FM KKFI Kansas City Community Radio
A broadcast service of Mid Coast Radio Project, dba: KKFI. A community radio station in Kansas City, Missouri.
Dec 25, 2022 6:00 AM – 9:00 AM
Music
With Patrick Lloyd
Merry Christmas, everybody ... with an unusual array of holiday-inspired music, spanning multiple musical eras and genres.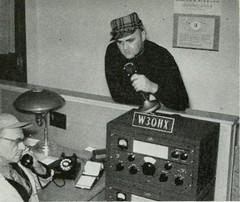 6:00 AM

Spinal Tap

Christmas With the Devil

Break Like the Wind (Original Recording Remastered)

Geffen*

1992

CD

Hard Rock

USMC19137562

6:06 AM

The Moody Blues

On This Christmas Day

December

Universal Music Ireland Ltd.

2003

Rock

GBBFR0300137

6:09 AM

Mew

She Came Home for Christmas

A Triumph for Man (Extended Version)

Evil Office

1997

MP3

Alternative

DK9T39701248

6:13 AM

The Smashing Pumpkins

Christmastime

A Very Special Christmas 3

A&M

1997

CD

Holiday

USUG10400554

6:17 AM

Curt Smith

This Is Christmas

Holiday Songs

Kook Media

2010

MP3

Alternative

6:22 AM

Michael McDonald

Every Time Christmas Comes Around

In the Spirit - A Christmas Album

MCA Nashville

2001

CD

Holiday

USMCN0110137

6:26 AM

Earth, Wind & Fire

Joy to the World

Holiday

Legacy Recordings

2014

USSM11407688

6:30 AM

Prince

Another Lonely Christmas

Prince, The Revolution

I Would Die 4 U

Warner Bros.

1984

Pop

USWB10003134

6:35 AM

James Brown

Santa Claus Go Straight to the Ghetto

A Soulful Christmas

Polydor

1968

12 Inch

Holiday

USPR36806014

6:40 AM

Aaron Neville

Louisiana Christmas Day

Aaron Neville's Soulful Christmas

A&M

1993

USAM19300039

6:43 AM

Louis Armstrong & Benny Carter and His Orchestra

Christmas In New Orleans

The Decca Singles 1949-1958

Verve Reissues

2016

MP3

Jazz

USMC15547437

Originally released as a non-album single in 1955

6:46 AM

Mabel Scott

Boogie Woogie Santa Claus (Remastered)

Boogie Woogie Santa Claus (Remastered) - Single

Bacci Bros Records

2003

MP3

Jazz

GBHGA1317474

Originally released in 954

6:49 AM

Ella Fitzgerald

Santa Claus Got Stuck (In My Chimney) [feat. The Ink Spots]

The Complete Decca Singles, Vol. 4: 1950-1955

Verve Reissues

2017

MP3

Holiday

USMC15076899

Originally released in 1950

6:54 AM

Frank Sinatra

We Wish You The Merriest (feat. Bing Crosby & Fred Waring and His Pennsylvanians)

12 Songs Of Christmas

Reprise

1964

CD

Pop

USRE16400042

6:56 AM

Miles Davis

Blue Xmas (To Whom It May Concern) [Remastered]

A Jazzy Christmas (Remastered)

Sony Music Entertainment

2014

Jazz

GBURZ1204522

Originally released in 1962, featuring Bob Dorough on vocals

6:59 AM

We Three Kings

UMG - Geffen*

1990

Holiday

USWWW0200092

7:02 AM

Fountains Of Wayne

The Man In The Santa Suit

Out-Of-State Plates

UMG - Virgin Records

2005

Rock

USVI20500188

7:08 AM

Martin Newell

Christmas In Surburbia

The Greatest Living Englishman

Cherry Red Records

1993

Rock

GBBLY0000044

7:11 AM

Rag and Bone Buffet

Virgin

1983

CD

EMIDD1207416

7:14 AM

"Weird Al" Yankovic

The Night Santa Went Crazy

Bad Hair Day

Volcano

1996

CD

Comedy

USVR10300140

7:18 AM

Buddy Judge

X-Mas in Clownhenge

Profiles In Clownhenge

Kraftmatic Adjustable Music

1998

CD

Alternative

7:22 AM

The Kinks

Father Christmas

Come Dancing with the Kinks (The Best of the Kinks 1977-1986)

Legacy Recordings

2014

Pop

USQX91400433

Originally released as a non-album single in 1977

7:27 AM

The Surfaris

A Surfer's Christmas List

Christmas Doo Wop & Pop, Vol. 3

Classic Records

2013

World

USESK1330681

Originally released as a non-album single in 1963

7:30 AM

Bobby Vee

Christmas Vacation

Merry Christmas from Bobby Vee (Original Album 1962)

The Sound Of Christmas

2013

Holiday

DEBL60546665

7:32 AM

Shooting Star

Christmas Together

L

Anthology (2019 Remaster)

Rdeg

2007

FR10S1962800

Originally released as a non-album single n 1989

7:39 AM

Paul Young

What Christmas Means To Me

Allen Story, Anna Gordy Gaye, George Gordy

A Very Special Christmas 2

Universal Music

1992

USUG10400540

7:42 AM

Elton John

Step Into Christmas

Diamonds

Universal Music Group

2017

Pop

GBUM71702496

Originally released as a non-album single in 1973

7:46 AM

Just Say Noel (V/A)

Geffen

1996

CD

Alternative

7:53 AM

Spiraling

Do You Hear What I Hear?

This Christmas Time 2

Powerpop Academy

2012

MP3

Rock

7:56 AM

Jars of Clay

Love Came Down At Christmas

Christmas Songs (Bonus Track Version)

Nettwerk Music Group

2007

MP3

Holiday

CAN110700759

8:00 AM

3 Doors Down

Where My Christmas Lives

Brad Arnold, Matt Roberts, Todd Harrell, Chris Henderson

Where My Christmas Lives

Universal Music Ireland Ltd.

2009

Pop

USUM70916617

8:06 AM

Chris Rea

Driving Home For Christmas

New Light Through Old Windows

V/A

Rhino

USA

1988

Other

Rock

USEE10184339

8:10 AM

Aimee Mann

Christmastime

Michael Penn, Jon Brion

One More Drifter in the Snow

Superego Records

2006

USSE50602504

8:13 AM

Chris Isaak

Christmas on TV

Christmas

Universal Music Australia Pty. Ltd.

2017

Holiday

USMB50500080

8:17 AM

Bill Anderson

Po' Folks Christmas

No Place Like Home On Christmas

Varese Sarabande

2002

US3M50241006

8:20 AM

Walter Brennan

Just Three Letters for Christmas

'Twas the Night Before Christmas...Back Home

EMI Music Nashville (ERN)

1962

MP3

Holiday

USCN10900099

8:23 AM

David Myles

Santa Never Brings Me A Banjo

It's Christmas

little tiny records / Fontana North

2014

World

CAT221410005

8:24 AM

Roy Clark

Christmas Time's A-Comin'

Roy Clark: A Christmas Collection

SBME Special Markets

2013

MP3

Country

8:27 AM

Old Sound

It's Christmas All Over Again

L

An Old Sound Christmas

Independent

2017

CD

Americana

8:34 AM

Troubadours of Divine Bliss

Christmas Dream

Christmas Dream - EP

Troubadours of Divine Bliss

2020

Holiday

USFY12000014

8:38 AM

Blue

Rhino/Warner Records

1971

MP3

Pop

USRE11300133

8:42 AM

John Waite

All I Want For Christmas

When You Were Mine

UMG - Island Mercury

1997

Rock

USMR19787210

8:49 AM

Michael Johnson

Upon a Christmas Eve

Stars Come Out for Christmas - Special Edition II

Steve Vaus Productions

2010

Pop

USHM91059860

8:52 AM

MonaLisa Twins

All I Want Christmas to Be

Christmas

Woolgoose Records

2019

MP3

Holiday

ATWB60700096

8:56 AM

Scott Duncan

Winter Light & O Come All Ye Faithful

L

n/a; single

Independent

2019

MP3

Classical