90.1 FM KKFI Kansas City Community Radio
A broadcast service of Mid Coast Radio Project, dba: KKFI. A community radio station in Kansas City, Missouri.
Jan 8, 2023 6:00 AM – 9:00 AM
Music
With Patrick Lloyd
After several interruptions (Mommyheads interview, Christmas, New Year's), we'll finally finish up the 6-week-long themed series, CHA-CHA-CHA, with the final episode of "Chance".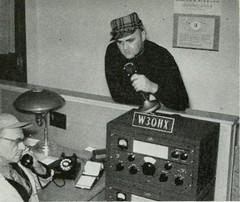 6:00 AM

Origin of Species

BELIEVE - Origin Of Species LLC

2018

FRX201827766

6:09 AM

Dave Stewart & His Rock Fabulous Orchestra

Taking Chances

The Dave Stewart Songbook, Vol. 1

Surfdog Records / Weapons of Mass Entertainment

2008

CD

Rock

USSFR0819209

6:14 AM

Bastian Per

Second Chance

Epic Journey

Sebastian Prosperi

2019

Rock

QZES61962776

6:18 AM

6:23 AM

Howard Jones

Another Chance

Revolution of the Heart

Koch Records

2005

CD

Pop

GBBZZ0500085

6:32 AM

Warhorse

No Chance (Remastered)

Warhorse (Remastered Version)

Repertoire Records

2011

MP3

Rock

DED467000096

6:37 AM

Second Chance

WMG - Lemon

2021

Rock

GBBLY2004567

6:40 AM

Roll the Bones (Remastered)

Rhino Atlantic

1991

CD

Hard Rock

USAT21300586

6:47 AM

Tom Petty & the Heartbreakers

We Stand a Chance

Long After Dark

MCA

1982

USMC18212883

6:50 AM

The Jeff Healey Band

Don't Let Your Chance Go By

See the Light

Arista

1988

CD

Rock

USAR10000728

6:54 AM

John Mellencamp

Last Chance

Whenever We Wanted

Mercury

1991

CD

Americana

USPG19190022

6:57 AM

Derek & The Dominos

One More Chance

Layla And Other Assorted Love Songs

UMG - Universal Music Group International

1970

CD

Blues

GBUM71028902

7:03 AM

Destination Known

Escape Music LTD

1997

MP3

Alternative

USHM20851817

7:07 AM

Charlie

Just One More Chance

Good Morning America

RCA Victor

1981

MP3

Pop

FR6V80795456

7:11 AM

Cher

Give Our Love A Fightin' Chance

Cher

UMG - Geffen

1987

Pop

USIR10110056

7:15 AM

The Click Five

I'll Take My Chances

Greetings from Imrie House

Lava

2005

Pop

USAT20501397

7:21 AM

The Turtles

Outside Chance

All The Singles

FloEdCo

2016

Rock

USQE11610185

Originally released as a non-album B-side in 1966

7:23 AM

Wish You Were Here

WMG - Rhino/Warner Records

1974

Pop

USWB10002286

7:26 AM

Gerry Rafferty

Half a Chance

Can I Have My Money Back?

Castle Communications

1971

Pop

GBAJE7100763

7:30 AM

ABBA: The Album

Polar Music International AB

1977

CD

Pop

SEAYD7702020

7:34 AM

Look Sharp! (Deluxe Version)

Parlophone Sweden

1988

CD

Pop

SEAME8878070

7:42 AM

David Cassidy

I Lost My Chance

Cherish

SME - Buddha Records

1972

Pop

USAR17200154

7:46 AM

Bruce Cockburn

You Pay Your Money and You Take Your Chance

Inner City Front (Bonus Track Version)

True North

2002

Rock

CAT248100229

7:50 AM

Christopher Cross

A Chance For Heaven (Swimming Theme)

The Official Music Of The 1984 Games

Columbia

1984

CD

World

7:53 AM

Stevie Wonder

Give Your Heart A Chance

With A Song In My Heart

UMG - UNI/MOTOWN

1963

Pop

USMO10200054

7:56 AM

Dionne Warwick

Another Chance to Love (with Howard Hewett)

Reservations for Two

Arista/Legacy

1987

CD

R&B/Soul

USAR10400743

8:03 AM

Johnny Mathis

Chances Are

Johnny's Greatest Hits

Columbia

1958

Jazz

USSM10015995

8:06 AM

Peggy Lee

I Never Had A Chance

Mink Jazz

UMG - Capitol Records

1963

Easy Listening

USCA29800933

8:09 AM

Eddy Howard

I Don't Want to Take a Chance

The Eddy Howard Collection 1939-55

Acrobat

2017

Pop

GBSUW1723122

Originally released as a non-album single in 1952

8:11 AM

Diana Krall

I Don't Stand A Ghost Of A Chance With You

Love Scenes

UMG - Impulse!

1997

Jazz

USGR19700167

8:16 AM

Eddie Fisher

That's the Chance You Take

Yoùll Never Know

BELIEVE - Itube

2013

Jazz

GBURZ1206764

Originally released as a non-album single in 1952

8:19 AM

Les Paul & Mary Ford

Just One More Chance

Les Paul's New Sound, Vol. 2

Capitol Records

1951

Easy Listening

USCA29001731

8:23 AM

Carly Simon

Half a Chance

Another Passenger

Rhino/Elektra

1976

Pop

USEE11400469

8:26 AM

Rod Stewart

Taking A Chance On Love

Thanks For The Memory... The Great American Songbook Vol. IV

SME - J Records

2005

Pop

USJAY0500729

8:29 AM

Steve Winwood

While You See a Chance

Arc of a Diver

UMC (Universal Music Catalogue)

1980

CD

Rock

GBAAN8000012

8:34 AM

Porcupine Tree

Last Chance To Evacuate Planet Earth Before It Is Recycled

Lightbulb Sun

MERLIN - Kscope

2000

Rock

GBCQV0700904

8:39 AM

The Pineapple Thief

Second Chance

Tightly Unwound

Kscope

2008

Rock

GBCQV1300482

8:48 AM

Gentle Giant

You Haven't A Chance

Under Construction

Alucard

1997

MP3

Prog-Rock/Art Rock

8:52 AM

The Plastic Ono Band

Give Peace A Chance

Give Peace A Chance

UMG - Capitol Records

1969

Rock

GBAYE0302803

8:57 AM

Chances Are

Cotillion

1981

MP3

Reggae

FR26V2069018