Real People Real Radio
Tucson and Southern Arizona's Community Radio
Oct 1, 2022 2:00 PM – 4:55 PM
Music
With Tyina
Exploring the roots and branches of rhythm and blues
Stax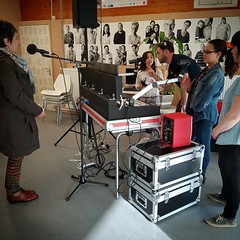 1:59 PM

Written by David Porter and Isaac Hayes

2:05 PM

Rufus & Carla Thomas

'Cause I Love You

First Stax record, recorded when Carla Thomas was 17.

2:08 PM

Wanted: One Soul Singer

Rhino Atlantic

2004

Written by David Porter and Isaac Hayes

2:11 PM

William Bell

I Forgot to Be Your Lover

The Best of William Bell (Remastered)

Fantasy Records

1990

2:14 PM

Booker T. & The M.G.'s & The Mar-Keys

Philly Dog

Live at the Monterey International Pop Festival

The Monterey International Pop Festival Foundation

2019

Recorded live during Otis Redding's set at the Monterey International Pop Festival in 1967

2:21 PM

Jean Knight

Mr. Big Stuff

Mr. Big Stuff

Fantasy Records

1971

2:24 PM

Eddie Floyd

I've Never Found a Girl

2:26 PM

The Complete Stax / Volt Soul Singles, Vol. 2: 1968-1971

Stax

1993

2:29 PM

Mel & Tim

Starting All Over Again

Starting All Over Again

Stax

1972

2:32 PM

Wilson Pickett

In the Midnight Hour

In the Midnight Hour

Rhino Atlantic

1965

Recorded at Stax Studios in Memphis on May 12, 1965, and features Stax studio musicians Steve Cropper, Al Jackson (drums) and Donald "Duck" Dunn (bass).

2:35 PM

Albert King

I'll Play the Blues for You

Stax Profiles: Albert King

Stax

2006

2:44 PM

Soul Finger

Rhino/Elektra

2004

2:46 PM

Hot Buttered Soul

Stax

2016

Featuring the Bar-Kays

2:54 PM

Otis Redding

Try a Little Tenderness (Live)

Live In Europe

Rhino Atlantic

1967

3:04 PM

The Staple Singers

Respect Yourself

Wattstax: Highlights from the Soundtrack

Stax

2004

3:08 PM

Rance Allen

Lying On the Truth (Live from Wattstax)

Stax Profiles: Rance Allen

Stax

2006

3:12 PM

The Emotions

Peace Be Still

3:16 PM

The Soul Children

I Don't Know What This World Is Coming To

Wattstax: The Living Word

Stax

2019

3:23 PM

The Dramatics

Whatcha See Is Whatcha Get (Live)

The Dramatics Live (Live)

Fantasy Records

1988

3:27 PM

Carla Thomas

Pick Up the Pieces

Wattstax - The Living Word

Stax

2007

3:31 PM

Luther Ingram

(If Loving You Is Wrong) I Don't Want to Be Right

(If Loving You Is Wrong) I Don't Want to Be Right

Stax

1972

3:33 PM

Johnnie Taylor

Jody's Got Your Girl and Gone

Johnnie Taylor - Live At the Summit Club

Stax

2007

Recorded in 1972 as part of the WattStax festival

3:43 PM

Rufus Thomas

The Breakdown - Live

Rufus Thomas' Walking the Dog

Charly Records

2006

3:47 PM

Eddie Floyd

Knock On Wood

Wattstax - The Living Word

Stax

2007

3:50 PM

Little Milton

Walking the Backstreets and Crying

Walkin' the Back Streets

Stax

1981

3:56 PM

Isaac Hayes

Theme from "Shaft"

Wattstax: Highlights from the Soundtrack

Stax

2004

4:03 PM

Volt was Stax's sister label

4:06 PM

Never To Be Forgotten - The Flip Side Of Stax 1968-1974

V/A

Stax

1968

4:08 PM

Jeanne & The Darlings

Standing In the Need of Your Love

Stax Singles, Vol. 4: Rarities & the Best of the Rest

Craft Recordings

2018

4:11 PM

The Sweet Inspirations

All It Takes Is You and Me

Estelle, Myrna and Sylvia

Stax

1973

4:14 PM

Otis Redding & Carla Thomas

When Something Is Wrong With My Baby

King & Queen

Rhino Atlantic

1967

4:22 PM

The Bar-Kays

Song and Dance

The Best of the Bar-Kays

Fantasy

1992

4:24 PM

The Best of Isaac Hayes

Stax

1974

4:29 PM

Johnnie Taylor

Little Bluebird

Lifetime

Rhino Atlantic

2000

4:32 PM

Barbara & The Browns

I Don't Want Trouble

In My Heart: Rare Soul Sides - EP

Warner Music Group - X5 Music Group

2021

4:35 PM

Jimmy McCracklin

Yesterday Is Gone

Yesterday Is Gone

Craft Recordings

1972

4:42 PM

Soul Men

Stax/Atlantic

1967

4:45 PM

Otis Redding

Hard to Handle

4:48 PM

The Staple Singers

We'll Get Over

4:50 PM

Booker T. & the M. G. 's

Green Onions

Green Onions

SINETONE AMR

1962

Green Onions was the first album released on the Stax label

4:53 PM

Kashmere Stage Band

Do Your Thing

Texas Thunder Soul (1968-1974)

Now Again Records

2006

Isaac Hayes cover
I absolutely love today's theme Tyina!
Glad you're enjoying it, Dan!
Strange...listening to Joy (Pt 1), I noticed that the strings are in and out of tune. Normally, I'd associate that with a mellotron, but I believe that these strings are actual. Wonder why this is this way? I'll have to dig deeper! (As if Soul Stories doesn't make me do that anyway. 😁 )
Good ear, Dan. I never caught that, so I'll have to listen again.
Yeah, I really noticed it at the beginning of the track...