Real People Real Radio
Tucson and Southern Arizona's Community Radio
Dec 17, 2022 2:00 PM – 4:55 PM
Music
With Tyina
Exploring the roots and branches of rhythm and blues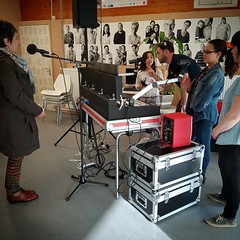 2:03 PM

Kool & The Gang

Get Down On It

Something Special

Island Def Jam

1981

This song hit the top 10 of the Billboard Pop and R&B charts in early 1982.

2:08 PM

Original Musiquarium

UNI/MOTOWN

1982

2:15 PM

In the Pocket

Special Products

1981

"Oh No" was featured on the soundtrack to the 1982 film "The Last American Virgin" and was one of the last Commodores songs to feature Lionel Ritchie.

2:23 PM

George Clinton

Atomic Dog

Computer Games

Capitol Records

1982

"Computer Games" is the debut solo album from Clinton

2:28 PM

Chaka Khan

So Not To Worry

Chaka Khan

Rhino/Warner Records

1982

2:33 PM

Lionel Richie

UNI/MOTOWN

1982

From Richie's debut solo album, following his departure from the Commodores

2:41 PM

Luther Vandross

Since I Lost My Baby

Forever, For Always, For Love

Epic

1982

2:47 PM

Michael Jackson

The Lady In My Life

2:52 PM

Silk Electric

Parlophone UK

1982

Written and produced by Michael Jackson

3:01 PM

The Gap Band

You Dropped a Bomb On Me

Gap Band IV

Special Products

1982

3:04 PM

Bloodstone

We Go a Long Way Back (12")

We Go a Long Way Back (Bonus Track Version)

Legacy Recordings

1982

Bloodstone formed in 1962 when members were high school students in Kansas City, Missouri

3:10 PM

George Benson

Turn Your Love Around

The George Benson Collection

Rhino/Warner Records

1981

"Turn Your Love Around" reached the #1 spot on the soul singles chart and #5 on the Billboard Hot 100 singles chart in early 1982

3:14 PM

Daryl Hall & John Oates

One on One

3:23 PM

3:28 PM

Skyy Line

Salsoul Records

1981

#1 R&B record in 1982

3:35 PM

Ray Parker Jr.

The Other Woman

The Other Woman

Ray Parker Jr.

1982

3:40 PM

Zapp II

Rhino/Warner Records

1982

3:45 PM

Gwen Guthrie

It Should Have Been You (Larry Levan Mix ) [Bonus Track]

Gwen Guthrie

Mercury Records

1982

Guthrie sang backup for folks like Aretha Franklin, Billy Joel, Stevie Wonder, Peter Tosh, and Madonna. She also wrote songs made famous by Ben E. King, Angela Bofill and Roberta Flack. This version of "It Should Have Been You" is one of Larry Levan's mixes from the Paradise Garage nightclub in NYC

3:52 PM

Patti Austin

Baby, Come To Me

Every Home Should Have One

Craft Recordings

1981

4:02 PM

Musical Youth

Pass The Dutchie

4:06 PM

Gregory Isaacs

Night Nurse

Night Nurse (Bonus Tracks Edition)

Island Records

1982

4:09 PM

Eddy Grant

Electric Avenue

Killer On the Rampage

Portrait Records

1982

The song refers to Electric Avenue in London, and to the 1981 Brixton riot - a series of clashes between mainly black youths and the Metropolitan Police in April 1981.

4:13 PM

Culture Club

Do You Really Want to Hurt Me

Kissing to Be Clever

Virgin Catalogue

1982

4:21 PM

Earth, Wind & Fire

Let's Groove

Raise!

Legacy Recordings

1981

This song spent eight weeks at #1 on the Billboard Hot Soul Singles chart in late 1981 and early 1982

4:28 PM

The Time

I Don't Wanna to Leave You

What Time Is It?

Warner Records

1982

4:34 PM

Daryl Hall & John Oates

I Can't Go for That (No Can Do)

Private Eyes (Expanded Edition)

RCA/BMG Heritage

1981

"I Can't Go for That" was the only record to hit #1 on both the Hot 100 and then-Hot Soul charts in the year 1982

4:42 PM

The Pointer Sisters

I'm So Excited

So Excited! (Expanded Edition)

RCA/Legacy

1982

4:46 PM

The Weather Girls

It's Raining Men

Success

Entertainment Co./Columbia

1982

The Weather Girls began their musical career as Two Tons O' Fun, the backup duo for disco singer Sylvester.

4:50 PM

Gap Band IV

Special Products

1982

4:53 PM

Indeep

Last Night a D.J. Saved My Life

The Collection

Unidisc Music Inc.

1991
Taking me back to what feels like another lifetime, rp Jr
Hey Michael - I had forgotten about Parker's influence on the early 80s!
He was like all you've played today, you couldn't go anywhere without hearing all this good music. Earth wind and fire, so good
Thanks for this great show Tyina, it is amazing how many incredible songs came out in that one year!
Glad you enjoyed the trip to '82, Corbin!