Real People Real Radio
Tucson and Southern Arizona's Community Radio
Jan 21, 2023 2:00 PM – 4:55 PM
Music
With Tyina
Exploring the roots and branches of rhythm and blues
Blue-Eyed Soul, Part 2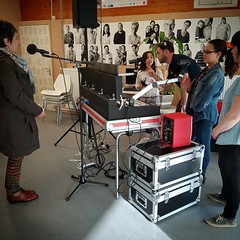 2:04 PM

The Righteous Brothers

Soul City

You've Lost That Lovin' Feelin'

Universal Records

1965

2:05 PM

The Buckinghams

Mercy, Mercy, Mercy

Time & Changes

Sony Music Entertainment

1967

This is a vocal cover of a jazz record by saxophonist Julian "Cannonball" Adderley.

2:09 PM

Aja (Remastered)

Geffen*

1977

2:14 PM

Daryl Hall & John Oates

Sara Smile

Daryl Hall & John Oates

Buddha Records

1975

2:21 PM

Rick James & Teena Marie

Fire and Desire

Street Songs (Deluxe Edition)

Motown

1981

2:29 PM

It Must Be Magic (Remastered)

UNI/MOTOWN

1981

2:35 PM

Teena Marie

Behind the Groove

Lady T (Expanded Edition)

UNI/MOTOWN

2011

2:43 PM

Tom Tom Club

Genius of Love

Tom Tom Club

Universal-Island Records Ltd.

1982

Founded in 1981 by husband-and-wife team Chris Frantz and Tina Weymouth as a side project from Talking Heads.

2:47 PM

Culture Club

Miss Me Blind

Colour By Numbers

EMI Marketing

1983

2:52 PM

Simply Red

Holding Back the Years

Picture Book

Rhino/Elektra

1985

2:56 PM

Michael McDonald

I Keep Forgettin' (Every Time You're Near)

If That's What it Takes

Reprise

1982

Former member of the Doobie Brothers and Steely Dan

3:04 PM

Poolside

Rhino Atlantic

1986

3:09 PM

George Michael

One More Try

Faith (Deluxe Edition)

Epic

1987

This record made it to #1 on the Billboard Hot 100, the Hot Black Singles, and Hot Adult Contemporary charts.

3:15 PM

Robbie Nevil

C'est La Vie

Robbie Neville

Capitol Records

1986

3:22 PM

Crash

Virgin Records

1986

3:27 PM

Herb Alpert

Making Love In the Rain

Keep Your Eye On Me

Herb Alpert Presents

1987

Main vocals by Minneapolis singer Lisa Keith, with backup vocals from Janet Jackson

3:33 PM

Sheena Easton

The Lover In Me

The Lover In Me

Geffen

1988

3:43 PM

Taylor Dayne

I'll Always Love You

Tell It to My Heart

Arista/Legacy

1988

3:47 PM

Lisa Stansfield

You Can't Deny It

Affection (Deluxe)

Sony Music UK

1989

3:52 PM

New Kids On the Block

Please Don't Go Girl

Hangin' Tough

Columbia

1988

3:56 PM

Tara Kemp

One Two Productions (Tuhin Roy

1991

4:05 PM

Cool Relax

Yab Yum Records/550 Music

1997

4:07 PM

Madonna

I'd Rather Be Your Lover

Bedtime Stories

Sire/Warner Records

1994

Bass and rap provided by Me'Shell NdegéOcello 

4:15 PM

Can't Take Me Home (Expanded Edition)

Arista/LaFace Records

2000

4:21 PM

Josh Rouse

Comeback (Light Therapy)

4:25 PM

Multiply

Warp Records

2005

4:30 PM

Justin Timberlake & The Benjamin Wright Orchestra

Until the End of Time

FutureSex/LoveSounds (Deluxe Version)

Jive

2006

4:35 PM

Robin Thicke

Lost Without U

The Evolution of Robin Thicke

The Neptunes

2007

4:42 PM

Joss Stone

Put Your Hands On Me

Introducing Joss Stone

Virgin Records

2007

4:45 PM

Amy Winehouse

Valerie (Live, BBC Radio 1 In Lounge, London/2007)

Back to Black (Deluxe Edition)

Universal-Island Records Ltd.

2007

4:50 PM

4:54 PM

Sam Smith

Lay Me Down (feat. John Legend)

In the Lonely Hour

Capitol

2014
And Happy Birthday, Saturday Soul Stories!
Wow...the 90s sure went by fast! Haha
That's my bias, Dan. I couldn't remember a lot from the 90s (and I really wanted to get to the Brits from the 200s
I kind of figured it was something like that, Tyina. 😊
I am surprised to hear Josh Rouse in this mix, though! I love his music but had never really thought of him as blue-eyed soul. But I notice that has kind of been an underlying sub-theme of today's show: so many artists who were not necessarily considered soul at the time.
That's true ... I'm including people who had an R&B jam or two, even if they aren't typically considered BES.
Patricia Watkins
4:52:00 PM
Great show, Tyina! Especially the last set! Adele 😍
Thank you, Patricia! Had to save room for my girl Adele.
Patricia Watkins
4:54:10 PM
And Amy Winehouse! 🙏