Real People Real Radio
Tucson and Southern Arizona's Community Radio
Mar 4, 2023 2:00 PM – 4:55 PM
Music
With Tyina
Exploring the roots and branches of rhythm and blues
Chaka Khan
Yvette Marie Stevens was born on March 23, 1953 in Chicago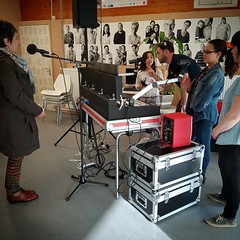 2:02 PM

Chaka Khan

I Feel for You

I Feel for You

Rhino/Warner Records

1984

This Prince cover features Stevie Wonder on harmonica

2:09 PM

2:13 PM

Chicago 13 (Remastered)

Rhino

2004

Released by Rufus in 1978; co-written by Chicago's drummer, Danny Seraphine

2:24 PM

2:26 PM

Rufus featuring Chaka Khan

Tell Me Something Good

For their second album, the band changed its name to Rufus featuring Chaka Khan

2:29 PM

Streamline

Rhino/Elektra

1978

Guest vocals by Chaka Khan

2:36 PM

1984

Virgin Catalogue

1981

Lead vocals by Chaka Khan

2:43 PM

Mary J. Blige

Sweet Thing

What's the 411?

UNI/MOTOWN

1992

2:47 PM

Rufus featuring Chaka Khan

Fool's Paradise

Rufus featuring Chaka Khan

Geffen*

1975

2:51 PM

Erykah Badu: Live

Kedar

1997

3:00 PM

Whitney Houston

I'm Every Woman

The Bodyguard (Original Soundtrack Album)

Arista

1992

3:05 PM

Clouds - Single

3Beat

2020

Samples vocals from Chaka Khan's "Clouds" (1980)

3:08 PM

This Is Not a Test!

EastWest

2003

Samples Chaka Khan's "Love Has Fallen on Me"

3:11 PM

Chaka Khan

Love Has Fallen On Me

Chaka

Rhino/Warner Records

1978

3:19 PM

Happy Soul For Kids

UME - Global Clearing House

2022

3:22 PM

Lee "Scratch" Perry & The Upsetters

Tell Me Something Good

Return of the Super Ape

Trojan Records

1978

3:25 PM

Mariah Carey

It's Like That

The Emancipation of Mimi

Def Jam Recordings

2004

Samples Chaka Khan's "This Is My Night" (1984)

3:29 PM

Dee Dee Bridgewater

Night in Tunisia (Live In Montreux 1990)

References "And the Melody Still Lingers On (Night in Tunisia)" by Chaka Khan

3:43 PM

Rufus featuring Chaka Khan

Everlasting Love

3:47 PM

Stephen Bishop

A Fool at Heart

Background vocal from Chaka Khan

3:53 PM

Steve Winwood

Higher Love

Back In the High Life

UMC (Universal Music Catalogue)

1986

Features Chaka Khan as background vocalist

4:03 PM

Rufus and Chaka Khan

Ain't Nobody (Live)

Stompin' at The Savoy (Live)

Rhino/Warner Records

1983

4:08 PM

Kelly Price

Through the Fire

Sing Pray Love, Vol. 1: Sing

eOne Music

2014

4:14 PM

The Undisputed Truth

You + Me = Love (Single Version)

Method to the Madness

Rhino/Warner Records

1976

Taka Boom, Chaka's little sister, took over as lead singer for 1976's "Method to the Madness"

4:22 PM

Chicago

Take Me Back to Chicago

Background vocals (and a little preaching) from Chaka Khan

4:30 PM

Chaka Khan

What Cha' Gonna Do for Me

What Cha' Gonna Do for Me

Rhino/Warner Records

1981

4:34 PM

Rufus cover

4:42 PM

4:45 PM

Rufus & Chaka Khan

Do You Love What You Feel

4:49 PM

Quincy Jones & Mark Ronson

Keep Reachin' (feat. Chaka Khan)

Quincy: A Life Beyond Measure (Music From The Netflix Original Documentary)

Universal Music Enterprises

2018
Hey Tyina! Have always loved the Finger Tips sample in I Feel For You. ❤️
Hey Dan! Stevie is one of Chaka's #1 fans.
Tell Me Something Good was the first time I ever heard Chaka Khan's voice, and I was hooked. I was in my early teens. But my favorite hit of theirs at the time was You Got the Love. What punch in the rhythm section!
Love this set, Tyina…I had no idea she collaborated with Wakeman!
Robot Man was a new discovery for me, too, Dan. I've been singing it for weeks while putting this show together!