Real People Real Radio
Tucson and Southern Arizona's Community Radio
Jun 3, 2023 2:00 PM – 4:55 PM
Music
With Tyina
Exploring the roots and branches of rhythm and blues
Rock 'n' Soul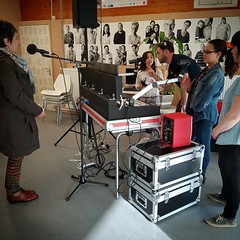 2:03 PM

Ike & Tina Turner

I Want To Take You Higher

What You Hear Is What You Get: Live at Carnegie Hall

CAPITOL CATALOG MKT (C92)

1971

2:08 PM

Sister Rosetta Tharpe & Lucky Millinder & His Orchestra

Rock Me

The Gospel of the Blues (Remastered)

Geffen*

2003

2:11 PM

Big Mama Thornton

They Call Me Big Mama

Partnership Blues

Peacock

1951

2:13 PM

La Vern Baker

Atlantic

1957

2:15 PM

Diana Ross & The Supremes

Love Child

Love Child

UNI/MOTOWN

2015

2:23 PM

The Rolling Stones

Gimme Shelter

Let It Bleed

Universal Music Group International

1969

Background vocals by Merry Clayton. I'm loving Maureen Mahon's book, "Black Diamond Queens: African American Women and Rock and Roll," which discusses Clayton and other women featured on today's show.

2:27 PM

Merry Clayton

Southern Man

Merry Clayton

Ode Records

1971

2:31 PM

Aretha Franklin

Rock Steady

Young, Gifted and Black

Rhino Atlantic

1972

2:34 PM

Ike & Tina Turner

Nutbush City Limits

Nutbush City Limits

CAPITOL CATALOG MKT (C92)

1973

2:37 PM

Alice Coltrane

Journey in Satchidananda (feat. Pharoah Sanders)

Journey in Satchidananda

GRP

1997

2:43 PM

2:49 PM

The Pointer Sisters

Dirty Work

Energy

Legacy Recordings

1978

2:51 PM

Irma Thomas

Time Is On My Side

R

Wish Someone Would Care

Capitol Records

2011

2:55 PM

Ike & Tina Turner

Whole Lotta Love

The Collection

EMI Gold

2008

3:05 PM

His Greatest Hits

Vee-Jay Records

1964

3:08 PM

Louis Jordan & His Tympany Five

Caldonia

Roots of Rhythm & Blues 1939-1945

Frémeaux & associés

2004

3:10 PM

Goree Carter

Rock a While

Rock a While - EP

The Entertainers

2014

3:16 PM

Betty Davis

They Say I'm Different

They Say I'm Different

Light In The Attic

2016

3:21 PM

Sly & The Family Stone

Dance to the Music

Dance To The Music (Bonus Tracks Edition) [2007 Remaster]

Epic/Legacy

1968

3:25 PM

Black Nasty

Black Nasty Boogie

Talking to the People (Remastered)

Fantasy Records

1973

3:32 PM

Ike & Tina Turner

Fancy Annie

Nutbush City Limits

CAPITOL CATALOG MKT (C92)

1973

3:34 PM

Young Americans (2016 Remaster)

Parlophone UK

1975

David Bowie performed this song on "Soul Train" in 1975 - https://youtu.be/oy80bUKt54I

3:43 PM

Stevie Wonder

Higher Ground

Innervisions

UNI/MOTOWN

1973

3:46 PM

Cosmic Slop

Westbound Records

1973

3:52 PM

Honey

Mercury Records

1975

3:55 PM

The Isley Brothers

Choosey Lover

Between the Sheets

Epic/Legacy

1983

Guitar riffs provided by Ernie Isley

4:00 PM

Santana

Chunk a Funk (Live)

Live At the Fillmore 1968

Columbia/Legacy

1997

4:06 PM

Prince & The Revolution

When Doves Cry

Purple Rain (Soundtrack) [2015 Paisley Park Remaster]

Rhino/Warner Records

1984

4:12 PM

Krush Groove (Music from the Original Motion Picture)

Rhino Atlantic

1985

4:16 PM

Tina Turner

What's Love Got to Do With It

Private Dancer

Parlophone UK

1983

4:23 PM

Lenny Kravitz

Always On the Run

Mama Said

Virgin Records

1991

4:28 PM

Alabama Shakes

Gimme All Your Love

Sound & Color

ATO Records

2015

4:32 PM

4:35 PM

Seeing Sounds

The Neptunes

2008

4:42 PM

Stone Rollin'

Columbia/Legacy

2008

4:45 PM

Wait Til I Get Over

Dead Oceans

2023

4:48 PM

Santana

The Game of Love (feat. Tina Turner)

Ultimate Santana

Arista

2007

4:53 PM

Janelle Monáe

We Were Rock n' Roll

The Electric Lady

Bad Boy/Wondaland

2013
have always loved Sister Rosetta! thx for playing her.
Saw Ike and Tina Turner Review back in the day. What a show, in a small intimate venue.
I love Irma Thomas. Do you have a rockin' request by her?
Ernesto Portillo Jr.
2:51:36 PM
Tyina, lovin' it!
Ernesto Portillo Jr.
2:52:38 PM
Here's some Ike and Tina trivia...
Ernesto Portillo Jr.
2:53:11 PM
I'm almost sure that the Ike and Tina Revue was the first concert at the TCC when it opened in 1970.
Erma Franklin "Piece of my Heart" before Janis.
Wow, Neto! Thanks for sharing that bit of history.
richard johnson
4:09:42 PM
that Bowie performance on Soul Train is legendary - great setlist today!