Real People Real Radio
Tucson and Southern Arizona's Community Radio
Jun 10, 2023 2:00 PM – 4:55 PM
Music
With Tyina
Exploring the roots and branches of rhythm and blues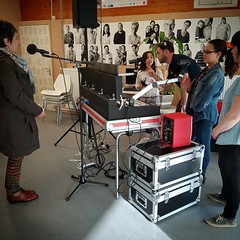 2:03 PM

Janelle Monáe

Know Better (feat. CKay, Seun Kuti & Egypt 80')

N

The Age of Pleasure

Bad Boy Records

2023

2:05 PM

Ledisi Live at the Troubadour

BMG Rights Management (US) LLC

2021

2:09 PM

Bill Withers

Ain't No Sunshine

Just As I Am

Columbia/Legacy

1971

2:11 PM

Valerie June

Workin' Woman Blues

Pushin' Against a Stone

Concord Records

2013

2:14 PM

Honey - Single

TSNMI / Atlantic

2017

2:22 PM

The Staple Singers

I'll Take You There

Be Altitude: Respect Yourself

Craft Recordings

2019

2:24 PM

Eryn Allen Kane

Feel The Need

a tree planted by water - EP

Eryn Allen Kane

2019

2:27 PM

The Isley Brothers

Lay Lady Lay

Givin' It Back

Epic/Legacy

1971

2:39 PM

Object Heavy

Love & Gravity

N

Love & Gravity

Color Red

2023

2:42 PM

Buffalo Nichols

Interview + Live Set

Hotel Congress

KXCI Presents!

2023

KXCI Presents! Buffalo Nichols at the Hotel Congress Plaza on Saturday, June 10 at 7:30 pm.

3:06 PM

H.E.R.

Best Part (feat. Daniel Caesar)

H.E.R.

MBK Entertainment/RCA Records

2017

3:10 PM

3:13 PM

Piece of Me

Big Crown Records

2021

3:16 PM

Electric Wire Hustle

They Don't Want

Electric Wire Hustle

Every Waking Hour

2009

3:25 PM

The Temptations

Just My Imagination (Running Away With Me)

Sky's the Limit

UNI/MOTOWN

2015

3:30 PM

Big Mama Thornton

Unlucky Girl

In Europe

Arhoolie Records

2005

3:32 PM

Baduizm

Universal Records

2016

3:37 PM

Silk & Soul

RCA/Legacy

1967

3:43 PM

3:46 PM

Total

Rhino Atlantic

1996

3:50 PM

Billy Stewart

I Do Love You

I Do Love You

Geffen

1965

3:53 PM

Amy Winehouse

Mr Magic (Through the Smoke)

Frank

Universal-Island Records Ltd.

2015

4:01 PM

Prince

I Wanna Be Your Lover

Prince

Legacy Recordings

1979

Prince Rogers Nelson was born on June 7, 1958 in Minneapolis.

4:06 PM

Controversy

Legacy Recordings

1981

4:10 PM

Prince & The Revolution

I Feel for You (Acoustic Demo)

I Feel for You (Acoustic Demo) / I Feel for You - Single

Rhino/Warner Records

2019

4:14 PM

The Hits/The B-Sides

Legacy Recordings

1993

4:24 PM

The Element of Freedom

J Records

2009

4:28 PM

Gary Clark, Jr.

Pearl Cadillac

This Land

Warner Records

2019

4:33 PM

D'Angelo

Untitled (How Does It Feel)

Voodoo

Virgin Records

2000

4:42 PM

Al Green

Love and Happiness

I'm Still In Love with You

Fat Possum

2009

4:48 PM

All I Have

Rise/Columbia

2002

4:52 PM

New Magic

Anti/Epitaph

2017
Christopher Wendel
3:18:49 PM
Fantastic interview with Nichols. He presents much older (ie wise, accomplished) than his years
Thanks, Chris. He brought some interesting insights into music history!
And his voice and guitar-playing are fantastic ...
Tyina, I've really enjoyed today's free form mix...but this Prince set is GOLDEN. Your appreciation of his music really stands out here! Thank you!
Thanks, Dan. My heart still breaks when I remember Prince is gone.