Real People Real Radio
Tucson and Southern Arizona's Community Radio
Jul 1, 2023 2:00 PM – 4:55 PM
Music
With Tyina
Exploring the roots and branches of rhythm and blues
Summer Soul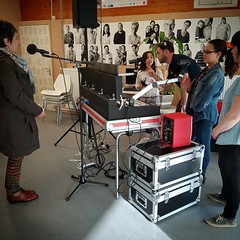 2:03 PM

Central Line

Walking Into Sunshine (Original Larry Levan 12" Mix)

Funk Essentials: The 12" Collection and More - Full-Length Funk

Island Mercury

1999

From 1982

2:09 PM

All Day Music

Avenue Records

1972

2:13 PM

Childish Gambino

Feels Like Summer

Summer Pack - Single

Wolf+Rothstein/RCA Records

2018

2:20 PM

Erykah Badu

Back in the Day

Worldwide Underground

UNI/MOTOWN

2003

2:25 PM

Roy Ayers Ubiquity

Everybody Loves the Sunshine

Everybody Loves the Sunshine

Polydor

1976

2:29 PM

Stevie Wonder

You Are the Sunshine of My Life

Talking Book

UNI/MOTOWN

1972

2:32 PM

Sly & The Family Stone

Hot Fun in the Summertime

2:35 PM

Bob Marley

Sun Is Shining

Africa Unite: The Singles Collection

Tuff Gong/Island

1983

2:37 PM

Speakerboxxx/The Love Below

Arista

2003

2:44 PM

Steve Lacy

Sunshine (feat. Fousheé)

Gemini Rights

L-M Records/RCA Records

2022

2:49 PM

The Isley Brothers

For the Love of You (Pt. 1 & 2)

The Heat Is On

T-Neck

1975

2:55 PM

Chilombo (Deluxe Edition)

Def Jam Recordings

2020

Samples Kool & The Gang's "Summer Madness" (1974)

2:58 PM

Khruangbin

Summer Madness

Late Night Tales: Khruangbin

Late Night Tales

2020

3:04 PM

Bob Marley & The Wailers

Is This Love

Legend: The Best of Bob Marley and the Wailers (Deluxe Edition)

Island Records

1984

Happy anniversary to my husband, Jerome, who married me in Jamaica 12 years ago.

3:07 PM

B.o.B Presents: The Adventures of Bobby Ray

Rebel Rock/Grand Hustle/Atlantic

2010

3:11 PM

Hotter Than July

Motown

1980

3:17 PM

Marvin Gaye & Tammi Terrell

Ain't No Mountain High Enough

The Very Best Of Marvin Gaye

UNI/MOTOWN

1997

3:24 PM

Earth, Wind & Fire

Love's Holiday

All 'n' All

Columbia/Legacy

1977

3:28 PM

The Miracles

You've Really Got a Hold On Me

The Fabulous Miracles

UNI/MOTOWN

1963

3:31 PM

Sign 'O' The Times

Rhino/Warner Records

1987

3:41 PM

The S.O.S. Band

The Finest

Sands of Time

Clarence Avant Catalog

1986

3:47 PM

Emotional

Bad Boy Records

2000

3:51 PM

Sam Cooke

Bring It On Home to Me

The Man Who Invented Soul

RCA Records Label

2000

3:53 PM

1st Born Second

Interscope

2001

4:02 PM

Straight from the Heart

Strut

2017

4:07 PM

The Isley Brothers

Summer Breeze, Pts. 1 & 2

4:13 PM

EVERYTHING IS LOVE

Roc Nation – JAY-Z Duet

2018

4:21 PM

CrazySexyCool

Arista/LaFace Records

1994

4:25 PM

The Gap Band

Outstanding (12" Mix)

Outstanding (12" Mix)

Mercury

1982

4:31 PM

Meshell Ndegeocello

Don't Disturb This Groove

4:36 PM

My Soft Machine

Transgressive

2023

4:43 PM

Anthology 1970-1974

Avenue Records

1994

4:50 PM

Golden Time of Day (feat. Frankie Beverly)

The Right Stuff

2004
Lovin' today's summer vibe, Tyina!
Hey Dan! Hope you're having a good summer.
Good so far! Almost "dog days" in Alabama, but I think you know a bit about that from your Houston days! 😊
And congratulations on your 12th Anniversary!
Wow...outstanding set! Really nice mix of different feels.
At this time yesterday, I wasn't sure what I'd be playing today (I was still in full vacation mode). I appreciate the people who've enjoyed this impromptu summertime/anniversary show. Dan, Tom, and Mountain Man ... you've made my day!