Apr 22, 2021 6:00 PM – 7:00 PM
Nighttime Rock
With johnny ghost
Looking for some banging indie rock songs you can really get down and boogie to? Want a cool soundtrack for when you imagine yourself as the hero of a movie? Need something to sing in the shower? I've got you covered. Tune in to The Racket with your host, Johnny Ghost, on WKNC for a truly jamming time. Hot tracks, killer riffs, stunning vocals, all guaranteed–you have my word I won't let you down.
Campfire Melodies
Songs to listen to while sitting in a circle around a campfire, all swaying back and forth to the beat. Can you smell the woodsmoke yet?
This one was my mother's idea–thanks Mom!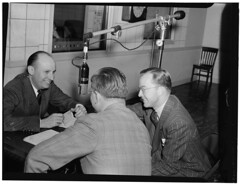 6:00 PM

The Haunted Windchimes

Out with the Crow

The Haunted Windchimes

Out with the Crow

USKW41273662

6:02 PM

Brown Bird

Fingers to the Bone

Brown Bird

Salt for Salt

USQNL1100005

6:05 PM

Shakey Graves

House of Winston

Shakey Graves

And the War Came

Cooking Vinyl Australia

2014

US92H1400009

6:10 PM

The Devil Makes Three

Paint My Face

The Devil Makes Three

Chains Are Broken

New West Records

2018

US27Q1842516

6:13 PM

Mattiel

Baby Brother

Mattiel

6:16 PM

Greta Van Fleet

Broken Bells

Greta Van Fleet

The Battle at Garden's Gate

Republic Records

2020

USUM72022649

6:22 PM

The Bones of J.R. Jones

Stay Wild

The Bones of J.R. Jones

Stay Wild - Single

TCAFI2189423

6:27 PM

Miko Marks

We Are Here

Miko Marks

Our Country

Redtone Records

2021

TCAFI2174713

6:30 PM

Kevin Morby

I Have Been to the Mountain

Kevin Morby

6:34 PM

Ruen Brothers

Summer Sun

Ruen Brothers

All My Shades of Blue

USUM71501168

6:37 PM

Daniel Norgren

Dandelion Time

Daniel Norgren

6:41 PM

The Secret Sisters

Wabash Cannonball

The Secret Sisters

Big River - Single

US3JJ0900078

6:44 PM

Blitzen Trapper

Hazy Morning

Blitzen Trapper

Holy Smokes Future Jokes

USY1R2072510

6:48 PM

Josh Ritter

Old Black Magic

Josh Ritter

Fever Breaks

QMFBM1900002

6:53 PM

Erika Wennerstrom

Letting Go

Erika Wennerstrom

Sweet Unknown

USBQU1700223

6:58 PM

John K. Samson

Vampire Alberta Blues

John K. Samson

Winter Wheat

Anti/Epitaph

2016

USEP41618023