May 27, 2021 6:00 PM – 7:00 PM
Nighttime Rock
With johnny ghost
Looking for some banging indie rock songs you can really get down and boogie to? Want a cool soundtrack for when you imagine yourself as the hero of a movie? Need something to sing in the shower? I've got you covered. Tune in to The Racket with your host, Johnny Ghost, on WKNC for a truly jamming time. Hot tracks, killer riffs, stunning vocals, all guaranteed–you have my word I won't let you down.
throwback tens: old surf rock
Our tenth episode of The Racket kicks off a new tradition: every tenth set is dedicated to real oldies. We're starting off the summer right tonight with some 1960s surf rock jams.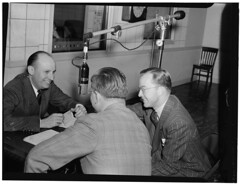 6:02 PM

Dick Dale & His Del-Tones

King of the Surf Guitar

King of the Surf Guitar

1963

USCWY0710001

6:04 PM

The Crossfires

Fiberglass Jungle

The Crossfires

Out of Control

USQE10910078

6:06 PM

The Chantays

Pipeline

The Chantays

6:08 PM

Johnny Rivers

Secret Agent Man

Johnny Rivers

Greatest Hits

USSE90725995

6:12 PM

The Royal Coachmen

Loophole

Lost Legends of Surf Guitar

1989

USCWY1700348

6:14 PM

The Sentinals

Latin Soul

The Sentinals

6:17 PM

Ronny & The Daytonas

California Bound

Ronny & The Daytonas

G.T.O: Surf Classics

USXTN1036235

6:19 PM

The Fireballs

Bulldog

The Fireballs

6:21 PM

The Astronauts

The Hearse

The Astronauts

Competition Coupe

RCA/Legacy

1964

USRC16307085

6:23 PM

The Belairs

Bedlam

The Belairs

Volcanic Action!

USCWY0610097

6:28 PM

Bustin' Surfboards Surf's Greatest Hits

2011

USBT21148920

6:30 PM

US Pop Bands of the 1960s

1963

USRH10405381

6:32 PM

Surf Age Nuggets

2012

QMXSL1101654

6:35 PM

The Nautiloids

Nautiloid Reef

The Nautiloids

Nautiloid Reef - Single

Norton Records Inc.

2010

QM4TX1780415

6:37 PM

The Royal Flairs

One Pine Box (Undubbed Version)

Surf Age Nuggets

2012

QMXSL1101678

6:39 PM

The Tornados Play Telstar and Other Great Hits

1962

GBAJE6200052

6:43 PM

Lost Legends of Surf Guitar, Vol. 3: Cheater Stomp!

2003

USCWY0610544

6:45 PM

The Pyramids

Bikini Drag

The Pyramids

Penetration! The Best Of The Pyramids

USCWY0900146

6:47 PM

6:50 PM

6:52 PM

The Velvetones

Doheny Run

Surf Age Nuggets

2012

QMXSL1101614

6:54 PM

The Travelers

Windy & Warm

Surf Age Nuggets

2012

QMXSL1101646

6:56 PM

Del Shannon

Hats Off to Larry

Del Shannon

12 Hits

Isis

2012

USA371645687

6:58 PM

The Ventures

Walk, Don't Run

The Ventures

Here We Go Again!

M&I

2018

JPI709900101

7:03 PM

Santo & Johnny

Kaleidoscope

Santo & Johnny

Ojos Espansoles

USV351308968

7:05 PM

The Surftones

Cecilia Ann

It Came From the Beach: Surf, Drag & Rockin' Instros From Downey Records

2008

GBBHN0800082