Aug 12, 2021 6:00 PM – 7:00 PM
Nighttime Rock
With johnny ghost
Looking for some banging indie rock songs you can really get down and boogie to? Want a cool soundtrack for when you imagine yourself as the hero of a movie? Need something to sing in the shower? I've got you covered. Tune in to The Racket with your host, Johnny Ghost, on WKNC for a truly jamming time. Hot tracks, killer riffs, stunning vocals, all guaranteed–you have my word I won't let you down.
throwback tens: the original rockers
Another throwback set! Today we pay tribute to the original rockers of the 1950s and before, and the blues, soul, and R&B artists who influenced them.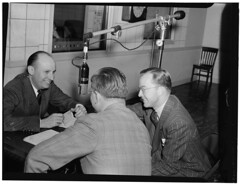 6:00 PM

Sister Rosetta Tharpe

That's All

Sister Rosetta Tharpe

6:02 PM

Little Richard

Ready Teddy

Little Richard

6:04 PM

Chuck Berry

Roll Over Beethoven

Chuck Berry

6:07 PM

Big Mama Thornton

Hound Dog

Big Mama Thornton

6:10 PM

Eddie Cochran

Somethin' Else

Eddie Cochran

6:14 PM

Muddy Waters

Got My Mojo Workin'

Muddy Waters

6:16 PM

LaVern Baker

Tweedlee Dee

LaVern Baker

6:21 PM

Bill Haley & His Comets

Thirteen Women (And Only One Man In Town)

Bill Haley & His Comets

6:23 PM

Buddy Holly & The Crickets

That'll Be the Day

Buddy Holly & The Crickets

6:26 PM

Roy Orbison

Go, Go, Go (Down the Line)

Roy Orbison

6:28 PM

John Lee Hooker

Crawlin' King Snake

John Lee Hooker

6:31 PM

Big Maybelle

Way Back Home

Big Maybelle

6:35 PM

Chubby Checker

The Class

Chubby Checker

6:37 PM

Bo Diddley

Bo Diddley

Bo Diddley

6:40 PM

Carl Perkins

Everybody's Trying to Be My Baby

Carl Perkins

6:42 PM

Ray Charles

Mess Around

Ray Charles

6:46 PM

Billy Ward & His Dominoes

Sixty Minute Man

Billy Ward & His Dominoes

Sixty Minute Man - Single

Sound and Vision

2013

GBBXS2036407

6:48 PM

The Everly Brothers

Bye Bye Love

The Everly Brothers

6:51 PM

Gene Vincent & His Blue Caps

Be-Bop-A-Lula

Gene Vincent & His Blue Caps

Blue Jean Bop!

Capitol Records

2002

USCA20200638

6:54 PM

The Champs

Midnighter

The Champs

6:56 PM

The Coasters

Young Blood

The Coasters

6:59 PM

Fats Domino

The Fat Man

Fats Domino