Jan 13, 2022 6:00 PM – 7:00 PM
Nighttime Rock
With johnny ghost
As every show begins: "Welcome to the Racket with your host, Jonny Ghost!" I'm your weekly purveyor of retro-styled rock 'n' roll, with dedicated throwbacks to the 20th century every 10th episode. Proving the kids still rock like they used to, every Thursday evening 6-7 on HD2; be there or be square.
The Wild Wild West, Part 2
The follow up to last week's cowpoke themed playlist, since I found more songs than I could fit into an hour. This one has more of a bluegrass, Americana bent.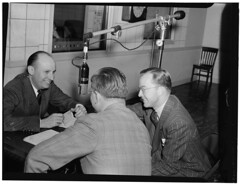 6:00 PM

Holly Golightly & The Brokeoffs

Devil Do

Holly Golightly & The Brokeoffs

You Can't Buy a Gun When You're Crying

Damaged Goods

2007

GBGLR0700066

6:04 PM

Agnostic Mountain Gospel Choir

Go Back Home

Agnostic Mountain Gospel Choir

Ten Thousand

S.A.P. Recordings

2008

GBSAL0866001

6:07 PM

Colter Wall

Cowpoke

Colter Wall

Western Swing & Waltzes And Other Punchy Songs

La Honda Records

2020

QZLGF2000009

6:11 PM

Hurray For The Riff Raff

Blue Ridge Mountain

Hurray for the Riff Raff

Small Town Heroes

ATO Records

2014

USATO1300485

6:13 PM

Austin John

32-20 Blues

Austin John

Diggin' In - EP

R N' R RANCH RECORDS

2020

QZNWR2075693

6:17 PM

The Builders and The Butchers

The Coal Mine Fall

The Builders and The Butchers

The Builders and the Butchers

Widow of the Stranger

2008

US25T0892675

6:21 PM

Ben Von Wildenhaus

Easy Opium

Ben Von Wildenhaus

6:27 PM

Monica Heldal

Conman Coming

Monica Heldal

Boy From the North

WM Norway

2013

NOAGW1300395

6:30 PM

The Goddamn Gallows

Malefactor March

The Goddamn Gallows

7 Devils

Farmageddon / Crazy Love

2011

USHM81627944

6:34 PM

Eilen Jewell

Mess Around

Eilen Jewell

Boundary County

Eilen Jewell

2006

USENZ0600005

6:39 PM

Mr. Airplane Man

Sun Sinking Low

Mr. Airplane Man

Moanin'

Mr. Airplane Man

2002

USCGJ2168512

6:43 PM

Strawfoot

Wayfarin Stranger

Strawfoot

Chasing Locusts

Strawfoot

2007

USCGJ0781876

6:44 PM

Outside

Ernest Jenning Record Co.

2011

USA371175708

6:47 PM

Delaney Davidson & Marlon Williams

Death Don't Have No Mercy

Delaney Davidson & Marlon Williams

Sad But True

Universal Music New Zealand Limited (Distribution)

2012

NZLS01200004

6:50 PM

Gill Landry

Lawless Soirez

Gill Landry

The Ballad of Lawless Soirez

Rubber Tramp Records

2007

CAN110601965

6:54 PM

Federale

She's Headed for the Highway, I'm Bound for the Train

Federale

No Justice

Jealous Butcher Records

USVJJ1918304

6:59 PM

The Devil Makes Three

Aces and Twos

The Devil Makes Three

Do Wrong Right

The Devil Makes Three

2009

TCABX1406535