Jan 27, 2022 6:00 PM – 7:00 PM
Nighttime Rock
With johnny ghost
As every show begins: "Welcome to the Racket with your host, Jonny Ghost!" I'm your weekly purveyor of retro-styled rock 'n' roll, with dedicated throwbacks to the 20th century every 10th episode. Proving the kids still rock like they used to, every Thursday evening 6-7 on HD2; be there or be square.
Throwback Tens: Old School Blues
I've been on a blues kick lately, so here's a mix of oldies from the mid 20th century–predominantly electric blues, especially from the late 1960s to early '70s, but a couple before that as well.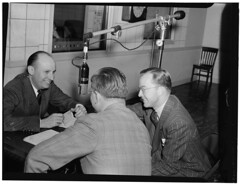 6:02 PM

Hound Dog Taylor & The HouseRockers

Let's Get Funky

Hound Dog Taylor

Beware of the Dog! (Live)

Alligator Records

1976

USARL7670706

6:07 PM

Magic Sam

Sweet Home Chicago

Magic Sam

West Side Soul

Delmark

1990

US4B90577310

6:12 PM

Koko Taylor

Wang Dang Doodle

Koko Taylor

Koko Taylor (Remastered)

Geffen*

1987

USMC16547381

6:15 PM

Freddie King

Palace of the King

Freddie King

Getting Ready...

EMI Music Special Markets

1996

USSH49500021

6:20 PM

Muddy Waters

She's Alright

Muddy Waters

Electric Mud

Geffen*

1996

USMC16850735

6:27 PM

Junior Wells' Chicago Blues Band

Snatch It Back and Hold It

Junior Wells

Hoodoo Man Blues

Delmark

1991

US4B90461201

6:30 PM

Slim Harpo

Baby Scratch My Back (Single Version)

Slim Harpo

The Excello Singles Anthology

Universal Music Enterprises

2003

USUM16501014

6:34 PM

Howlin' Wolf

Smokestack Lightnin'

Howlin' Wolf

Moanin' in the Moonlight

Geffen

1958

USMC15646854

6:37 PM

John Lee Hooker

Thelma

John Lee Hooker

Burnin'

Vee-Jay Records

1991

USVJ10404501

6:41 PM

Johnny Jenkins

I Walk On Guilded Splinters

Johnny Jenkins

Ton-Ton Macoute!

PCLC Capricorn

1974

USPR37480225

6:48 PM

Albert King

Don't Burn Down the Bridge ('Cause You Might Wanna Come Back Across)

Albert King

I'll Play the Blues for You (Stax Remastered)

Stax

2012

USC4R1200787

6:53 PM

John Paul Hammond

Ride Till I Die

John Paul Hammond

I'm Satisfied

Legacy Recordings

1972

USSM17201079

6:57 PM

B.B. King

Mr. Pawnbroker

B.B. King

My Kind of Blues

P-VINE

2006

JPV500602173

7:00 PM

Lazy Lester

I'm A Lover Not A Fighter

Lazy Lester

I Hear You Knockin'!

Universal Music Enterprises

1994

USMC15801018