Feb 24, 2022 6:00 PM – 7:00 PM
Nighttime Rock
With johnny ghost
As every show begins: "Welcome to the Racket with your host, Jonny Ghost!" I'm your weekly purveyor of retro-styled rock 'n' roll, with dedicated throwbacks to the 20th century every 10th episode. Proving the kids still rock like they used to, every Thursday evening 6-7 on HD2; be there or be square.
Springtime Songs for Old Souls
To celebrate the slow approach of spring, a (notably piano-heavy) collection of songs with the perfect vibes for warm evenings.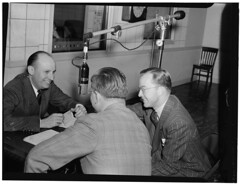 6:02 PM

The James Hunter Six

Carina

The James Hunter Six

With Love, The James Hunter Six

Daptone Records

2022

QM6N21987126

6:07 PM

JD McPherson

Just Around the Corner

JD McPherson

Just Around the Corner - Single

New West Records

2022

US27Q2252601

6:10 PM

Buffalo Nichols

Back on Top

Buffalo Nichols

Buffalo Nichols

Fat Possum

2021

USFP72179007

6:14 PM

Valerie June

Man Done Wrong

The Order of Time

Concord Records

2017

USC4R1605213

6:17 PM

Motel Mirrors

Ooh Las Vegas

Motel Mirrors

Gotta Lotta Rhythm - EP

Wild Honey Records

2019

GBKPL1934280

6:20 PM

The Detroit Cobras

Hey Sa-Lo-Ney

The Detroit Cobras

Life, Love and Leaving

Third Man Records

2016

US3JJ1601015

6:24 PM

The Nude Party

Records

The Nude Party

The Nude Party

New West Records

2018

US27Q1842417

6:27 PM

Monophonics

Sure Is Funky

Monophonics

In Your Brain

Ubiquity Records

2012

USUR41229904

6:31 PM

The Texas Gentlemen

Habbie Doobie

The Texas Gentlemen

Tx Jelly

New West Records

2017

US27Q1740701

6:38 PM

The Felice Brothers

Jazz On the Autobahn

The Felice Brothers

From Dreams to Dust

Yep Roc Records

USY1R2177901

6:43 PM

The Black Lips

Rumbler

The Black Lips

Sing in a World That's Falling Apart

Fire Records

2020

GBCKK1957303

6:46 PM

Low Cut Connie

Help Me

Low Cut Connie

Private Lives

Haldern Pop Recordings

2020

QM6MZ2021456

6:51 PM

The War and Treaty

Five More Minutes

Hearts Town

Rounder

2020

USRO22002176

6:55 PM

Satellite and the Harpoonist

Satellite Man

Satellite and the Harpoonist

Satellite Man - EP

Tonic Records

2020

CA17B2000012

6:58 PM

Southern Culture On the Skids

Is Anybody Going to San Antone

Southern Culture On the Skids

Kudzu Records Presents

Kudzu Records

2020

TCAFG2046406

7:00 PM

Cedric Burnside

Get Down

Cedric Burnside

I Be Trying

Single Lock Records

2021

QMHFC2000093