Mar 10, 2022 6:00 PM – 7:00 PM
Nighttime Rock
With johnny ghost
As I always say, "The Racket isn't a dedicated surf show, but it wants to be."
I'm Johnny Ghost, your weekly purveyor of retro-styled rock 'n' roll, surf, garage, blues, rockabilly, and other new songs for old souls, with dedicated throwbacks to the 20th century every 10th episode. Proving the kids still rock like they used to and making your grandparents dance, every Thursday evening 6-7 on HD2; be there or be square.
The New Midcentury
It's March 10th, 2022. I started this show on March 11th, 2021. Time flies, eh?
Celebrating the one year anniversary of the show with some proper retro-sounding rock 'n' roll from old and new favorites.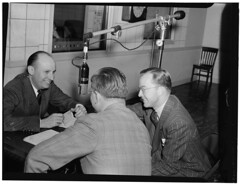 6:01 PM

JD McPherson

I Can't Complain

JD McPherson

Signs & Signifiers

New Rounder

2011

TCAAS1036486

6:03 PM

Nick Curran and the Nitelifes

Down Boy Down

Nick Curran and the Nitelifes

Player!

BLIND PIG RECORDS

2004

USBP10409109

6:06 PM

Nikki Hill

Scratch Back

Nikki Hill

Heavy Hearts Hard Fists

Deep Fryed Records

2015

USA2B1512885

6:09 PM

Barrence Whitfield & The Savages

Rock 'n' Roll Baby

Barrence Whitfield & The Savages

Under the Savage Sky

Bloodshot Records

2015

USA361523004

6:11 PM

The Excitements

Don't You Dare Tell Her

The Excitements

Sometimes Too Much Ain't Enough

Penniman

2013

FR6V81793876

6:14 PM

The Limboos

Where Did She Go?

The Limboos

Baia

Penniman

2019

FR10S1925756

6:18 PM

Night Beats

Shot Down (feat. The Sonics)

Night Beats

Night Beats Perform 'The Sonics' Boom (feat. The Sonics)

Heavenly Recordings

2019

GBPVV1802597

6:20 PM

The Detroit Cobras

Out of This World

The Detroit Cobras

Mink Rat or Rabbit

Sympathy For The Record Industry

1998

US2860452511

6:22 PM

The Woggles

Jezebel

The Woggles

Big Beat

Wicked Cool Records

2013

USZPD1200006

6:27 PM

Low Cut Connie

Dumb Boy

Low Cut Connie

Hi Honey

Contender Records

2015

QM6N81400010

6:29 PM

Black Joe Lewis & The Honeybears

Snatch It Back and Hold It

Black Joe Lewis & The Honeybears

Scandalous (Deluxe Version)

Lost Highway Records

2011

USUM71029319

6:33 PM

Nathaniel Rateliff & The Night Sweats

Love Don't

Nathaniel Rateliff & The Night Sweats

The Future

Stax

2021

USC4R2107152

6:39 PM

Daddy Long Legs

Long John's Jump

DADDY LONG LEGS

Blood from a Stone

Norton Records Inc.

2014

QMFMG1428821

6:41 PM

Nick Waterhouse

Vincentine

Nick Waterhouse

Promenade Blue

Innovative Leisure

USD8D2178003

6:44 PM

Eilen Jewell

Green River

Eilen Jewell

Green River - Single

Signature Sounds Recordings

USFMT2000801

6:48 PM

Kim Lenz

Bury Me Deep

Kim Lenz

Slowly Speeding

Blue Star Record Company

2019

QM6P41816374

6:52 PM

The Kokomo Kings

Drinking Fire and Eating the Ash

The Kokomo Kings

A Drive-By Love Affair

Rhythm Bomb Records

2021

DEAW52101009

6:54 PM

Pat Capocci

Telecaster on a Tightrope

Pat Capocci

Call of the Wild

Pat Capocci

2014

TCABY1433740

6:58 PM

Josie Kreuzer

Good Time Girl (& A Thunderstorm)

Josie Kreuzer

Beggin' Me Back

SheDevil Records

2002

USA370573181