Mar 31, 2022 6:00 PM – 7:00 PM
Nighttime Rock
With johnny ghost
As I always say, "The Racket isn't a dedicated surf show, but it wants to be."
I'm Johnny Ghost, your weekly purveyor of retro-styled rock 'n' roll, surf, garage, blues, rockabilly, and other new songs for old souls, with dedicated throwbacks to the 20th century every 10th episode. Proving the kids still rock like they used to and making your grandparents dance, every Thursday evening 6-7 on HD2; be there or be square.
Throwing Barstools
Hard-hitting tunes that kind of make you want to get in a bar fight (The Racket does not condone bar fights). It's not entirely a punk set, but the influence is there–friend and fellow DJ President Shrimpo sent me the opening song saying it reminded her of something I'd play, and the rest is history.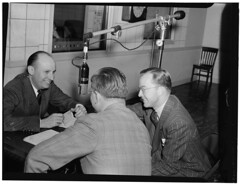 6:01 PM

The Bonnevilles

Dirty Photographs

The Bonnevilles

Dirty Photographs

Alive Naturalsound

2018

USA2B1800289

6:05 PM

The Blinders

Forty Days and Forty Nights

The Blinders

Fantasies of a Stay at Home Psychopath

Modern Sky UK

2020

GB9TP2000049

6:08 PM

The Spitfires

Reap What You Sow

The Spitfires

Play For Today

Acid Jazz UK

2022

GBUQC2100867

6:12 PM

Heavy Rapids

Going Down

Heavy Rapids

Going Down - Single

Heavy Rapids

2019

FRX201850842

6:14 PM

The Milkshakes

You Got Me Girl

The Milkshakes

Nothing Can Stop These Men

Damaged Goods

2005

GBGLR0501033

6:16 PM

Faux Ferocious

Stress Kills

Faux Ferocious

Pretty Groovy

Colonel Records

2020

USA2B1804278

6:20 PM

Los Tones

Eye Jammer

Los Tones

What Happened

Groovie Records

2017

SEYOK1716429

6:25 PM

Oblivians

Pinball King

Oblivians

Desperation

In The Red

2013

USA3D1210091

6:27 PM

Bloodshot Bill

Crazy 'Bout The Girl

Bloodshot Bill

Thunder and Lightning

Norton Records

2011

USA371292454

6:29 PM

The Shadracks

When I Can't Remember

The Shadracks

The Shadracks

Damaged Goods Records

2018

GBGLR1800137

6:32 PM

Heaters

Mean Green

Heaters

Mean Green - Single

Beyond Beyond is Beyond Records

2015

QMMS41501901

6:37 PM

Warm Drag

Cruisin' the Night

Warm Drag

Warm Drag

In The Red

2018

USA3D1832203

6:40 PM

Crime & The City Solution

Riven Man

Crime & The City Solution

American Twilight

Mute

2013

GBR8R1100675

6:45 PM

The Wolfmanhattan Project

Now Now Now

The Wolfmanhattan Project

Blue Gene Stew

In The Red

2019

USA3D1930102

6:49 PM

Gallon Drunk

The Speed of Fear

Gallon Drunk

6:55 PM

Guantanamo Baywatch

Blame Myself

Guantanamo Baywatch

Desert Center

Suicide Squeeze Records

2017

US33X1715407