Apr 7, 2022 6:00 PM – 7:00 PM
Nighttime Rock
With johnny ghost
As I always say, "The Racket isn't a dedicated surf show, but it wants to be."
I'm Johnny Ghost, your weekly purveyor of retro-styled rock 'n' roll, surf, garage, blues, rockabilly, and other new songs for old souls, with dedicated throwbacks to the 20th century every 10th episode. Proving the kids still rock like they used to and making your grandparents dance, every Thursday evening 6-7 on HD2; be there or be square.
Brass Tacks & Ivory
Another old school, new songs set with a special focus on horns and piano.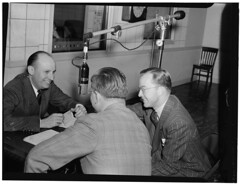 6:03 PM

Eilen Jewell

You'll Be Mine

Eilen Jewell

Down Hearted Blues

Signature Sounds Recordings

1989

USFMT1708903

6:05 PM

Tami Neilson

Ten Tonne Truck

Tami Neilson

CHICKABOOM!

Southbound Music

2019

CAO371913003

6:07 PM

Liz Brasher

Blood of the Lamb

Liz Brasher

Painted Image

Fat Possum

2018

USFP71764201

6:12 PM

Barrence Whitfield & The Savages

Let's Go to Mars

Barrence Whitfield & The Savages

Soul Flowers of Titan

Bloodshot Records

2018

USA361825807

6:15 PM

Low Cut Connie

Back in School

Low Cut Connie

Hi Honey

Ardent Music / Contender Records

2015

QM6N81400004

6:17 PM

JD McPherson

Let's Rock

JD McPherson

Let's Rock - Single

New West Records

2022

US27Q2252603

6:21 PM

Nick Curran and the Lowlifes

Reform School Girl

Nick Curran and the Lowlifes

Reform School Girl

Eclecto Groove Records

2010

US3H81000621

6:25 PM

Marcia Ball, Lou Ann Barton & Angela Strehli

A Fool in Love

Dreams Come True

New West Records

2012

US33C0401401

6:28 PM

Amy Helm

Breathing

Amy Helm

What the Flood Leaves Behind

BMG Rights Management (US) LLC

2021

QMRSZ2002070

6:32 PM

Ryan Scott

Wheels

Ryan Scott

A Freak Grows in Brooklyn

Make My Own Records BYOB

2019

QZDA41907433

6:35 PM

Marty O'Reilly & the Old Soul Orchestra

Smokestack Lightning

Marty O'Reilly & the Old Soul Orchestra

Pray for Rain

Marty O'Reilly & the Old Soul Orchestra

2014

USCGJ1448182

6:43 PM

The Nude Party

Life's a Joke

The Nude Party

Hot Tub

Crystal Pistol

2016

USHM21628378

6:46 PM

Aldous Harding

Old Peel

Aldous Harding

Old Peel - Single

Flying Nun Records

2020

GBAFL2000094

6:49 PM

Diamond Rugs

Blame

Diamond Rugs

Cosmetics

Sycamore Records

2015

QMAM21400009

6:53 PM

Scott Hirsch

When You Were Old (El Dorado)

Scott Hirsch

Lost Time Behind the Moon

Scissor Tail Records

2018

USA2Z1811662

6:56 PM

Night Shop

Road to Carolina

Night Shop

In the Break

Woodsist / Mare

2018

US2FD1809503

6:59 PM

Luther Dickinson

Hallelujah (I'm a Dreamer) [feat. Ame LaVere]

Solstice

New West Records

2019

US27Q1936703