Apr 14, 2022 6:00 PM – 7:00 PM
Nighttime Rock
With johnny ghost
As I always say, "The Racket isn't a dedicated surf show, but it wants to be."
I'm Johnny Ghost, your weekly purveyor of retro-styled rock 'n' roll, surf, garage, blues, rockabilly, and other new songs for old souls, with dedicated throwbacks to the 20th century every 10th episode. Proving the kids still rock like they used to and making your grandparents dance, every Thursday evening 6-7 on HD2; be there or be square.
Throwback Tens: Fifties Favorites
For the 50th ever episode of the Racket with Johnny Ghost, we're playing some of my favorite 1950s rock 'n' roll, blues, and a sprinkling of doo wop.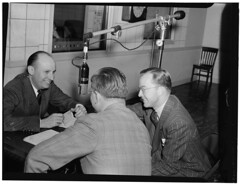 6:03 PM

Richard Berry & The Pharaohs

Have Love Will Travel

Richard Berry & The Pharaohs

Somewhere There's a Rainbow

Diamond Days

2013

UK4YS1378682

6:06 PM

Wynona Carr

'Til The Well Runs Dry

Wynona Carr

Jump Jack Jump! (Remastered)

Fantasy Records

1993

USSPI5600314

6:08 PM

Little Richard

Good Golly Miss Molly

Little Richard

Little Richard

Specialty Records

2013

USC4R1302021

6:12 PM

Big Maybelle

That's a Pretty Good Love

Big Maybelle

Blues, Candy & Big Maybelle

Savoy

1958

JPCO05401830

6:15 PM

Screamin' Jay Hawkins

Take Me Back to My Boots and Saddle

Screamin' Jay Hawkins

At Home with Screamin' Jay Hawkins

Rumble

2011

FR6V80538416

6:17 PM

Percy Mayfield

Louisiana

Percy Mayfield

Louisiana - Single

MOJO WORKIN´

2015

QM4TW1586777

6:21 PM

Link Wray

Vernon's Diamond

Link Wray

Vernon's Diamond - Single

Easy Eye Sound

2019

QZ6SA1700058

6:24 PM

Billy Lee Riley

Flying Saucer Rock 'N' Roll

Billy Lee Riley

Hot Rockin'

Turntable Recordings LTD

2019

UKU6H1908204

6:26 PM

Billy "The Kid" Emerson

Red Hot

Billy "The Kid" Emerson

Red Hot / No Greater Love - Single

Sun Records

1955

USSE60572589

6:30 PM

Otis Rush

All Your Love

Otis Rush

1956-1958 Cobra Recordings

Paula Records

1999

US2Y30622490

6:33 PM

Magic Sam

All Your Love

Magic Sam

All Your Love - Single

Great American Music Company/F2K

2007

USBT20511442

6:36 PM

Chuck Berry

Brown Eyed Handsome Man

Chuck Berry

After School Session

Geffen

1957

USMC15645870

6:39 PM

Ronnie Hawkins

Whatcha Gonna Do (When the Creek Runs Dry)

Ronnie Hawkins

Ronnie Hawkins

Rhino

2006

USRH10551600

6:41 PM

Larry Williams

Dizzy Miss Lizzie

Larry Williams

Dizzy Miss Lizzie (Marvelous)

Simply the Best

2012

DEBL61262784

6:43 PM

Wynonie Harris

Quiet Whiskey

Wynonie Harris

Good Rocking Tonight

King Records

2005

USACU0501400

6:46 PM

Dodie Stevens

Pink Shoe Laces

Dodie Stevens

Pink Shoe Laces

Screenland Records

2013

QMFME1368330

6:50 PM

The Big Bopper

It's the Truth, Ruth

The Big Bopper

Chantilly Lace

ITwinBirdz

2014

FR6V82693711

6:52 PM

The Clovers

Love Potion No. 9

The Clovers

Love Potion No. 9

GAMC

USBT21036432

6:54 PM

Big Joe Turner

Shake, Rattle & Roll

Big Joe Turner

Flip, Flop and Fly: 1951-1955

Cherry Red Records

1951

GBBLY0602826

6:58 PM

Johnny Restivo

The Shape I'm In

Johnny Restivo

The Shape I'm In

Rarity Music

2012

FR6V80233803

7:02 PM

7:04 PM

Marv Johnson

Come to Me

Marv Johnson

Marvelous Marv Johnson

Soul Classics

2013

USESK1320726