Apr 28, 2022 6:00 PM – 7:00 PM
Nighttime Rock
With johnny ghost
As I always say, "The Racket isn't a dedicated surf show, but it wants to be."
I'm Johnny Ghost, your weekly purveyor of retro-styled rock 'n' roll, surf, garage, blues, rockabilly, and other new songs for old souls, with dedicated throwbacks to the 20th century every 10th episode. Proving the kids still rock like they used to and making your grandparents dance, every Thursday evening 6-7 on HD2; be there or be square.
The Ethereal Chords
A set that's been long in the works and even longer as just an idea: a collection of airy, ethereal, almost disco-sounding songs.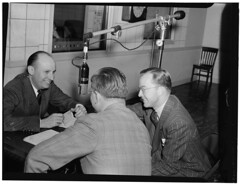 6:01 PM

Paul Cauthen

Holy Ghost Fire

Paul Cauthen

Room 41

Lightning Rod Records

2019

USLN61900701

6:05 PM

Aaron Lee Tasjan

Don't Overthink It

Aaron Lee Tasjan

Tasjan! Tasjan! Tasjan!

New West Records

2021

US27Q2049005

6:09 PM

Dan Luke and the Raid

Disco Is as Disco Does

Dan Luke and the Raid

Out of the Blue

New West Records

2019

US27Q1944702

6:12 PM

Mystic Braves

Sea Urchin

Mystic Braves

Sea Urchin - Single

Mystic Braves

2020

TCAFG2011674

6:18 PM

Matthew Logan Vasquez

Red Fish

Matthew Logan Vasquez

Does What He Wants

Dine Alone Music Inc.

2017

CADE71700318

6:21 PM

Eli "Paperboy" Reed

Burn Me Up

Eli "Paperboy" Reed

99 Cent Dreams

Yep Roc Records

2019

USY1R1964008

6:24 PM

Palm Palm

Cut the White

Palm Palm

6:30 PM

Nashville Demos

O.J.R.

2015

USCGJ1568469

6:35 PM

The Nude Party

Time to Go

The Nude Party

Hot Tub

Crystal Pistol

2016

USHM21628373

6:38 PM

Woody and Jeremy

Too Hot in L.A.

Woody and Jeremy

Strange Satisfaction

Strange Satisfaction

2020

QZFZ22027400

6:43 PM

The Bash Dogs

Disco Cowboy

The Bash Dogs

Disco Cowboy

The Bash Dogs

2021

TCAFQ2107394

6:48 PM

Painted Shield

Knife Fight

Painted Shield

Painted Shield

Loosegroove Records

2020

QM6P42091361

6:52 PM

Pinc Louds

Dream Catcher

Pinc Louds

Pinc Louds - EP

658285 Records DK

2017

QM4DW1723603

6:55 PM

Morabeza Tobacco

Orinoco

Morabeza Tobacco

Morabeza Tobacco

Naiv Recordings

2019

SE4RQ1900205