May 12, 2022 6:00 PM – 7:00 PM
Nighttime Rock
With johnny ghost
As I always say, "The Racket isn't a dedicated surf show, but it wants to be."
I'm Johnny Ghost, your weekly purveyor of retro-styled rock 'n' roll, surf, garage, blues, rockabilly, and other new songs for old souls, with dedicated throwbacks to the 20th century every 10th episode. Proving the kids still rock like they used to and making your grandparents dance, every Thursday evening 6-7 on HD2; be there or be square.
Walkman Texas Ranger 2
Another acid western/electric cowboy type set, recycling the title of episode 18 because the joke was too good to just use once.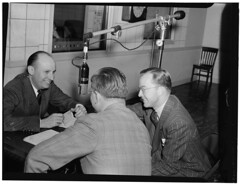 6:00 PM

Link Wray

Son of Rumble

Link Wray

Son of Rumble - Single

Easy Eye Sound

2017

QZ6SA1700060

6:02 PM

Graveyard Train

The Doomsday Cult Blues

Graveyard Train

Hollow

Cargo

2014

DEZ651343791

6:07 PM

The Nude Party

Charlie's Sheep

The Nude Party

The Nude Party

New West Records

2018

US27Q1842422

6:12 PM

The Builders and The Butchers

Stop the Rain

The Builders and The Butchers

Hell & High Water

Badman Recording Co

2022

US97Y2100308

6:15 PM

Night Beats

Thorns

Night Beats

Outlaw R&B

Fuzz Club

2021

UKRNU1900222

6:17 PM

Dead Ghosts

Drink It Dry

Dead Ghosts

Love and Death and All the Rest

Independent

2015

USA2B1513097

6:22 PM

Vaguess

Dead Before Dawn

Vaguess

Have a Good Summer

ReFry Records

2019

QZDA81993574

6:25 PM

The Reverend Peyton's Big Damn Band

Something For Nothing

The Reverend Peyton's Big Damn Band

Between the Ditches

SideOneDummy

2012

USA6G1248702

6:28 PM

A Savage

Winter in the South

A Savage

Thawing Dawn

Dull Tools

2017

TCADH1775577

6:33 PM

Bror Gunnar Jansson

They Called Him a Righteous Man

Bror Gunnar Jansson

Faceless Evil, Nameless Fear

Playground Music

2021

SE3GW2100102

6:40 PM

Broken Hymns, Limbs and Skin

Kemado

2008

USKDO0800066

6:43 PM

Charlie Patton's War

Git Gone

Charlie Patton's War

Charlie Patton's War

Charlie Patton's War

2013

USHM91330795

6:47 PM

Charlie Parr

Stumpjumper

Charlie Parr

Stumpjumper

Red House Records

2015

USRHR1528308

6:51 PM

Cuff the Duke

If I Live or If I Die

Cuff the Duke

Sidelines of the City

Cuff The Duke

2007

CAD200700024

6:55 PM

Slim Cessna's Auto Club

Port Authority Band

Slim Cessna's Auto Club

Buried Behind the Barn

SCACUNINCORPORATED

2010

QM6QS1400058