May 19, 2022 6:00 PM – 7:00 PM
Nighttime Rock
With johnny ghost
As I always say, "The Racket isn't a dedicated surf show, but it wants to be."
I'm Johnny Ghost, your weekly purveyor of retro-styled rock 'n' roll, surf, garage, blues, rockabilly, and other new songs for old souls, with dedicated throwbacks to the 20th century every 10th episode. Proving the kids still rock like they used to and making your grandparents dance, every Thursday evening 6-7 on HD2; be there or be square.
Surprise Oldies: Soda Pop Rock
I usually do oldies every 10th episode, but for episode 55 I've decided to do a surprise compilation of the lost hits of late '50s and early-mid '60s rock, pop, and doo-wop.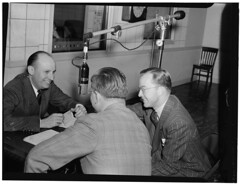 6:00 PM

Gino Washington

Out of This World

Gino Washington

Out of This World

Norton Records

1999

USA560880330

6:02 PM

Ernie Maresca

Shout! Shout! (Knock Yourself Out)

Ernie Maresca

Shout! Shout! (Knock Yourself Out) - Single

JB Production

2013

FR6V82133157

6:05 PM

The Orlons

The Wah-Watusi

The Orlons

The Wah-Watusi / South Street

ABKCO (US)

2010

USA176240600

6:07 PM

Dick & Dee Dee

The Mountain's High

Lost Hits of the 60's

Capitol Records

2010

USEM39100242

6:11 PM

Freddy Cannon

Transistor Sister

Freddy Cannon

Boom Boom Rock 'N' Roll - The Best of Freddy Cannon

Shout Factory

2008

USSE90830660

6:13 PM

The Searchers

Ain't That Just Like Me (Mono Version)

The Searchers

Sugar and Spice

Castle Communications

2001

GBAJE6300006

6:15 PM

The Daughters Of Eve

Stand by Me

The Daughters Of Eve

Hey Lover / Stand by Me - Single

USA Records

1966

QM4TW2176823

6:19 PM

Barrett Strong

Let's Rock (Single Version)

Barrett Strong

Let's Rock - Single

Motown

2004

USMO10201083

6:21 PM

The Olympics

Good Lovin'

The Olympics

All-Time Greatest Hits !

DCC Compact Classics, Inc.

1991

QM4TX1838657

6:24 PM

Gary U.S. Bonds

Dear Lady Twist

Gary U.S. Bonds

Dear Lady (Twist) - Single

JB Production

2012

FR6V80258707

6:27 PM

The Flares

Foot Stompin' Pt. 1

The Flares

Foot Stompin'

Master Classics Records

2011

USA371299484

6:29 PM

The Majors

A Wonderful Dream

The Majors

Meet the Majors

Universal Digital Enterprises

1962

DEZZ42170575

6:31 PM

The Shirelles

Boys

The Shirelles

Tonight's the Night

Scepter Records

1961

USACU0500005

6:34 PM

Gene Vincent

Why Don't You People Learn To Drive (Mono Version)

Gene Vincent

Crazy Times (Mono Version)

CAPITOL CATALOG MKT (C92)

1960

USUM71703018

6:36 PM

Bobby Parker

Watch Your Step (Original V-Tone 45 Rpm Version)

Bobby Parker

Watch Your Step - Single

Philly Archives

2015

QM4TW1512750

6:39 PM

Arthur Alexander

A Shot of Rhythm & Blues

Arthur Alexander

You Better Move On

Marmot Music

2014

GBV951333913

6:41 PM

Don Gardner

My Baby Likes to Boogaloo

Don Gardner

My Baby Likes to Boogaloo - Single

Sunset Blvd. Records

2018

USBT21611151

6:45 PM

Bobby Freeman

C'mon and Swim

Bobby Freeman

Do You Wanna Dance

Rhino

2005

USRH10550661

6:48 PM

Dee Dee Sharp

Do the Bird

Dee Dee Sharp

It's Mashed Potato Time / Do the Bird

ABKCO (US)

2010

USA176340310

6:50 PM

Tommy Tucker

Hi-Heel Sneakers

Hi-Heel Sneakers

Geffen

1964

USMC16352394

6:54 PM

The Bobby Fuller Four

Love's Made a Fool of You

The Bobby Fuller Four

I Fought the Law

Warner Music Group - X5 Music Group

2017

USRH10450290

6:56 PM

Fabian

Turn Me Loose

Fabian

6:58 PM

Kyu Sakamoto

Ue o Muite Arukō