May 26, 2022 6:00 PM – 7:00 PM
Nighttime Rock
With johnny ghost
As I always say, "The Racket isn't a dedicated surf show, but it wants to be."
I'm Johnny Ghost, your weekly purveyor of retro-styled rock 'n' roll, surf, garage, blues, rockabilly, and other new songs for old souls, with dedicated throwbacks to the 20th century every 10th episode. Proving the kids still rock like they used to and making your grandparents dance, every Thursday evening 6-7 on HD2; be there or be square.
Gumshoes & Gangsters
Perhaps one of the best episodes I've ever done, and certainly the most on-theme. Think Peter Gunn meets Hawaii Five-0. Think twangy guitar and deliciously dirty saxophone. Think Duane Eddy.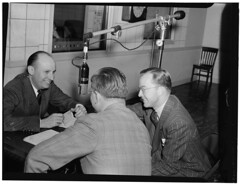 6:01 PM

The Limboos

Big Shot

The Limboos

Baia

Penniman

2019

FR10S1925748

6:04 PM

Noonday Underground

London

Noonday Underground

Self Assembly (Bonus Track Version)

Hands Full Recordings

2001

UK4XT1400027

6:07 PM

Tito Ramirez

Lonely Man

Tito Ramirez

The Kink Of Mambo

El Volcán Música

2019

ES79A1914601

6:10 PM

The Woggles

Do the Git Get Down

The Woggles

Big Beat

Wicked Cool Records

2013

USZPD1200007

6:14 PM

MFC Chicken

Spy Wail

MFC Chicken

Fast Food & Broken Hearts

Dirty Water Records

2020

GBXCJ2000007

6:16 PM

King Salami and the Cumberland Three

Betti Moretti

King Salami and the Cumberland Three

Cookin' Up a Party

Dirty Water Records

2013

GBHLW1310412

6:18 PM

The Beat From Palookaville

It's Your Voodoo Working

The Beat From Palookaville

Come Get Ur Lovin'

Sleazy Records

2017

ES67C1600188

6:24 PM

The Maharajas

I'm Crackin' Up

The Maharajas

A Third Opinion

Low Impact Records

2005

SEVMS0500101

6:26 PM

Shirley Davis & Silverbacks

Keep On Keepin' On

6:30 PM

The Excitements

Find a Man

The Excitements

Keepin' On

Satélite K

2021

ES6102123604

6:34 PM

Bosley

Neon Magazine

Bosley

Honey Pig

Bosley

2011

TCAAX1171809

6:39 PM

John Hammond, Sr.

Jockey Full of Bourbon

John Hammond

Wicked Grin

Virgin Records

2001

USVI20000588

6:43 PM

Mike Barbwire & the Blue Ocean Orchestra

El Surfista de Mambo No. 1

El Surfista de Mambo - Single

Sleazy Records

2018

USCGH1851989

6:47 PM

Nikki Hill

Twistin' the Night Away

Nikki Hill

Heavy Hearts Hard Fists

Deep Fryed Records

2015

USA2B1512886

6:51 PM

Barrence Whitfield & The Savages

I'm Gonna Leave You

Barrence Whitfield & The Savages

Soul Flowers of Titan

Bloodshot Records

2018

USA361825810

6:54 PM

Nick Waterhouse

Minor Time

Nick Waterhouse

Promenade Blue

Innovative Leisure

USD8D2178009

6:58 PM

Duane Eddy

Peter Gunn

Duane Eddy

Especially for You

Jamie Record Co.

1959

USJRC0301001