Feb 9, 2023 6:00 PM – 7:00 PM
Nighttime Rock
With johnny ghost
Do you claim to be born in the wrong generation? Do you think your favorite subgenre of rock is dead? Do you complain they just don't make music like they used to?
This is the Racket and I'm Johnny Ghost here to prove you wrong with a weekly selection of surf, garage, blues, rockabilly, Americana, and otherwise good old fashioned rock 'n' roll in modern times, with dedicated throwbacks to the 20th century every 10th episode. New songs for old souls, old songs for the new age, and all the proof you need that the kids still rock like they used to, every Thursday evening 6-7 on HD2; be there or be square.
Some Blues
Exactly what it says on the tin. I've had a long couple weeks, so we're keeping it chill today.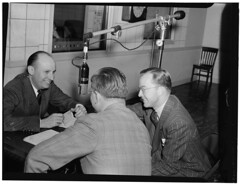 6:02 PM

Sugar Blue

Another Man Done Gone

Sugar Blue

The Paris Sessions

Brownsville

2006

FR6V80609612

6:04 PM

Frank Frost & The Nighthawks

Crawl Back

Frank Frost & The Nighthawks

Crawl Back / Jelly Roll King - Single

1962

6:06 PM

J.B. Lenoir

I Feel So Good

J.B. Lenoir

Alabama Blues!

L+R Records

1979

DER387900006

6:09 PM

R.L. Burnside

Miss Maybelle

R.L. Burnside

Mississippi Hill Country Blues

Fat Possum

2001

USFP70400234

6:11 PM

Townes Van Zandt

Black Jack Mama

Townes Van Zandt

In the Beginning

Fat Possum

2009

USFP70920606

6:14 PM

Warren Zevon

Join Me In L.A.

Warren Zevon

Preludes: The Rare and Unreleased Recordings

New West Records

2007

US27Q0761173

6:18 PM

Buddy Guy & Junior Wells

Bad Bad Whiskey

Buddy Guy and Junior Wells

Buddy Guy & Junior Wells Play the Blues

Rhino/Elektra

2004

USAT20201308

6:22 PM

Lazy Lester

I Done Got Over It

Lazy Lester

Harp and Soul

Alligator Records

1988

USARL8876801

6:25 PM

Jimmy Rogers

You're the One

Jimmy Rogers

Blues Follow Me All Day Long: The Complete Shelter Recordings of Jimmy Rogers / Chicago Blues Masters

1995

6:29 PM

Sonny Boy Williamson II

Checkin' Up On My Baby (Single Version)

Sonny Boy Williamson II

6:33 PM

Jimmy Reed

I Ain't Got You

Jimmy Reed

The Very Best of Jimmy Reed

Tomato Records

2003

USA560522111

6:35 PM

Ramsay Midwood

Alligator's Lament

Ramsay Midwood

Shoot Out At the Ok Chinese Restaurant

Vanguard Records

2006

USVG20287673

6:38 PM

Lacy Gibson

Wish Me Well

Lacy Gibson

Living Chicago Blues, Vol. 3

Alligator Records

1980

USARL8070316

6:41 PM

Raful Neal

Blues on the Moon

Raful Neal

Louisiana Legend

Alligator Records

1990

USARL9078303

6:46 PM

Hound Dog Taylor & The HouseRockers

Roll Your Moneymaker (Remastered)

Hound Dog Taylor & The HouseRockers

Natural Boogie (Remastered)

Alligator Records

2021

USARL7470407

6:50 PM

J.B. Hutto

What Can You Get Outside That You Can't Get at Home

J.B. Hutto

Hawk Squat

Delmark

2014

US4B91461704

6:53 PM

Chuck E. Weiss

Devil With Blue Suede Shoes

Chuck E. Weiss

Extremely Cool

Ryko/Rhino

1999

USRY29801171

6:58 PM

William Clarke

Pawnshop Bound

William Clarke

William Clarke: Deluxe Edition

Alligator Records

1999

USARL9960701