Feb 16, 2023 6:00 PM – 7:00 PM
Nighttime Rock
With johnny ghost
Do you claim to be born in the wrong generation? Do you think your favorite subgenre of rock is dead? Do you complain they just don't make music like they used to?
This is the Racket and I'm Johnny Ghost here to prove you wrong with a weekly selection of surf, garage, blues, rockabilly, Americana, and otherwise good old fashioned rock 'n' roll in modern times, with dedicated throwbacks to the 20th century every 10th episode. New songs for old souls, old songs for the new age, and all the proof you need that the kids still rock like they used to, every Thursday evening 6-7 on HD2; be there or be square.
The Magic Number Special
For episode 88 (like 88.1), I've tried to create the most college radio set imaginable. Jangle pop, twangy indie rock, some local bands and old favorites, and more.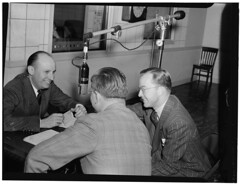 6:01 PM

Walt Disco

Cut Your Hair

Walt Disco

Unlearning

Lucky Number

2022

GBJET2100009

6:03 PM

Cheap Teeth

I Am the Mud

Cheap Teeth

I Am the Mud - Single

Permanent Creeps Records

USA2B2102765

6:07 PM

Chuck Prophet

I Bow Down and Pray to Every Woman I See

Chuck Prophet

No Other Love

New West Records

2002

US27Q0460393

6:11 PM

Hüsker Dü

Books About UFOs

Hüsker Dü

New Day Rising

SST Records

1985

USA560766836

6:14 PM

The dB's

A Spy In the House of Love

The dB's

Like This

Rhino

1984

USRH10901969

6:19 PM

Orange Juice

What Presence?!

Orange Juice

The Orange Juice

Analogue Enhanced Digital Limited

1984

GBCEL1000618

6:24 PM

Low Cut Connie

Low Cut Strut (Strut That Ass Right Back to Class)

Low Cut Connie

Low Cut Strut (Strut That Ass Right Back to Class) - Single

2023

6:26 PM

The Nude Party

Hard Times (All Around)

The Nude Party

Rides On

New West Records

2023

6:30 PM

The Courettes

Want You! Like a Cigarette

The Courettes

Back In Mono

Damaged Goods Records

2021

GBGLR2000014

6:33 PM

The Strange Blue Dreams

Reverberatin' Love

The Strange Blue Dreams

The Strange Blue Dreams

Holy Smokes Records

2017

GBMJG1717226

6:36 PM

DADDY LONG LEGS

Street Sermon

DADDY LONG LEGS

Street Sermons

Yep Roc Records

2023

6:38 PM

Jake La Botz

First Mcdonell's on the Moon

Jake La Botz

Hair on Fire

HAIR ON FIRE

2022

QZUAX2200009

6:43 PM

Joe Strummer & The Mescaleros

Mega Bottle Ride

Joe Strummer & The Mescaleros

Global a Go-Go

BMG Rights Management (US) LLC

2001

USHEL1202016

6:47 PM

Mattiel

Guns of Brixton

Mattiel

Double Cover - EP

ATO Records / Fontana North

2020

GBPVV2003109

6:50 PM

Hinds

Spanish Bombs

Hinds

Spanish Bombs - Single

Lucky Number

GBJET2000001

6:54 PM

The Fleshtones

Alex Trebek

The Fleshtones

Face of the Screaming Werewolf

Yep Roc Records

USY1R2067102

6:57 PM

The Shivas

Electric Child

The Shivas

Freezing to Death

Closet Trekkie Records

2010

USCGJ1047324

6:59 PM

The Bug Club

My Baby Loves Rock & Roll Music

The Bug Club

Pure Particles

Bingo Records

2021

GBMJG2116791