Feb 23, 2023 6:00 PM – 7:00 PM
Nighttime Rock
With johnny ghost
Do you claim to be born in the wrong generation? Do you think your favorite subgenre of rock is dead? Do you complain they just don't make music like they used to?
This is the Racket and I'm Johnny Ghost here to prove you wrong with a weekly selection of surf, garage, blues, rockabilly, Americana, and otherwise good old fashioned rock 'n' roll in modern times, with dedicated throwbacks to the 20th century every 10th episode. New songs for old souls, old songs for the new age, and all the proof you need that the kids still rock like they used to, every Thursday evening 6-7 on HD2; be there or be square.
21st Century Twist
Peppy '50s and '60s vibes from the past couple of decades, featuring lots of Racket classics.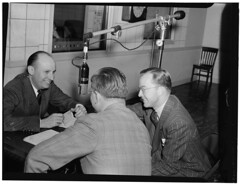 6:00 PM

Low Cut Connie

Show Your Face

Low Cut Connie

Get out the Lotion

Contender Records

2011

USX9P1095603

6:03 PM

The Mystery Lights

Can't Get Through to My Head

The Mystery Lights

Too Much Tension!

Wick Records

US4GZ1900403

6:06 PM

Muck & the Mires

Strange Waves

Muck and the Mires

Greetings from Muckingham Palace

Dirty Water Records

2020

GBXCJ2000017

6:09 PM

The Detroit Cobras

Stay Down

The Detroit Cobras

Stay Down / Lightning Byrd - Single

Wild Honey Records

2019

QZ86W1700043

6:12 PM

The Excitements

Fire

The Excitements

Breaking the Rule

Penniman

2016

FR10S1614740

6:15 PM

Nikki Hill

Strapped to the Beat

Nikki Hill

Here's Nikki Hill

Nikki Hill

2013

USCGH2025259

6:18 PM

Barrence Whitfield & The Savages

(Your Love Is Like A) Ramblin' Rose

Barrence Whitfield & The Savages

Savage Kings

Munster

2011

ES8591300552

6:22 PM

Bloodshot Bill

A Cheat

Bloodshot Bill

Get Loose or Get Lost

Goner

2020

USA3U2016507

6:25 PM

The Strange Blue Dreams

Towards the Warm Place

The Strange Blue Dreams

The Strange Blue Dreams

Holy Smokes Records

2017

GBMJG1717233

6:27 PM

Johnny Thunders & The Courettes

You Can't Put Your Arms Around a Memory

The Courettes

You Can't Put Your Arms Around a Memory - Single

2023

6:30 PM

The Knee-Hi's

Beauty Queen

The Knee-Hi's

Beauty Queen - Single

Rat Korp

2023

QZFYY2359468

6:36 PM

Pokey LaFarge

Fine to Me

Pokey LaFarge

In the Blossom of Their Shade

New West Records

2021

US27Q2150803

6:40 PM

DADDY LONG LEGS

Silver Satin

DADDY LONG LEGS

Street Sermons

Yep Roc Records

2023

6:43 PM

The William Loveday Intention

Seasons of the Witch

The William Loveday Intention

Season of the Witch - Single

Damaged Goods Records

2022

GBGLR2200238

6:48 PM

The Dirtbombs

Motor City Baby

The Dirtbombs

Dangerous Magical Noise

In The Red

2003

USA3D0400078

6:53 PM

Nick Waterhouse

Play to Win

Nick Waterhouse

Play to Win - Single

2023

6:56 PM

Los Lobos

Misery

Los Lobos

Native Sons

New West Records

2021

US27Q2151602

6:59 PM

The Woggles

Morituri Te Salutant

The Woggles

Tally Ho!

Wicked Cool Records

2017

QM6MZ1739617