Mar 23, 2023 6:00 PM – 7:00 PM
Nighttime Rock
With johnny ghost
Do you claim to be born in the wrong generation? Do you think your favorite subgenre of rock is dead? Do you complain they just don't make music like they used to?
This is the Racket and I'm Johnny Ghost here to prove you wrong with a weekly selection of surf, garage, blues, rockabilly, Americana, and otherwise good old fashioned rock 'n' roll in modern times, with dedicated throwbacks to the 20th century every 10th episode. New songs for old souls, old songs for the new age, and all the proof you need that the kids still rock like they used to, every Thursday evening 6-7 on HD2; be there or be square.
Spring Dirtying
With spring break finished, we're back with a selection of raw and fuzzy surf/garage/blues rock, featuring some of the newest cuts from The Nude Party, Daddy Long Legs, Death Valley Girls, The Bomboras, Grandmas House, and Screaming Females.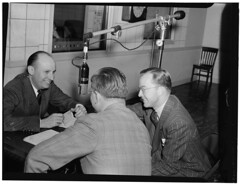 6:00 PM

DADDY LONG LEGS

Been a Fool Once

DADDY LONG LEGS

Street Sermons

Yep Roc Records

2023

6:03 PM

The Woggles

Don't Think I Can Wait That Long

The Woggles

Big Beat

Wicked Cool Records

2013

USZPD1200002

6:06 PM

The Dirtbombs

I Want Need Love You

The Dirtbombs

If You Don't Already Have a Look

In The Red

2005

USA3D0500086

6:11 PM

The Nude Party

Stately Prison Cell

The Nude Party

Rides On

New West Records

2023

6:16 PM

Death Valley Girls

Magic Powers

Death Valley Girls

Islands in the Sky

Suicide Squeeze Records

2023

US33X2320502

6:19 PM

Three Merry Widows

Black Halo

Three Merry Widows

Which Dreamed It?

Three Merry Widows

1998

TCAFN2139198

6:25 PM

Screaming Females

Brass Bell

Screaming Females

Desire Pathway

Don Giovanni Records

2023

USA2B2104856

6:29 PM

Grandmas House

Desire

Grandmas House

Desire - Single

Brace Yourself Records

2023

UK4MC2200638

6:31 PM

Uncle Acid & The Deadbeats

Runaway Girls

Uncle Acid & The Deadbeats

Runaway Girls - Single

Rise Above Limited

2014

GBMLU1418001

6:35 PM

The Bloody Hollies

Gasoline

The Bloody Hollies

If Footmen Tire You...

Alive Records

2005

US27U0506304

6:39 PM

The Bomboras

Session At Zeros

The Bomboras

Session At Zeros - Single

2023

6:43 PM

Gore Gore Girls

Casino

Gore Gore Girls

Get the Gore

Bloodshot Records

2007

USA360714206

6:46 PM

The Detroit Cobras

Slipping Around

The Detroit Cobras

Baby

Rough Trade

2004

GBCVZ0300922

6:49 PM

Ron Gallo

Really Nice Guys

Ron Gallo

Really Nice Guys

New West Records

2018

US27Q1711802

6:52 PM

The Darts (U.S.)

Snake Oil

The Darts (U.S.)

Snake Oil

Alternative Tentacles

2023

US2B22251501

6:55 PM

J. Roddy Walston & The Business

Use Your Language

J. Roddy Walston & The Business

J. Roddy Walston & the Business

Vagrant Records

2010

USVR91059610

6:59 PM

The Fleshtones

Rats In My Kitchen

The Fleshtones

Brooklyn Sound Solution

Yep Roc Records

2011

USY1R1122608