Mar 30, 2023 6:00 PM – 7:00 PM
Nighttime Rock
With johnny ghost
Do you claim to be born in the wrong generation? Do you think your favorite subgenre of rock is dead? Do you complain they just don't make music like they used to?
This is the Racket and I'm Johnny Ghost here to prove you wrong with a weekly selection of surf, garage, blues, rockabilly, Americana, and otherwise good old fashioned rock 'n' roll in modern times, with dedicated throwbacks to the 20th century every 10th episode. New songs for old souls, old songs for the new age, and all the proof you need that the kids still rock like they used to, every Thursday evening 6-7 on HD2; be there or be square.
Lone Ranger Radio
Finally another western themed set, with an nod toward the Ennio Morricone sound since I watched Sergio Leone's Dollars Trilogy over spring break. I wish I was half as cool as Lee Van Cleef.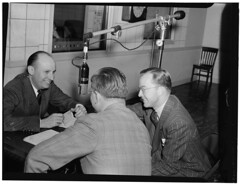 6:01 PM

Spindrift

Girlz Booze And Gunz

Spindrift

The Legend Of God's Gun

Tee Pee Records

2009

US33R0900063

6:04 PM

The Hellbenders

The Ghosts Of Boot Hill

The Hellbenders

Today We Kill... Tomorrow We Die

Double Crown Records

2004

USCGH0685374

6:08 PM

The Legendary Raw Deal

Pistolero

The Legendary Raw Deal

Southern Boys

Raucous Records

2008

USHM21338162

6:12 PM

Federale

Run, Man, Run

Federale

All the Colours of the Dark

Federale, LLC

2016

GB9TP1500796

6:18 PM

Deadbolt

Buy a Gun - Get a Free Guitar

Deadbolt

Buy a Gun - Get a Free Guitar

Pig Baby Records

2011

USL4Q2151303

6:24 PM

Tom Waits

Goin' Out West

Tom Waits

Bone Machine

Island Records

1992

USIR29200010

6:28 PM

Sun City Girls

Blue Mamba

Sun City Girls

Torch of the Mystics

Abduction

2015

QMQQH1507062

6:32 PM

Death Valley Girls

California Mountain Shake

Death Valley Girls

Islands in the Sky

Suicide Squeeze Records

2023

US33X2320501

6:36 PM

The Strange Blue Dreams

Up to the Stars

The Strange Blue Dreams

The Strange Blue Dreams

Holy Smokes Records

2017

GBMJG1717229

6:40 PM

Night Beats

Shadow

Night Beats

Outlaw R&B

Fuzz Club

2021

UKRNU1900224

6:43 PM

Mr. Airplane Man

Jesus On the Mainline

Mr. Airplane Man

Moanin'

Sympathy For The Record Industry

2002

US2860469006

6:47 PM

The Haunted Windchimes

Say Yer Sorry

The Haunted Windchimes

Out with the Crow

Blank-Tape Records

2012

USKW41273669

6:49 PM

DADDY LONG LEGS

Harmonica Razor

DADDY LONG LEGS

Street Sermons

Yep Roc Records

2023

6:51 PM

The Shivas

Do the Crocodile

The Shivas

You Know What to Do

Tender Loving Empire

2014

USK111425202

6:54 PM

Marcel Bontempi

Yellow Eyes

Marcel Bontempi

Marcel Botempi Sings Carlos Slap - Single

El Toro Records

2019

QM6N21979756

6:56 PM

The Long Tall Texans

Taxi!

The Long Tall Texans

The Devil Made Us Do It

Sunny Bastards

2013

DEDE31311201

6:58 PM

Bloodshot Bill

My Heart Cries for You

Bloodshot Bill

Get Loose or Get Lost

Goner

2020

USA3U2016509