May 25, 2023 6:00 PM – 7:00 PM
Nighttime Rock
With johnny ghost
Do you claim to be born in the wrong generation? Do you think your favorite subgenre of rock is dead? Do you complain they just don't make music like they used to?
This is the Racket and I'm Johnny Ghost here to prove you wrong with a weekly selection of surf, garage, blues, rockabilly, Americana, and otherwise good old fashioned rock 'n' roll in modern times, with dedicated throwbacks to the 20th century every 10th episode. New songs for old souls, old songs for the new age, and all the proof you need that the kids still rock like they used to, every Thursday evening 6-7 on HD2; be there or be square.
Local Oldies (The 100th Episode Special)
We've reached triple digits! The big one double-oh! So, finally, I will do something I have been set on for the better part of two years: I will take you all, my beloved listeners, through a twisting tour of North Carolina's musical history.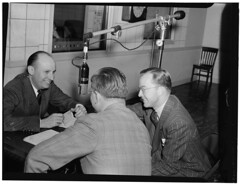 6:01 PM

Link Wray

Tail Dragger

Link Wray

Link Wray

Hip-O Select

1971

USUR10400563

6:06 PM

Tarheel Slim

Wildcat Tamer

Tarheel Slim

Wildcat Tamer

4Beat

2012

GBHFE1203482

6:09 PM

The Charlie Daniels Band

Carolina (I Remember You)

The Charlie Daniels Band

High Lonesome

Epic/Nashville

1976

USSM19920359

6:13 PM

Ronnie Milsap

I'll Be There (If You Ever Want Me)

Ronnie Milsap

Night Things

RLG/Legacy

1975

USRN11400266

6:16 PM

Ben E. King

Ecstasy

Ben E. King

Don't Play That Song!

Rhino Atlantic

2005

USAT20107520

6:19 PM

Nina Simone

Marriage Is For Old Folks

Nina Simone

I Put a Spell On You

Verve

2013

USPR36560017

6:24 PM

Don Dixon

Praying Mantis

Don Dixon

Most of the Girls Like to Dance But Only Some of the Boys Like To

Dixon Archival Remnants

2000

USFDB0610315

6:28 PM

Let's Active

Make Up With Me

Let's Active

6:31 PM

Sex Police

Hectors

Sex Police

Medallion

NC Records

1991

US85N0510007

6:36 PM

Eight or Nine Feet

Sway

Eight or Nine Feet

6:41 PM

Satellite Boyfriend

Bam Bam Bah!

Satellite Boyfriend

6:45 PM

The Connells

Darker Days

The Connells

Darker Days

Missing Piece Records

1986

QMVYL2100029

6:49 PM

Del McCoury & The Dixie Pals

Don't You Call My Name

Del McCoury & The Dixie Pals

High on a Mountain

Rounder

1973

USRO27201902

6:51 PM

Doc Watson

Blueridge Mountain Blues

Doc Watson

The Essential Doc Watson

Vanguard Records

1990

USVG28706815

6:54 PM

Etta Baker & Cora Phillips

Carolina Breakdown

Etta Baker & Cora Phillips

Carolina Breakdown

Music Maker Recordings

2005

USMKF0405612

6:57 PM

Flatt & Scruggs

Foggy Mountain Breakdown

Flatt & Scruggs

Town and Country

Legacy Recordings

1965

USSM16501093