Jun 1, 2023 6:00 PM – 7:00 PM
Nighttime Rock
With johnny ghost
Do you claim to be born in the wrong generation? Do you think your favorite subgenre of rock is dead? Do you complain they just don't make music like they used to?
This is the Racket and I'm Johnny Ghost here to prove you wrong with a weekly selection of surf, garage, blues, rockabilly, Americana, and otherwise good old fashioned rock 'n' roll in modern times, with dedicated throwbacks to the 20th century every 10th episode. New songs for old souls, old songs for the new age, and all the proof you need that the kids still rock like they used to, every Thursday evening 6-7 on HD2; be there or be square.
Racket 101
For my 101th episode, I've whipped up an introductory course to the show: a neat little sampler of some of my favorite music.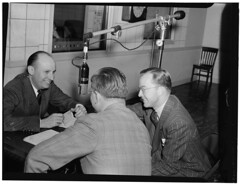 6:01 PM

Low Cut Connie

ARE YOU GONNA RUN?

Low Cut Connie

ARE YOU GONNA RUN? - Single

2023

6:04 PM

Night Beats

Thank You

Night Beats

6:07 PM

Dead Ghosts

All in a Row

Dead Ghosts

Love and Death and All the Rest

Independent

2015

USA2B1513103

6:11 PM

Ty Segall

Break a Guitar

Ty Segall

Ty Segall (2017)

Drag City Records

2017

US58L1765801

6:16 PM

The Nude Party

Somebody Tryin' to Hoodoo Me

The Nude Party

Rides On

New West Records

2023

6:20 PM

The Gun Club

The Stranger in Our Town

The Gun Club

The Las Vegas Story (Remastered 2022)

Blixa Sounds

1984

QZ9BY1900044

6:25 PM

Joe Strummer & The Latino Rockabilly War

Trash City (feat. The Latino Rockabilly War)

Joe Strummer

The Future Is Unwritten (Music from the Film)

Legacy Recordings

1961

GBBBM8802079

6:29 PM

Romeo Void

Six Days and One

Romeo Void

Instincts

Legacy Recordings

1984

USSM10113485

6:34 PM

Cedric Burnside

What Makes Me Think

Cedric Burnside

I Be Trying

Single Lock Records

2021

QMHFC2000089

6:39 PM

The Gories

Crawdad

The Gories

Outta Here

Crypt Records

1992

DE2A81010356

6:41 PM

The Detroit Cobras

(I Wanna Know) What's Going On

The Detroit Cobras

Tied & True

Rough Trade

2007

GBCVZ0701862

6:43 PM

Nikki Hill

Ask Yourself

Nikki Hill

Here's Nikki Hill

Nikki Hill

2013

USCGH2025252

6:47 PM

The Limboos

Space Mambo

The Limboos

Space Mambo

Penniman

2014

FR10S1413782

6:50 PM

The Woggles

Waiting for the Rain

The Woggles

The Wicked Coolest Songs

Wicked Cool Records

2007

QM6MZ1739621

6:53 PM

The Fleshtones

Back Beat #1

The Fleshtones

Brooklyn Sound Solution

Yep Roc Records

2011

USY1R1122609

6:55 PM

DADDY LONG LEGS

Electro - Motive Blues

DADDY LONG LEGS

Street Sermons

Yep Roc Records

2023