New Jersey's Only Radio Station
Jan 28, 2021 8:00 PM – 11:00 PM
With Dana K
HAPPY THRESHOLD DAY (EVE)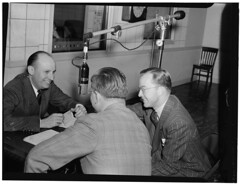 8:00 PM

The Desperate Bicycles

Don't Back the Front

8:04 PM

Kandeggina Gang

Sono cattiva

First all-female punk band from Italy.

8:10 PM

Set Break:

VOYAGER SEASON 2 EPISODE 15 "THRESHOLD" MEMORIAL DJ SET

8:11 PM

Q: Are We Not Men? A: We Are Devo!

Warner Records

1978

8:15 PM

Hüsker Dü

Beyond the Threshold

Zen Arcade

SST Records

1984

Song has "Threshold" in the title, come on.

8:16 PM

All By Myself

Frontier

1982

Problems started when Tom Paris wanted to go fast.

8:18 PM

Man or Astro-Man?

Interstellar Hardrive

8:20 PM

The Soft Boys

He's a Reptile (Bonus Track)

Underwater Moonlight

2001

Single from 1983

8:25 PM

The planet Paris and Janeway left their babies on.

8:29 PM

Monitor (Bonus Track Version)

Superior Viaduct

2013

1981 on World Imitation

8:32 PM

The Residents

Lizard Lady

Duck Stab / Buster & Glen: 2cd Preserved Edition

CRYPTIC CORP

1978

8:34 PM

Wedding Bells

Polydor

1981

ALERT: BABY

8:38 PM

Alien Sex Fiend

Evolution

The Best of Alien Sex Fiend

EVOLVE OR DIE (or evolve AND die).

8:45 PM

Set Break:

THE END OF THE THRESHOLD SET

8:50 PM

Mickey Bliss

Video Lizards

8:52 PM

8:56 PM

Velvet Monkeys

All The Same

Future

Fountain of Youth Records

1983

9:00 PM

Split EP with the Different Eyes

9:02 PM

7"

Jane Bear Records

1982

9:04 PM

9:07 PM

Emotion Pictures

Rescue Remedy

9:11 PM

Hicks From The Sticks

1980

VA comp featuring Clock DVA, Medium Medium, Section 25, among others.

9:15 PM

9:18 PM

9:25 PM

The Human League

Being Boiled (Fast Version)

Reproduction

Virgin Records

2003

Fast Product version from 1978

9:30 PM

9:33 PM

Dark Day

No, Nothing, Never

Exterminating Angel

Fidelity

1980

Robin Crutchfield

9:39 PM

Indifferent Dance Centre

Flight & Pursuit

Flight & Pursuit - Single

Outer Reaches

2018

Originally released in 1981

9:44 PM

Minimal Compact

Statik Dancin'

S/T 12"

Crammed Discs

1981

9:48 PM

Section 25

Program for Light

From the Hip

factory

1984

9:53 PM

Lives Of Angels

Lives of Angels

Cold Waves of Color (1981-85)

Cold Disc

2014

9:56 PM

Abecedarians

Smiling Monarchs

Eureka

Southwest Audio Reproductions

1986

10:03 PM

X-Ray Pop

La Machine á Rêver

The Dream Machine

Dark Entries Records

2012

10:06 PM

Bene Gesserit

The Funny Dutchman

Insane Music for Insane People Vol. 2 CS

Insane Music

1983

Alain Neffe was a member of Bene Gesserit and ran the Insane Music tape label.

10:13 PM

Enflame

13th Moon Recordings

1983

10:15 PM

Our Daughters Wedding

Airline

Lawnchairs 7"

Design Records

1980

10:21 PM

10:28 PM

Maximum Joy

Stretch (7" Version)

Stretch (7" Version) - Single

Y Records

1981

10:31 PM

Dinosaur L

Go Bang! [Francois K Mix]

24->24 Music

Sleeping Bag Records

1981

10:38 PM

Marie et les Garçons

Re Bop Electronic

New York Sessions 79 - EP

Ze Records

2008

10:42 PM

Lori & the Chameleons

Touch

Touch 7"

Zoo Records

1979

Featuring Bill Drummond....

10:46 PM

Faces (2020 Remaster) - Single

1985

10:56 PM
The show is LIVE. The chat is LIVE.
Ha ya gotta keep up the momentum/ such a great PRB day & week so far :)
Oh, that's not putting any pressure on me or anything!
Rob from Maryland
8:04:59 PM
Mi piace questa canzione ;-)
Rob from Maryland
8:06:13 PM
*canzone. So much for my Italian
I have total faith in DBTF / as do all other listeners!
Christine Duffy
8:08:12 PM
Hey DJ Dana! LOL I love tonight's theme. I think I better go back and watch Threshhold again.
Christine Duffy
8:11:19 PM
There's only one de-evolution band...! 💗
Haha dave the obscure played a parody version :)
I was originally going to play one of the Hardcore or Ultracore versions of this song but I realized it's been a long time since I've just played something off of the album
I did see the devo 1.0 version / they were fantastic :)
Hey Esoterica! thanks for listening tonight!
now i am inspired to watch threshold!
did you see this syfy article? it's funny. https://www.syfy.com/syfywire/wtf-moments-the-craziest-thing-star-trek-voyager-ever-did-involved-lizard-sex
I like to think the babies grew up into sentient, bipedal people and forever they are like "wow, our parents are fucked up for leaving us"
i think they should bring them back as characters in discovery.
Hello everyone. We have a lot to talk about.
That would be amazing. They have like an INTENSE and justified grudge against the federation
I agree, Justice for Tuvix
Why couldn't they have kept Tuvix and Tuvoc and killed off Neelix? That's my proposed solution
Of course The Residents need to make an appearance to encompass the weirdness
The small part of him that is charming is retained, the rest discarded.
Sang along to He's a Reptile here.
I have to say, the episode would have been better with a Residents soundtrack
My bird just hid in in my shirt. This is too intense for him. 🦎
Neelix is okay. He means well and he makes a mean gagh.
Ha, I'd watch with a Residents soundtrack!
I'm upset that now I'm imagining lizards doing it to this song
Better that than "People Are Still Having Sex"
What a group of bad a** PRB dj's/ we're all gonna eavesdrop on ur conversation:)
All night long.... this guy just raised the bar.
Godley and Creme...two former members of 10cc
Rob from Maryland
8:38:31 PM
The Babies song it is over
I love Godley & Creme's "Golden Boyf"
"It was a cool black night
listen, if the song Babies made you uncomfortable, try watching Star Trek: Voyager Season 2 Episode 15 "Threshold"
It was a cool black night / a clear white moon / lizards were in the street / trying to conceive
Christine Duffy
8:39:31 PM
Alien Sex Fiend, but of course.
I thought godley & creme was lizbot intellectual property?:)
@Mark- Ha! I release "Babies" for public consumption
I abandon G&C's "Babies" like so many unwanted lizard children
"you're welcome" -- Warren George
Haha I gave jetty a hard time for playing commie's ip today - chumbawumba
Mark- Chumba throwdown on the rocks
Uh original star trek has so much crap
Haha jetty response was commie would kick her but earlier today / a discussion ensued of who would win dj battle royale - Jon Solomon even weighed in
Tell us about the birth of the babies
@Dana- Godley & Creme want you to know that "if you want to dance all night, if you play your cards right, you could be the girl on the arms of the golden boyf"
Live birth amphibians are terrible
Esoterica u still here / Jon suggested u might win :)
There are frogs that birth them through their skin, if vague facebook pics are to be believed
Where do babies come from?
Rob from Maryland
8:48:34 PM
The Babies song, it was new to me. And not bad. I do still remember hearing Godley & Creme's "Riding on Joey's Camel" and "Snack Attack" though I last heard them in the early 80s. And I know nothing about Star Trek.
No not the threshold beasts, amphibians who give live birth in general
Krista, have you seen the peppermint shrimp birthing method? Only look it up if you want to be sick
oh. i was not following the chat. i thought maybe there were behind the scenes photos of the birth of janeway's babies.
@Rob- I will have to amend that. G&C coming up on a future ++good
Ha the "Who would kick azz DJ" chat was great today.
https://www.wired.com/2013/12/absurd-creature-of-the-week-the-toad-whose-young-erupt-from-her-skin/
Obviously even the URL is body horror so I apologise
@liz, I'm about to type it in
this music just keeps getting better, and by osmosis i am letting the janeway comments sink into my muddled brain bc sure AF this girl I sgoing to start watching!!!
Rob from Maryland
8:55:10 PM
@Lizbot, cool. It has been so long since I heard those any G & C. I really only know the two songs I mentioned, and now Babies. Bring it on (and fwiw I normally can't listen to your show until some time after 6)!
I think next year WPRB should devote our entire programming day to Threshold
I know Lupica, as a Voyager fan, would be down.
@Krista- I apologize in advance 🦐
@brian looks like The dj's here missed the jetty chat tho most were mentioned as who would kick a**
Their larva are so weird @lizbot
Krista, I watched a nature show about them a dozen years ago and still haven't gotten over it. AND now I pass that's legacy on to you
...i just walked into weirdness with this show/chat...
i take absolutely no responsibility for any of this
Christine Duffy
9:14:47 PM
@jimbeaux, you don't know...
But i am now wiki'ing Voyager episodes
unfortunately the threshold set has concluded, but i encourage all of you to watch the episode tomorrow, on Threshold Day
Haha shazam had the same problem w them
Add that to the rewatch pile: Buñuel's Exterminating Angel
The Discreet Charm of the Bourgeoisie. And The Milky Way too. love those
been wanting to see discreet charm!
@Brian D- Discreet Charm & Exterminating Angel I always lump together as companion pieces. Both dinner parties from hell
Hey Esoterica! Def watch it as a double-feature with The Exterminating Angel!
The one Buñuel film I can't make it through is a short- Un Chien Andalou. He made it with Dalí and it was before animal cruelty laws for films, and I'll just leave it at that.
hi liz! i will do both! and yes, i remember the sliced eye, right? ew
excuse while i statik dance for a moment
night, Brian! thanks for listening!
The opening eyeball scene is squirm inducing
@jimbeaux- I think it was a cow if memory serves- made to look like it was a human. But yeah, nope!
It was a cows that was used ?!
good night, all! I need to turn in, too.
@liz I recall from film class cuts that made it look like human
Man, Threshold kicked off such a body horror theme in tonight's chat! Sweet dreams!!
thanks, dana!! you are great!
yes, i want everyone to have nice dreams!
goodnight erica! thanks for stopping by
Christine Duffy
9:52:04 PM
DJ Night Terrors 😱😱😱
sure thing! no night terrors or sleep paralysis!
Great live show Today cheers
@Christine- Good name!: DJ Night Terror
-ᎷяMΔᏞᏨØИᎢΞNᎢ-
10:01:14 PM
Awesome tunes! - since I arrived in time for The Human League 💟
Dana K (host)
10:01:37 PM
thanks! i am getting sleepy so i think it's time for a cup of tea.
Christine Duffy
10:04:12 PM
Greetings, MrM 💀
-ᎷяMΔᏞᏨØИᎢΞNᎢ-
10:05:10 PM
All the thanks goes to you, DJ DanaK! Cheers!
-ᎷяMΔᏞᏨØИᎢΞNᎢ-
10:05:26 PM
Greetings and Salutations, Christine Duffy!
-ᎷяMΔᏞᏨØИᎢΞNᎢ-
10:10:15 PM
🖖
Wall of Voodoo. Love that tune.
Dark Continent. Very good.
-ᎷяMΔᏞᏨØИᎢΞNᎢ-
10:23:55 PM
this vibe rn af
Dana K (host)
10:25:04 PM
RIGHT
Dana K (host)
10:25:11 PM
i have zoned out completely
Fitting, since I think there was a whole discussion during Jetty on the Rocks today about cognitive dissonance when hearing one DJ's theme or the bed music they always use on another's show
Dana K (host)
10:33:07 PM
i seem to do that and never realize it.
Dana K (host)
10:34:11 PM
i played jon solomon's intro background music once - pell mell - and it freaked me out because i couldn't place where i had heard it before
Yeah, I've done that before. In addition to Go Bang, Jetty plays a lot of Dinosaur L / Arthur Russell in general
Dana K (host)
10:39:11 PM
luckily, my theme is rather easy to recognize.
Maximum Joy + Dinosaur L have invigorated me!
I will play other Desperate Bicycles tracks, but seems wrong to play Don't Back the Front! Hattie knows it by heart- It's always on as she does homework next to me
Christine Duffy
10:42:33 PM
These bouncy synths are like brain candy. Love 'em!
Dana K (host)
10:42:48 PM
I am so inexplicably tired I need these synths to keep me up!
Christine Duffy
10:43:38 PM
Dana, you have really outdone yourself with tonight's show. Take the rest of the week off! 🎖
Dana K (host)
10:44:44 PM
haha, thank you!
@Christine- Agreed! Great show tonight, Dana!
-ᎷяMΔᏞᏨØИᎢΞNᎢ-
10:45:25 PM
I agree and concur!
Dana K (host)
10:46:10 PM
thank you, thank you!
Christine Duffy
10:53:21 PM
💜KLF
LOVED it. Thanks for the Clio! And the KLF (half)
Clio would pair well with Swing Out Sister's Break Out! I love that song but play sparingly cuz it often doesn't fit into my playlists!
You're welcome! And the video makes me so happy
It's 11 pm. We're on the Threshold of Threshold Day
Dana K (host)
10:56:31 PM
Everyone please drive safely on Threshold Day
Dana K (host)
10:56:37 PM
No going to Warp 10
Dana K (host)
10:56:46 PM
Thank you for listening, Ian!
-ᎷяMΔᏞᏨØИᎢΞNᎢ-
10:57:50 PM
8pm! Time for Big Salad! 🥗💚 WestSiiidddeee!!
-ᎷяMΔᏞᏨØИᎢΞNᎢ-
10:58:23 PM
Cheers Dears and especially those with Big Ears! 🖤💀
-ᎷяMΔᏞᏨØИᎢΞNᎢ-
10:58:52 PM
Big CHEERS to DJ Dana K!! Many thanks and kind regards!