New Jersey's Only Radio Station!
Feb 4, 2021 8:00 PM – 11:00 PM
With Dana K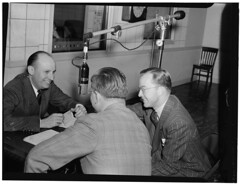 8:01 PM

The Desperate Bicycles

Don't Back the Front

8:05 PM

Native Tongue

When The Walls Close In

Boston Underground 1979-82

V/A

2007

8:16 PM

NEMB (Non-Erotic Male Bonding)

The Middle Room

8:21 PM

Method Actors

Do the Method

This Is Still It

Acute Records

2010

8:26 PM

Adam & The Ants

The Day I Met God

Dirk Wears White Sox (Remastered)

Do It Records

1979

8:29 PM

Avon Calling - The Bristol Compilation

V/A

1979

8:32 PM

The Mekons

Never Been In A Riot

8:34 PM

Boots for Dancing

Oh' Bop Sh Bam

8:37 PM

Sir Alick and the Phraser

In Search of the Perfect Baby

Bruno Wizard from the Homosexuals

8:42 PM

Nightingales

Which Hi-fi?

Nightingales EP

Cherry Red

1982

8:52 PM

Hüsker Dü

Eight Miles High

R

Eight Miles High / Makes No Sense At All - EP

SST Records

1984

this one goes out to our Philadelphia 76ers

8:56 PM

Parquet Courts

Pretty Machines

R

Content Nausea

What's Your Rupture?

2015

🏀

9:01 PM

Adam & The Ants

Nine Plan Failed

R

Dirk Wears White Sox (Remastered)

Do It Records

1979

9:06 PM

9:09 PM

The Crack - Expanded Edition

Virgin

1979

9:12 PM

Unzipping The Abstract

V/A

MMC Records

1980

9:16 PM

Art Objects

Showing Off to Impress the Girls

7"

Heartbeat Records

1980

9:23 PM

Half Man Half Biscuit

The Trumpton Riots

Back In The D.h.s.s. / The Trumpton Riots E.p

Probe Plus

1986

9:26 PM

Teenage Fanclub

Metal Baby

9:31 PM

Just Like Apples On The Tree

Marsh-Marigold

1989

9:34 PM

Les Calamités

Toutes les nuits

C'est complet

Last call records

1997

7" from 1984 on New Rose

9:36 PM

In The Meantime

Hyped 2 Death

2003

LP released in 1984

9:38 PM

The Rezillos

It Gets Me

R

Can't Stand the Rezillos

Sire

1978

9:40 PM

Look Blue Go Purple

I Don't Want You Anyway (EP Version)

This Is This

Flying Nun Records

1988

9:43 PM

9:54 PM

Felt

Something Sends Me to Sleep

9:56 PM

Something That Would Never Do (1974-75)

Cleveland, Ohio

10:00 PM

Milk N Cookies

Not Enough Girls (In the World)

Milk 'N' Cookies

Captured Tracks

2016

Originally released in 1975. Long Island.

10:02 PM

The Twinkeyz

Aliens In Our Midst

Alpha Jerk

Plurex Records

1979

Sacramento, CA. (Single from 1977)

10:06 PM

Suicide

Deadly Ecstasy Records

1979

10:09 PM

Return to Last Chance Saloon

Acute

2011

10:12 PM

10:16 PM

Spizzenergi

Soldier Soldier

1978-1988 A Decade of Spizz History

1979

10:19 PM

Ambivalence & Spark Plugs

1979

10:24 PM

10:25 PM

Let's Try Another Ideal Guest House

Backs Records

1987

10:28 PM

A House

I'll Always Be Grateful

On Our Big Fat Merry Go Round

Blanco Y Negro

1988

10:30 PM

Momus

Eleven Executioners

The Poison Boyfriend

Creation Records

1988

10:43 PM

Del Amitri

Sense Sickness

7"

NoStrings Records

1983

12 years before "Roll To Me"

10:44 PM

7"

Pineapple Records

1981

10:46 PM

Animals and Men

Terraplane Fixation

10:53 PM

Fire Engines

Big Gold Dream

10:55 PM

Jane From Occupied Europe

Ocean Run Dry
good evening all! rather scatterbrained show tonight i'm afraid!
We are not here for predictability 💥💥💥
good! because you're not gonna get it!
DEVO karaoke sing along at our dinner table right now
Christine Duffy
8:10:35 PM
Hey Dana K! Yes, you have.
Teresa Peacock
8:11:14 PM
I love this emo instrumental-only DEVO album!
Rob from Maryland
8:11:18 PM
Yikes, that is quite a week you had today, Dana K
Christine Duffy
8:11:27 PM
You're awesome no matter what!
Do you need an extra finger? Check under the couch. That's usually where they hide.
Christine Duffy
8:12:10 PM
@yoni LOL
Teresa Peacock
8:12:37 PM
And -- which finger? If it's the pinky on your right hand, we're freak finger cut twins! <3 <3
Teresa Peacock
8:14:03 PM
Aw man! Interfering freak finger cuts are THE WORST!
Fingertips by They Might Be Giants OR Fingertips by The Residents
my roommate brian sang all of TMBG's fingertips from memory the other night.
Nice! I remember a Jetty on the Rocks DJ night upstairs at the Khyber circa maybe 2004ish when a spontaneous TMBG's Fingertips singalong occurred!
the only one i ever seem to remember is MYSTERRRIOUS WHISPER
Haha! I WALK ALONE, darkened corridorssss!
Hate cutting my fingers, but happens regularly in kitchen, garden, bikes. Heal fast!
I have been known to sing it from start to finish in the shower and in the car and whenever
Oh no this is technical difficulty song!
did you guys hear the entirety of that NEMB song or did it cut off?
Christine Duffy
8:20:15 PM
Uh-oh. It's that music again...
Yeah, I hope all is well!
Christine Duffy
8:20:43 PM
Hey, you're back! 💛
Yes, hear a song intro...good.
hi! yes, my program froze and i had to do a little reboot.
Haha to all the fellow esoterica listeners / chatters : a bit of deja vu for a bit :)
Can you play the Husker Du cover of Eight Miles High at some point?
Christine Duffy
8:22:52 PM
Hi, Bo! LOL Youse-one's
Gremlins be at work again
Hi Christine, yes a common expression in my youth.
Twilight Zone airplane gremlins come to mind
Haha that's a great episode : William shatner / now I gotta put that on my rewatch list !
And if anyone hadn't seen adam/ he really still brings it - played at the keswick a couple years ago
I love Adam Ant and hadnt heard that song in a while. @Mark- I was at the TLA show he played about a year and a half ago
Yeah that 79 stuff is great / year after keswick i think he played at Prince on Walnut
This is a great soundtrack to all the bball I'm watching
Wrong theater meriam @ kimmel / I could go for more early Adam if any dj's r listening :)
i might be down for that. i have lots of favorites off of dirk wears white sox
Music For Basketball Courts
Oh yeah, it was the Merriam in September! I saw the Soft Machine at the TLA the same week and mixed up venues. Also, B-52s & OMD at the Mann the same week. I think there were 5 shows I went to that week so I mixed up venues!
September 2019, that Adam Ant show- there were some rowdy ladies in the front row who tried to sweep me into their danceathon
Christine Duffy
8:38:14 PM
Parquet Courts for 🏀 courts?
Sparks for BBall Court & Spark
Haha lizbot we actually talked on phone in those Olden times / I recommended Steve Hackett at keswick to u same time period & btw Hacket is truly magnificent in concert
Oh yes, Mark- I remember! I had an ambitious concert schedule that fall! I hadn't gotten over that one fall a few years earlier when I went into a hermit-like anti-concert funk and missed both Kraftwerk AND Sparks...the one time I ever missed Sparks. I even travel far and wide to see them.
Dana : how in the world r u so familiar w my favorite time period basically 77 to 82
Nightingales, nice, and still going strong, or they were at least!
very much so! they have a documentary about them premiering on UK TV this weekend - gotta find a way to watch
I hope everyone sees the album cover / one of them is wearing a basketball tank shirt :)
oh! i was expecting the single cover
loving this high energy stuff while i'm wrapping up work out here in Portland. PRB rules all day Thursday!
yay! thank you for listening, kristin!
So u weren't to far off : nothing quite says b ball 🏀 like husker du
A little bit a language slipped thru ! :)
Teresa Peacock
8:58:33 PM
I keep forgetting about this album by Parquet Courts and every time I hear a track from it again, I think MY GOD WHY AM I NOT LISTENING TO THIS EVERY DAY? !
CMDR Poopypants
8:58:48 PM
I would just like to humbly state that Uncast Shadow of a Southern Myth is my favorite Courts song. Maybe nextweek.
this is quite honestly one of my favorite songs, period. and i'm glad christine mentioned them!
Teresa Peacock
8:59:33 PM
Great call, Christine!
Christien Ayers
9:00:13 PM
Really appreciate the Parquet Courts
i love being the DJ and playing two songs off Dirk Wears White Sox just because
Fantastic he had a bit more edge pre MTV
A&A So underrated! And that 1-2 punch of Husker & Courts...wow.
all thanks to my lovely request line!
Sax & horns on that parquet quartz so good...
Great show / hope others saw ferry @ Philly Met in 19 he was amazing & venue is great !
i don't think i had the budget at the time. of course had i realized we wouldn't have any shows in 2020 i would have reconsidered
He is still going strong in his 70s and to say the ladies still swoon over him is an understatement
Christine Duffy
9:11:12 PM
@Mark I loved the Met when I saw King Crimson there in 2019.
Yes ! It is incredible- yet another place we all hope survives this !! I heard that KC was great there too
@Christine- that was a great show. I saw Mickey and Thomas from PRB there too!
Heard the Met was "revived"...lived nearby about
25 yrs ago when it was a church.
Anyone see Bryan Ferry with sleaze-stache in Breakfast on Pluto. He tries to pick up Cillian Murphy.
Revived is not a strong enough description/ what they did to it is stunning
Haha I think u directed me to that clip lizbot! He so perfextv
There were a lot of Met shows I wish I'd gone to but didn't want to shill the extra cash, but once I finally went, I was blown away. Even the food is good for venue food. Now I wish I'd seen Bryan Ferry and Patti Smith there
I still haven't been to the Met. Kraftwerk last summer was supposed to be my first show there.
One other great one i saw there was ry cooder & rosanne cash doing music of Johnny / special tour they only did 4 cities !!
@mark- haha! Yeah, he was perfectly cast. The main thing I remember from that movie was the trippy Wombles of Wimbledon Way themepark. I still have an old clamshell VHS cassette of that show, along with Simon In the Land of Chalk Drawings and that show with the puppet mouse...
There shall be a profusion of live music once (if?) we ever get a handle on our crisis mgmt.
Oh hell...Simon & chalk drawing land. Hitting me hard with that!
@Lizbot, I was weaned on the Wombles :)
Yeah it reminded me of some of his concert personas like when he wore an aviator uniform & eye patch w gorgeous back Up singers In stewardess outfits :)
Chris Spedding was a member.
@Bo- Ha, I'll bet! Who was your favorite? I liked Orinoco
@jimbeaux- Yeah, simon and I remember the puppet mouse was Fingerbobs!
Great Uncle Bulgaria haha!
Chris spedding is all time great / check out videos from early 2000s rocky tour
Yep, loved Fingerbobs too
This is what I retain from my mom teaching in the UK for 10 years- lots of British kids shows with hedgehog, mouse puppets, and whatever the hell "wombles" were...some kinda vole?
Oh my god! Great Uncle Bulgaria!!!! That brings me back!
@Mark he was a very versatile guitarist
Lizbot ...I haven't thought of the Wombles in yonks! :)
i'm not familiar with the wombles...only bagpuss
Him and manzanara together : sublime
Ha, Bo- I'm here to help! @Dana- You havent lived until you hear the Wombles of Wimbledon Way theme song, which will lodge itself in yr brain for weeks
Dana K holy shite, another one I'd just about forgot :)
Simon in the land of chalk drawings was basically Harold & the Purple Crayon
" the Wombles of Wimbledon Common are we"
Dana K, got any Rezillos/Revillos handy?
YA stumped shazam w the last one :)
@Bo! Aah! My brain wants to alliterate it!
Lizbot, how were you able to view it?
@Bo- I have an old early clamshell PAL vid- doesn't play on American VCRs. But I found an NTSC VHS at the Pennsauken Mart in Jersey years later, so I have both!
I live with the curse of PAL vs NTSC & Region 1 vs Region 2 DVD formats- drives me nuts. Converting them sucks and doesn't work well.
glad you're liking it! couldn't resist the pull of NZ jangle!
It won't let me write your name aaarrrgh!
*Liz Bot ... There, pheeew!
Liz Not is the absence of Lizbot
Boston is now officially the Midwest. Good job, everyone! We finally did it
Boston might have something to say about that.
and I believe that California has graduated to "city" status! geography is all relative anyway :)
YAy. Which Felt will it be- upbeat felt or slow Spanish guitar Maurice deebank felt
i know...it's the blood loss from kitchen accident!
I still haven't found that Felt doc
no making fun of the DJ! i'll turn this radio show around right now!
I wasn't making fun! Though I am a bit sad for the Midwest
@Dana- I love all my old Hyped2Death comps from many years of chuck's table at the FMU rec fair, but the paper stamped ones with ye olde CD stamper jammed up my optical drive constantly! They were hard to burn!
I totally missed Felt first go around.
I love all those old comps too, but they don't get played in their original format anymore
Okay so apparently the KEEPERS were originally from OHIO but moved to BOSTON
yeah, I have all the messthetics and teenlines and hiss in MP3 format at this point, but I used to curse the stamped CDs! Stampers were fun until I realize who they completely screwed up the CD
So I was right! Both times!
@Bo- Lawrence from Felt is tied in my mind with Mark E. Smith for the Loveable Curmudgeon Award
Jaysus Liz Bot dilemma's, dilemma's.
Is it a Manchester thing?
Lizbot's Dilemma. The B-side to Draygo's Guilt
Dana K (host)
10:08:06 PM
if you have time, check out the link i posted under gary quazar
Yeah, visiting some more Gary Quasar after the show!
i forgive all cartographical assumptions...that song was worth it!!!
Richard Jefferson
10:09:30 PM
Thank you for being you, Dana K
I guess bot isn't a word Liz ;)
Dana K (host)
10:11:55 PM
:) i do my best
yoni from kdu
10:15:58 PM
Yes!
Too good a show / I shoulda been tuned out long ago. hopelessly addicted to this radio station :)
@Dana K I don't think I've heard this since 1978! WOW!
Dana K (host)
10:19:33 PM
Bo - you're referring to Spizz?
Dana K (host)
10:20:15 PM
Commie Francis played the other side of this Immune System record on a recent show, so now I'm playing the other
Dana K (host)
10:20:49 PM
Where's Captain Kirk? is a favorite record of mine to play when DJing out!
And u stumped shazam again w it
That was their Hit song if memory serves?
Dana K (host)
10:22:57 PM
i believe so, yeah
Dana K (host)
10:23:27 PM
that's what he performs in urgh, a music war IIRC
Um, not familiar with that.
Dana K (host)
10:26:12 PM
live music documentary from 1982!
Dana K (host)
10:26:34 PM
i'd say more but i'm having a hard time typing tonight https://en.wikipedia.org/wiki/Urgh!_A_Music_War
No wuckin forties, you are nursing a damaged digit!
Dana K (host)
10:32:39 PM
haha i was wondering what "wuckin forties" meant!
Nick Currie (Momus) was prancing around the last Whitney Biennial I went to, which was ages ago, when Taylor Mead was still alive and had a demented fairytale video installation
I appear to be digitally challenged as well
The Whitney made him some sort of unreliable guide who makes up stuff about the art
Richard Jefferson
10:34:41 PM
Would you play "Ça baigne dans l'huile" by Soda Fraise?
yoni from kdu
10:38:38 PM
Ask the cats to do your research for you!
Dana K (host)
10:41:54 PM
hey richard, i don't have that song in my collection but i'll try to get it for next time!
Dana K, interesting bit about Del Amitri
Dana K (host)
10:47:33 PM
yeah, less funky than most of their other stuff!
Just another band from my youth that I haven't heard since and really appreciate hearing again, thank you!
Dana K (host)
10:52:03 PM
you're very welcome! i never get sick of hearing comments like that!
Dana K (host)
10:55:58 PM
thank you all for hanging out tonight! always a pleasure!
thx DK, fab show as usual!
G'night DJ Dana K, thanks for a.really terrific show, learned a lot tonight, take care of that wounded Index finger!
Dana K (host)
10:57:49 PM
goodnight lads, take care of yourselves!