New Jersey's Only Radio Station!
Feb 18, 2021 8:00 PM – 11:00 PM
With Dana K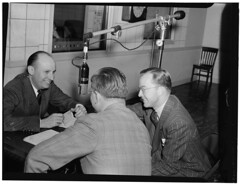 8:00 PM

The Desperate Bicycles

Don't Back the Front

8:03 PM

Stereo Total

C'est la mort

Oh Ah !

Stereo Total

1995

8:09 PM

PLASTICS

I Love You Oh No !

Welcome Plastics

Invitation

1980

Covered by Stereo Total in 1999

8:12 PM

Edith Nylon

Femmes Sous Cellophane

Femmes Sous Cellophane - Single

Catalog

1979

8:17 PM

Duro Double Life

Get in the Box

Psyched for the Yin-Yang

Haord Records

2020

8:21 PM

Jean-Jacques Perrey

E.V.A.

Moog Indigo

Vanguard Records

1970

8:25 PM

8:28 PM

Seely

Exploring the Planets

Atlanta, GA - first American band on Too Pure.

8:31 PM

Broadcast

The Book Lovers

Work and Non Work

Warp Records

1996

8:40 PM

Emerald Web

Flight of the Raven

Dragon Wings and Wizard Tales

Stargate

1979

From Trish Keenan's Mindbending Motorway Mix

8:43 PM

Hounds of Love (Remastered)

EMI

1985

8:48 PM

Bill Nelson

Flaming Desire

The Love That Whirls

Mercury

1982

8:53 PM

Deutsche Elektronische Musik 4

Soul Jazz

2020

8:56 PM

Soft Machine

Dada Was Here

The Soft Machine, Vol. 2

UMC (Universal Music Catalogue)

2009

(1969)

8:59 PM

Gold & Green

POLYSTAR SONGS

2001

9:08 PM

First

Creation Records

1991

9:14 PM

Yellow Magic Orchestra

Rydeen

Solid State Survivor

ALFA MUSIC, INC.

1979

9:21 PM

Manuel Göttsching

Ruhige Nervosität

9:31 PM

Awakening (Special Edition)

Sony Music Direct (Japan) Inc.

1982

9:37 PM

Rotting Geraniums

Go! Records

1982

9:40 PM

Heartbeat

Conspiracy International

1981

9:44 PM

Untitled - EP

Dark Entries Records

2013

(1982)

9:45 PM

Drinking Electricity

Good Times

Good Times (Dance Mix) - Single

Cherry Red Records

1982

9:55 PM

Larry Lewis

Blaylock Dance

African By-Pass

Numero Group

1985

10:01 PM

African Electronic Music (1975-1982)

Born Bad Records

2012

Cameroon, originally from 1974

10:06 PM

Cymande

Janus Records

1972

10:10 PM

10:14 PM

10:19 PM

Another Green World

EMI Marketing

2004

10:22 PM

Switched On

Too Pure

1992

10:28 PM

Musik von Harmonia

Groenland

1974

10:33 PM

Nine Circles

I'm Deeply Touched

10:38 PM

Was (Not Was)

Zaz Turned Blue

R

Born To Laugh At Tornadoes

Geffen

1983

10:41 PM

Mort Garson

Concerto for Philodendron & Pothos

Mother Earth's Plantasia

Sacred Bones Records

2019

(1976)

10:43 PM

Kaitlyn Aurelia Smith

In the World, but Not of the World

The Kid

Western Vinyl

2017

10:53 PM

Ulrich Schnauss

Knuddelmaus

Far Away Trains Passing By

City Centre Offices

2001
good evening - tonight's another night where i'm happy to be broadcasting from home
given that i didn't have to drive an hour in shitty weather to get to the studio!
Yeah, that's why I didn't share any Limbaugh-related content- there was enough already! We know!
i'm glad he's dead - don't need to see his face all over my social media
This is why I stay off Facebook when something like that happens- because suddenly my entire feed is the same thing and it's tiring. Glad, he's dead of course, but now moving onward
I agree- I miss the studio. I do NOT miss snowstorm drives! I had to stop and get a motel once for that short drive, the road conditions were so bad. I was particularly broke right then, so it really sucked. Woke up and he motel's parking lot wasn't plowed. Dug my car out in my dirty clothes from the day before, drove home and sleeeeept
oh god, that's a nightmare! i never had to do anything like that, but i always called out if the weather was bad - bless readie and mike hunter, they'd cover for me.
and i don't miss that walk from the parking lot to the station either
Yeah, KPC bailed me out a few times. My car straight up skidded out on the snow once, and I just can't drive in those bad storms.
That particular night was terrifying. It wasn't great on the way there, but it had gotten really bad during my show and it was the kind of snow that's wet and heavy and sticks to your windshield no matter how hard the wipers work. I couldn't see a damn thing and was sliding. I was really scared. I called a few motels before I found a vacancy, so many other ppl did the same thing.
The parking lot walk was only good when enhanced by a fox or black squirrel sighting
oh, i miss those black squirrels
Yeah! I never see those anywhere else
The foxes were out in droves on nights when the campus was more or less abandoned, like NYE/winter break. I hate being out/driving around drunk drivers on NYE, but my show fell on NYE a few times and man, I swear I've never seen so many foxes there as then. Campus abandoned for a few weeks by that point. Fox Takeover
i don't think i've ever seen a fox on campus before, but i saw one running across baltimore pike the other night
A couple nights ago, poor Nuala actually broke her toe and had to go to the vet and get pain meds the next day because she saw a fox and gave chase! She goes nuts when she sees them. The only other time she hurt her paw was another fox-related incident where she saw one and lost her shit
Wasn't sure who to expect at this time slot
French kinda feel I feel tonight
@lizbot : stitching pink just told story on air yesterday how her puppy suffered soft tissue strain chasing a fox That was outside her invisible fence / story caused me to look up what male / female & child foxes r called
@Mark - I thought the kids were called kits
@Mark, young fox's are called cub's.
Foxes! Scourge of all dogs!
Mature male's/dogs, female's/vixen's.
Young - usually kits / females - vixens / males - Reynard / tod :)
male foxes are called tods, i remember this from the fox and the hound
Yep, Reynard is the Latin I believe.
disney movie from the 80s i think?
And a group called a skulk :) btw more kate Bush please !
I know the females are vixens cuz of the "vixen's scream," their insane mating call. We hear it every March. The foxes all come to our yard. One was on our front porch! The first time I heard that, I thought it was a human scream
This is the song I played over and over while driving across New Mexico
Scream like a banshee, ahem.
@lizbot : not unlike a kate Bush high note :)
oh a kate bush road trip sounds really nice right now
Haha. KB takes her socks off and throws them on a fox
Kate Bush reading Fox In Socks. I could get behind that. But only if she also acts it out in dance
Heathcliff it's me .., :)
Yeah. I wanna drive through the desert again one day. Visited my friend in the Sonoran desert in AZ a couple years later. She still lives in Tucson and there's nothing like star-gazing there. Anti-might pollution laws make for a perfectly dark big sky
"I found a fox Caught by dogs He let me take him in my hands"
it's coming up on the 10 year anniversary of the time i drove across the country, philadelphia to los angeles, two weeks after my grandmother died.
The Hounds of Love are Nuala and Stitching Pink's dog, and the song is about them finally catching a fox but suffering paw wounds while Kate Bush revives said fox
the southwest is an incredible place. my mom lives out in arizona now, but i haven't been able to get out to see her in a few years
Nothing like country-country drives. That's an incredible drive. I miss roadtrips.
Prescott, about an hour south of Sedona
The only rough spot I drove there was Flagstaff and Williams during a ridiculous blizzard.
And visit vortex @ Sedona for the paranormal effect ;)
Damn, I love Sedona. Stayed near Cathedral Rock
I don't buy the whole vortices thing, but I enjoyed the pamphlets and signs about it! Lots of ppl buying crystals out there
Haha I just started my crystal buying journey : hey Jumbotron:)
Thumbs up on AZ stargazing! Usually spend time in southeastern AZ every winter hiking, wandering.
Esoterica gave me a name extension :)
Ahhhh. Was wondering about the name change
i'm long overdue for a trip out to AZ, as soon as it's safe to do so! i quite loved new mexico as well
When jimbeax got redubbed that recently I always think of Lost & sawyer called hurley that :)
I want to get farther south, like to Bisbee, some time
Chiricahuas...fave spot! https://www.nps.gov/chir/index.htm
The light and the oranges and purples on the canyons are amazing out there. I think I couldn't live there yearround because I need the ocean, but it's one of my favorite places in the world.
Wow both look amazing/ ironically i was just looking up az weather temps today as it sleeted outside
I come from a family of fox hunters, (not the English red coat on horseback, Landrover Ranger over driving kind but maybe I'll just leave that topic be.
Do tell / did u ever participate ?!
mark, I didn't think I'd encounter a ton of snow out by the Grand Canyon in mid-March but boy was I wrong! Couldn't see more than a couple feet in front of my face- pure white blank. Snowed so hard, the inns near the canyon lost power. We stayed farther out, in Williams
Oh man I was just reading a nat geographic travel issue yesterday and got so envious of the exotic trips they posted / one being Grand Canyon
Isn't that a big thing in the U.K. now, old rock stars fighting over whether or not fox hunting is cool
I have been to the Grand Canyon, and yet I can't say I've actually SEEN the Grand Canyon! Barely, anyway. It was so cold and they closed the trails for safety
Also they had an Ireland trip @ lizbot still owe us an Irish trip music show :) did u see sligo giants causeway etc
The giant's Causeway was lousy with tourists! Couldn't get a photo without a buncha randos in it.
Man! My speaker cut out right after "my car came up to me..." I need to know what the cat did!
*cat. Not car. Not car-driving cat.
Haha magazine said they limit visitors per day
Rob from Maryland
9:11:47 PM
@Lizbot, the cat swiped DanaK's feet iirc
Yes, I was only a lad, fox's are considered vermin in Ireland and cause a.lot of distraction to livestock, sheep and fowl, local farmer's used to call on my Da after a fox had raided the chicken coupe or slaughtered the geese.
Woot! wprb chat is the best
Oh yay. This and 1000 Knives are my fav YMO tracks
i love providing the soundtrack to a conversation all about foxes
Thanks for the Leonard update. Cats are dicks. Good thing they're cute
Yes nothing says foxes like YMO :)
The logo of this fox convo is, naturally, the WPRB record-swiping
Posted too soon! The logo to this convo is the WPRB record-swipin' fox!
This is a prancing fox. It's celebrating its victorious escape from Nuala and Bo's family
i just watched an incredible (and very awkward) video of YMO on soul train recently, gotta dig that one up
I can pull up the WPRB dunce cap logo for stream in a secret way :)
Oh yeah, I was just thinking about their Soul Train appearance! I think Deidre brought it up this week
yeah! it must have been some mutual friend of ours who posted it
and now i'm playing 13 minutes of manuel gottsching so i can make myself some noodles
Yes the inimitable dierdre did play a crazy soul train of them !
I have a DVD of that movie Downtown '81 with a YMO cameo + Arto Lindsay, Kid Creole, Jean-Michel Basquiat, et.al. YMO's cameo was the most fun.
Deidre played their cover of Archie Bell & The Drells Tighten Up
Japanese Gentlemen, stand up please! I play that some time. the soul train thing- Ryuichi felt they were being condescended to, so he played down how much English he knew.
Ha haven't seen that downtown 81 in ages / jean Michel is amazing - they had one at the Barnes b4 it closed
Ryuichi Sakamoto is kind of my hero for doing something I dare not do- He asked his favorite restaurant in NYC if he could make a playlist for them because he hated the music they played there! They said sure!
Vincent Gallo is in that 81 film / familiar w him ?
Enjoy your noodles, Dana! 🍜
Extremely obnoxious but quite talented individual
Yeah. Not the biggest Vincent Gallo fan. He's uncredited in that
an extremely odious character
He actually was in basquiat band / has cameo in basquiat movie that i do like
Speaking of Vincent Gallo and Arizona...There was that movie Arizona Dream he was in with Lili Taylor
See, now work a fox into that and we have connected all threads
Plus Bo's Irish fox 🦊 hunting :)
For Arizona a coyote might have to suffice
Haha I'm on record I'm supposed to b reading an analog paper book but these chats r too entertaining:)
@Lizbot, have you seen Vincent Gallo's band Ricci Ricci Ricci ?
Or his movies: buffalo 66 or the infamous brown bunny
YEah, Mark. Slacker! What will become of our nascent book club and review site?
Christina Ricci hates him from 66
No to brown bunny. I remember it. Wish I didn't.
@Mark, yes, Buffalo 66 was OK, Brown Bunny not do much.
@lizbot : do like I'm sure you did too - all nighter the night b4 due :)
So the foxes and coyotes join forces and corner Vincent Gallo until he teeters and falls over the edge of the Grand Canyon. Done. All threads connect!
Mark, I used to be the queen of procrastination all-nighters. I can't do that shit anymore!
@bo never saw bunny / he got into huge fight w roger ebert over it
Haha and now we all tell our children not to procrastinate
Rob from Maryland
9:35:45 PM
Moev!
Yeah, and then Nick Cage appears outta nowhere in a rocket backpack and hauls him away to safety.
Haha in the remake of course of an original that was actually good
Or they place a cage of bees over nick's head
Then Bo's family shows up and the record-thievin' WPRB fox whips records at them, throwing-star style, while the other fox escape down into the canyon and feast upon Vincent Gallo and Nick Cage with their new coyote friends. And WPRB fox flies away, triumphant, on a spinning copying of Fox on the Run by Sweet
Too late. It's mine now! And the foxes'
@Lizbot, you've read the script?! ;-)
more brilliant than anything vincent gallo could come up with
Rob from Maryland
9:40:46 PM
@DanaK I think I have Rotting Geraniums in the basement on vinyl. But our stereo isn't hooked up. It is so nice to hear that blast from the past.
Crowd sourcing at its finest / can we turn this chat into a zoom?
Nick Cage has suffered enough. The bees and the inferiority of that wicker man remake will forever haunt him
On second thought i bet we all can't stand zooms
i actually heard that moev song for the first time on WPRB when aida played it, 5 or 6 years ago? i remember sitting in the parking lot at the collingswood PATCO at night just listening...
Haha don't even look for remake if u haven't seen it
Corn rigs and barley rigs
Unless u like hate watching :)
No. I'll just the real Wicker Man for the 100th time
the remake is where you get the famous nick cage line "NOT THE BEES"
Bo, forget that you heard about the remake. You don't wanna know. It is only good for the bee cage
Can't get enuf either / what a soundtrack/ willow / corn Riggs / maypole
Pretty great sample in this song
Some of this chat would fit in with the Jim Carrey book. I was really entertained by that book. Just what i needed at the end of 2020. He skewers himself &all his Hollywood friends n not so acquaintances in an apocalyptic frenzy.
good night Francoise Cactus. Thank you WPRB for turning me onto Stereo Total about 20 yrs ago
I have to thank Nick Currie for getting me into Stereo Total
And again posts that contain WPRB turned me onto... Dan Buskirk about a year ago with OOIOO. The Gamel lp. Fun
Who comprises this music dept u speak of ?! Never ceases to amaze how u dj's discover all this which i have no idea who is !!!
Jim Carrey kept all the stars names the same in his book except he re named Tom Cruise as "Laser Jack Lightning". That made me love the book even more
Mark, the Music Dept is ever-changing as far as who's in charge, but has long-standing relationships with lots of great little labels
Haha that aka reminds me how depp kept calling Elon musk : mollusk :)
Larry Lewis lp is wonderful. Never knew about that until this week
The music u gals/guys come up w is beyond amazing :)
Dana K (host)
10:00:36 PM
yes, it was new to me as well!
I would b a pure nostalgia junkie wo discovering this station!
This is from 85 & has the grand total of 21 shazam!
Yeah, I played his so wet instrumental tonight on my show. Really been enjoying this album this week
Re: Momus, Dana. I don't know him well. We have a mutual friend and I've met him a handful of times. We used to email back and forth back during his Click Opera days. He sent me a card when I was really sick in hospital in '09. That's about the extent of my Momus interactions. He was supposed to send me a handmade doll of himself and he never mailed it, come to think of it
Dana K (host)
10:09:02 PM
that's so nice! i know he was a big presence on livejournal back in the day.
I think Thomas talked to him a few times too.
I remember at his Folktronica show at the Khyber, his laptop died mid-show and he just went to the bar and had some drinks. He didn't get pissed, just waited til it charged.
Lovely to hear Gruff Rhys! :)
Dana K (host)
10:15:19 PM
i'm a big gruff rhys fan. saw him live in front of maybe five people back in 2011. then saw him again with SFA in glasgow at the 02 academy, one of the biggest venues in the city.
I'm a tad jealous, that's a great venue from what I hear!
Lititia ...can't think of her last name? Has some solo stuff of late
Dana K (host)
10:28:09 PM
Laetitia Sadier! Come to think of it, Stereolab in 2019 was one of the last live shows I saw...seems like forever ago
Monade is one of her solo acts.
Dana K (host)
10:30:22 PM
any requests, folks?
Dana, George & I were at that Stereolab show too- I think that was the most WPRB DJs/former DJs I've run into at one show. Ran into some longtime listeners there too
Dana K (host)
10:31:23 PM
I remember seeing George!
Requests? Don't know how these shows can b any better !
George Korein
10:32:27 PM
I request "Zaz Turned Blue" by Was Not Was
George Korein
10:33:00 PM
Or "Knocked Down, Made Small"
Any Terry Callier at hand?
What's the dj policy on spinitron release date on playlist / obv alit r reissue
Haha who's this troll on this chat ? :)
Ran into Maria T., Robert Drake, John from Spaceboy Music, who I hadn't seen in a while (Nuala was originally gonna be Nomi, after Klaus, but Robert & John named their dog that, so I went with Nuala. Glad I did! I did my show that night and drove straight to Union Transfer and brought Pat Ganley his PRB Wawa hat!
Dana K (host)
10:36:21 PM
pardon?
George Korein
10:37:01 PM
Thank you Dana you rule!!!!!!!
George Korein
10:37:15 PM
😨
Dana K (host)
10:37:20 PM
you're welcome!
He already made me listen to this this week!
Dana K (host)
10:37:49 PM
i appreciate a good request, i had some songs cued up but none of them were doing it for me
George Korein
10:38:07 PM
The VELVET FOG
George Korein
10:40:43 PM
Portrait of Zaz: 😨
Dana K (host)
10:43:35 PM
Zaz how could you
yoni from kdu
10:49:16 PM
POOR Z A Z
Dana K (host)
10:53:24 PM
and this has been dana k's own personal pure mood
yoni from kdu
10:56:40 PM
Which one of the cats is the orinoco flow?
Thanks Dana K for the excellent tunes tonight, see ya next week, take care!
Dana K (host)
10:58:47 PM
PERFECT
Now we can sail away to sleep on far away trains passing by
Dana K (host)
11:00:04 PM
i was hoping for enough time at the end to play crab rave. next time!
George Korein
11:00:51 PM
You would turn blue if it happened to you